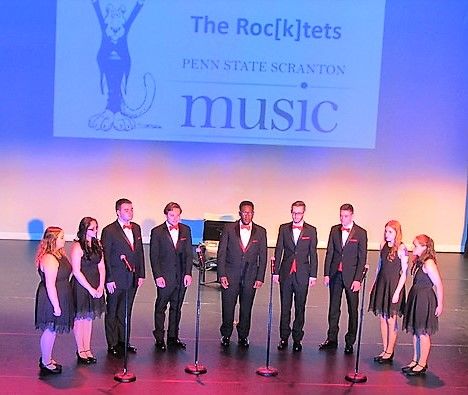 DUNMORE, Pa. — More than 600 people were in attendance when Penn State Scranton's Chorale, Roc[k]tet and Campus Jazz Band took the stage last month for the campus' annual Spring Concert.
Under the direction of Sharon Toman, music director, assistant teaching professor of music and program coordinator for the arts and humanities at the campus, the three groups entertained the large crowd with a varied selection of well-known pieces from spirituals and patriotic pieces to Broadway, Big Band and pop.
As the campus' music program and crowds have grown over the years for its annual performances, the campus has begun holding the event at The Theater at North in Scranton to accommodate the growing number of attendees and has even added a new element to its annual spring performance.
Each year, the campus' musical groups invite a regional middle school musical group to perform with them. This year, they welcomed 160 performers from the Lake Wallenpaupack School District's sixth-, seventh- and eighth-grade chorus under the direction of Shaun Stuart, a campus alumnus. The students from Lake Wallenpaupack joined the Penn State Scranton Chorale in a special combined choral piece titled "Song of the Unsung Hero."
An album of photos from the event is available on Flickr.com.
Stuart attended Penn State Scranton from 2004 to 2005 and studied with Toman before going on to receive his degree in music education at Mansfield University and his master's degree in music education from Boston University. He is the music director of the treble choir, concert choir, show choir and handbell choir at Lake Wallenpaupack Middle School.
Also performing at the spring concert as accompanist was Amy Zakaraukas, a choral director, pianist, accompanist, and vocal and piano pedagogue with more than 12 years of experience. She holds a bachelor of music degree in music education from Mansfield University. Zakaraukas is director of the Blue Ridge School District's middle school and high school choruses. In addition, she serves as a pianist at the First Presbyterian Church in Hallstead, Pennsylvania. She also teaches piano lessons at her piano studio.
Toman received a bachelor of music degree in piano performance from Marywood University, a master of music degree in piano pedagogy and music history from the Catholic University of America, and doctoral studies at Temple University and further studies at Manhattan School of Music. She received the K. Bruce Sherbine Penn State Proud Award in 2006 and Penn State Scranton's Advisory Board Teaching Award in 2011. Her research interests include music and animation using Lego Mindstorms robots. She co-developed a Penn State general arts course titled Integrating Music and Animation with Technology and plans future publications based on music and animation.
Members of the Penn State Scranton Chorale are:
Sopranos: Ashley Altiery, Brianna Chaparro, Deymeliz Desarden-Ruperto, Jayonna Geffrand, Carly Grizzanti, Catherine Huggler, Karli Kozel, Mia Laboranti, Hannah Luben, Janet Melnick, Laura Nathans, and Britney Reinhart
Altos: Sierra Anderson, Megan Auttonberry, Jessica Berger, Ryan Meinard Choa, Jessica Duff, Kim Flanders, Sue Harper, Meg Hatch, Magdalene Kish, Carolyn Mack, Katarina Maikranz, Victoria Melendez, Brenda Miele, Kira Opalka, Flor Pryzant, Madison Puza, Samantha Rutkosky, Dakotah Sopko, and Deb Smarkusky
Tenors: Paul Frisch, Charles McAvoy, Aaron Trybula, Skyler Santiago, Mitchell O'Connor, and Matthew Palmer
Bass: Matthew Coggins, Dominic Corma, Adam Kasper, Andrew Murphy, and Noah Novotka
Members of the Penn State Scranton Campus Jazz Band are:
Violin: Matthew Collins, Christian Coronel, Lucas Dindiyal, and Randall J. Kasorek Jr.
Clarinet: Ryan Meinard Choa and Holly Oppelt
Alto Sax: Robert Bishop and Jack Mead
Tenor Sax: Gabrielle McFey and Autumn Mead
Trumpet: Francis M. Castaldi, Alivia Deleon, Milton M. Evans III, Kevin Getts, and Nick Forrester
Guitar: Todd Snee and Mia Laboranti
Bass Guitar: Gary Caolo
Drums: Carl Mignano
Auxiliary Percussion: Samantha Praschak, Deb Smarkusky, and Aaron Trybula
The Penn State Roc[k]tet: Matthew Banton, Jessica A. Duff, Mia Laboranti, Hannah Luben, Adam Kaspar, Charles McAvoy, Andrew Murphy, Samantha J. Rutkosky, and Aaron Trybula