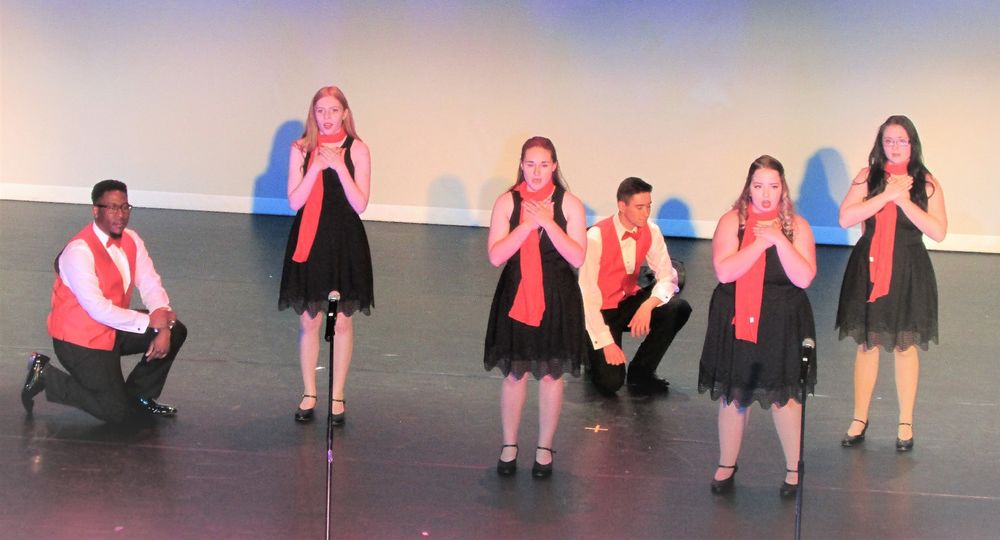 DUNMORE, Pa. — Penn State Scranton's musical groups will present their annual spring concert at 4 p.m. Saturday, April 23, at The Theater at North in Scranton, Pennsylvania. The concert is under the direction of Sharon Ann Toman, director of music and associate teaching professor in music. Those attending will enjoy performances by the Penn State Scranton Chorale, the Roc[k]tet, and Campus Jazz Band. Admission to the performance is free and open to the public, with doors opening at 3:30 p.m. Any questions should be directed to Toman by email at [email protected].  
The Penn State Scranton Chorale, the Roc[k]tet and the Campus Jazz Band will be performing a variety of music ranging from spirituals, Broadway, to pop music. A portion of the Campus Jazz Band program will feature music of the Big Band era. 
This year's performance will feature the Western Wayne Middle School Select Chorus under the direction of Joyce Covaleski. A special joint performance featuring a patriotic song will be performed by the Western Wayne Select Chorus and the Penn State Scranton Chorale. 
Toman said that she is very excited for the concert to take place, especially after two years of virtual and hybrid concerts. 
"Students in the Penn State Music Program, as well as myself, are so looking forward to the return of performing our annual spring concert live and in person this year," Toman said. "For the past year and half, we held rehearsals and presented holiday and spring concerts, but these performances were video recorded and then public streamed because of COVID restrictions." 
"I am so thrilled to once again be able to present concerts in front of an audience, and the students have been working hard with rehearsals and preparing for our Spring Concert," Toman exclaimed. "And once again, I'm proud to say that these live performances are a gift from Penn State Scranton to the community. So please do come out to this performance, as there will be music for all age groups to enjoy." 
Students, faculty and staff who will be performing are: 
Penn State Scranton Chorale 
Sopranos: Victoria Dalrymple, Deymeliz Desarden-Ruperto, Eileen Giovagnoli, Molly Killian, Karli Kozel, Fagr Mahana, Taylor Saltkill-Mcrew, Janet Melnick and Tram Vo
Altos: Ashleigh Earyes, Meg Hatch, Danitza Pula Acosta, Alex Richardson, Megan Schmidt, Deb Smarkusky and Madison Tricarico 
Tenors: Raj Gandhi, Alexander Hamilton, Matthew Howard and Doyle Tate 
Bass: Jason Daloul and Raymond Ondrako 
Penn State Scranton Campus Jazz Band 
Flute: Christine Bahk, Sharon Ebert and Joella Leader
Violin: Alexander Hamilton, Solei Lasanta and Randall Kasorek 
Clarinet: Thomas Hufford 
Alto Sax: Robert Bishop and Jack Mead 
Tenor Sax: John Martin 
Baritone Sax: Jonathan Yocum 
Trumpet: Gabriella Bruford, Milton Evans, Andrew Oudshoorn, Melina Petrini and Steve Semonich 
Guitar: Gary Caolo, Ameri Raif, Joshua Reyes and Jared Yates 
Bass: Ray Petren 
Drums: David McKenney, Carl Mignano and Edward Sledzinski 
Auxiliary Percussion: Deb Smarkusky
Keyboard: Sharon Toman
Penn State Scranton's "The Roc[k]tet" 
Deymeliz Desarden-Ruperto
Jason Daloul
Raj Gandhi
Matthew Howard
Karli Kozel
Raymond Ondrako
Megan Schmidt
Madison Tricarico 
Western Wayne Middle School Select Chorus 
Sopranos: Hailey Bain, Paige Barattucci, Abby Bell, Haley Dougal, Jozlin Gonzalez, Aliyah Gregory, Katarina Koo, Samantha Lee, Jane Lucke, Kayelin Martin, Mady McClure, Kailey Norris, Jasmine Romano and Katarina Shumski
Altos: Naveah Demming, Dakota Douglas, Aveah Drelicih, Mikayla Fullone, Chloe Gilpin, Kendall Murray, Alana Swingle and Avery Ullner 
Baritones: Griffin Cello, Mikey Christopher, Daniel Drake, Jayden Haswell and Scott Kurent 
Toman is an associate teaching professor of music and program coordinator for the Arts and Humanities, as well as music director for the Penn State Scranton Chorale, the Campus Jazz Band, and The Roc[k]tet. She received a bachelor of music degree in piano performance from Marywood University, a master of music in piano pedagogy and music history from The Catholic University of America, and undertaken doctoral studies at Temple University and further studies at the Manhattan School of Music. Her research interest includes music and animation using Lego Mindstorms Robots and co-developed a Penn State General Arts course titled "Integrating Music and Animation with Technology." She is planning future publications based on music and animation.
Covaleski has been the middle school chorus director and teacher at Western Wayne since 2018. Prior to that, she taught general music, chorus and band at LaSalle Academy, Jessup for many years and has conducted numerous religious and community choirs, including the combined school choir for the Diocese of Scranton's 150th anniversary. A graduate of Marywood University, she is currently pursuing a doctorate in education at Wilkes University. She also is a registered nurse, working for a local hospice agency. 
Amy Zakarauskas, who will be an accompanist for the concert, is a choral director, pianist, accompanist, and vocal and piano pedagogue with more than 12 years of experience. She holds a bachelor of music degree in music education from Mansfield University and is the director of the Blue Ridge School District's middle school and high school choruses. In addition, she serves as a pianist at the First Presbyterian Church in Hallstead. She also teaches piano lessons at her piano studio.