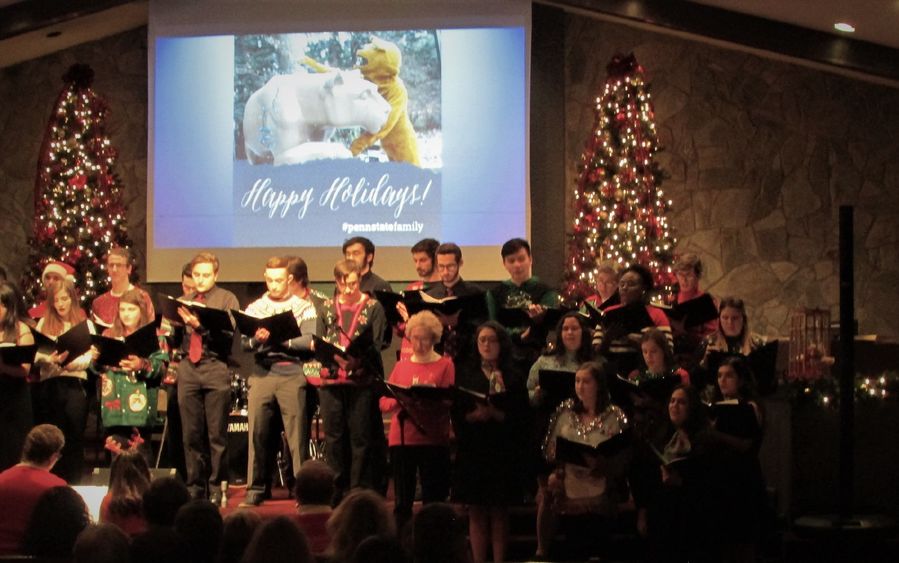 DUNMORE, Pa. — Penn State Scranton will present a very special Annual Holiday Concert as a gift to the Scranton community at 4 p.m. on Sunday, Dec. 5, at the Peoples Security Bank Theater at Lackawanna College in downtown Scranton. 
This year's holiday concert will feature three musical groups. The Penn State Scranton Chorale is a mixed chorus of 25 singers consisting of students, faculty and staff, the Rocktet is a small mixed group of singers who perform music in a show-choir style, and the Campus Jazz Band consists of variety of instruments and will entertain audiences by playing holiday music, Broadway, Jazz, Latin American, etc. These musical groups are under the direction of Associate Teaching Professor of Music and Arts and Humanities Program Coordinator Sharon Ann Toman, who is also the musical director for the three groups. 
"The students are very excited about being able to provide this performance to the community and this holiday concert will surely put everyone in the holiday mood," said Toman. "So, come out and enjoy some holiday spirit and music!" 
Penn State Scranton Chancellor Marwan Wafa extended thanks to Lackawanna College for allowing Penn State Scranton to use their facility for this event. 
"We want to thank Lackawanna College and President Jill Murray, for allowing our campus musical groups the use of the beautiful Peoples Security Bank Theater for our annual holiday concert, and its Vice President for College Advancement Brian Costanzo for his assistance with all of the arrangements needed to make this concert happen," Wafa stated. 
Wafa also thanked Leslie Memolo Collins, president and CEO of Scranton Tomorrow, for helping to bring Penn State Scranton's musical groups to a downtown venue, for the first time in their history. The idea of the musical groups performing at a downtown venue came about after a conversation Wafa had with Collins after a Scranton Tomorrow board meeting. 
Students, faculty and staff who will be performing are: 
Penn State Scranton Chorale 
Sopranos: Rona Covalesky, Deymeliz Desarden-Ruperto, Sarah Hankee, Karli Kozel, Fagr Mahana, Zoe Montagna, Laura Nathans, Danitza Pula Acosta, Taylor Saltkill-Mcrew 
Altos: Victoria Dalrymple, Sue Harper, Meg Hatch, Giana Krehel, Megan Schmidt, Deb Smarkusky, Madison Tricarico 
Tenors: Paul Frisch, Raj Gandhi, Matthew Howard, Skyler Santiago, Doyle Tate 
Bass: Jason Daloul, Raymond Ondrako 
Penn State Scranton Campus Jazz Band 
Flute: Christine Bahk, Sharon Ebert 
Violin: Alexander Hamilton, Randall Kasorek, Solei Lasanta 
Viola: Delaney Kaeb 
Clarinet: Thomas Hufford 
Alto Sax: Robert Bishop, Jack Mead 
Tenor Sax: Samantha Shygelski, John Martin 
Baritone Sax: Jonathan Yocum 
Trumpet: Ella Bruford, Milton Evans, Melina Petrini, Steve Semonich 
Guitar: Gary Caolo, John Martin 
Bass: Ray Petren 
Drums: Bryan Lantzy, Carl Mignano, Edward Sledzinski 
Auxiliary Percussion: Aerik Gustavson, Deb Smarkusky 
Keyboard: Sharon Toman 
Penn State Scranton's Roc[k]tet 
Deymeliz Desarden-Ruperto, Jason Daloul, Raj Gandhi, Taylor Saltkill-Mcrew, Zoe Montagna, Raymond Ondrako,Skyler Santiago, Megan Schmidt, and Madison Tricarico
Lackawanna College is located at 501 Vine Street, Scranton. Admission is free and open to the public and was made possible thanks to the Schwartz Mack Foundation, Lackawanna College and Scranton Tomorrow. For parking, there is a parking lot at the college, on-street parking, and a Scranton Parking Authority parking garage located at 101 Adams Avenue, Scranton, one block away from the college. For more information, call 570-963-2696.
Holiday concert
In addition to the downtown concert performance, Penn State Scranton's musical groups will also be performing their holiday concert for the Penn State Scranton campus community at noon on Wednesday, Dec. 8, in The View Cafe in the campus' Study Learning Center, sponsored by the Penn State Scranton Music Club, with complimentary snacks for those who attend.