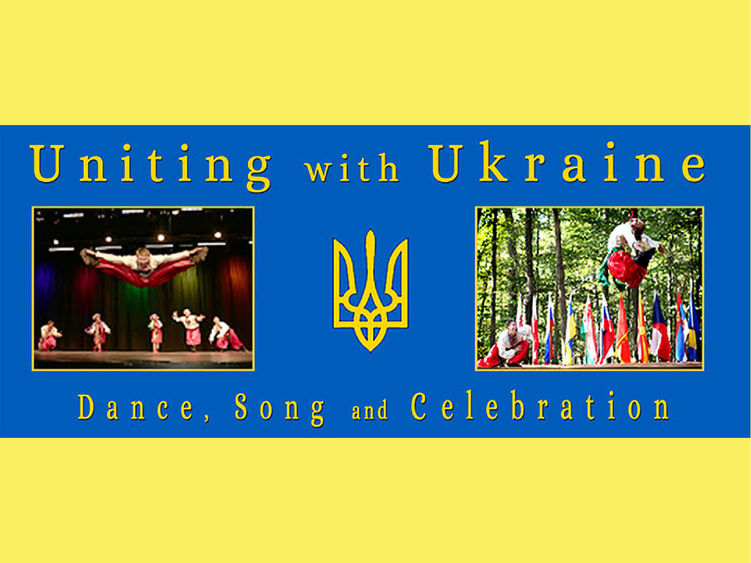 DUNMORE, Pa. — The Ukrainian Cossack dancers, based in New York City, have entertained audiences of all ages in the Americas, Europe and Asia, and are now bringing their talents to Penn State Scranton on Wednesday, Nov. 16, for a special program titled, "United with Ukraine — An Evening of Song, Dance and Music!"
The event will take place at 6:30 p.m. in The View Café, located in the campus' Study Learning Center.
The event is free open to the public. Attendees can expect performances consisting of a traditional Cossack dance routine, including acrobatic tumbles, jumps, breathtaking spins, splits, leaps and the infamous Cossack kicks. In addition to the dancers, there will also be a performance by Ukrainian singers and musicians as well.
"This is the first time the Ukrainian dance group will be on our campus, and we are very excited to welcome them!" said Emily Glodzik, coordinator of diversity, equity, and inclusion.
All of the dancers in the company are highly trained professionals who reproduce the explosively energetic ethnic Cossack dances in stage-adapted form, which include music, dance, or a combination of both in their program.
"With all of the heavy and devastating news coming from Ukraine now and in the recent past, we hope to bring some joy around the culture and its people," Glodzik said. "Hosting 'United with Ukraine' at Penn State Scranton will be a way for us to show our solidarity with Ukraine during such difficult times.
"In addition, they, along with Conscious Campus, will be making a donation to The Ukrainian Red Cross — which is incredible. We hope everyone will enjoy the lively traditional music, dress, and dancing that they will bring as we shine a light on this beautiful culture!"
Andrij Cybyk, Ukrainian-American choreographer, teacher and dancer, founded the company in 2007. Cybyk began his dance training at the University of Akron Conservatory of Dance in Ohio, where he studied Ukrainian and Character dance with Dave Wozniak and Markian Komichkak in the ensemble Kashtan and Ballet.
When he was a teen, Wozniak took Cybyk to his first Dance Camp with Roma Pryma Bohachevsky and later began attending Wozniak's Dance Workshop at Verkhovyna — a training ground for the best Ukrainian Character dancers in North America. Cybyk was also invited to perform with Syzokryli in her New York-based dance ensemble.
Broadening his dance training and experience, Cybyk attended Duquesne University, where he performed over 360 shows with Duquesne University Tamburitzans and studied some of the world's greatest masters of Eastern European folk dance.
Cybyk also attended the Virsky School of Academic Ukrainian Folk Dance in Kyiv, Ukraine. He graduated with the title "Artist of Ballet" and returned to the United States, where he pursues dancing full time.
In addition to the Cossack dancers, Cybyk has also been featured as a guest artist and principal dancer for the following dance companies: Anglo-American Ballet Company, Brighton Ballet Theater, Connecticut Ballet, New Jersey Ballet, Shore Ballet Company, Michael Mao Dance, Nai Ni Chen Dance Company, and the ALLNATIONS Dance Company.
IThe Nov. 16 performance begins at 6:30 p.m. in the Study Learning Center's View Café. The SLC is located at the campus' main entrance off of Ridge View Drive in Dunmore. Parking is available in the parking lots located just past, and above, the SLC and Dawson Buildings. There is also handicapped and special-needs parking available adjacent to the SLC.
For directions and a map of the Scranton campus, visit:  https://scranton.psu.edu/directions.
For more information on the performers, visit:  https://consciouscampus.com/talent/uniting-with-ukraine/