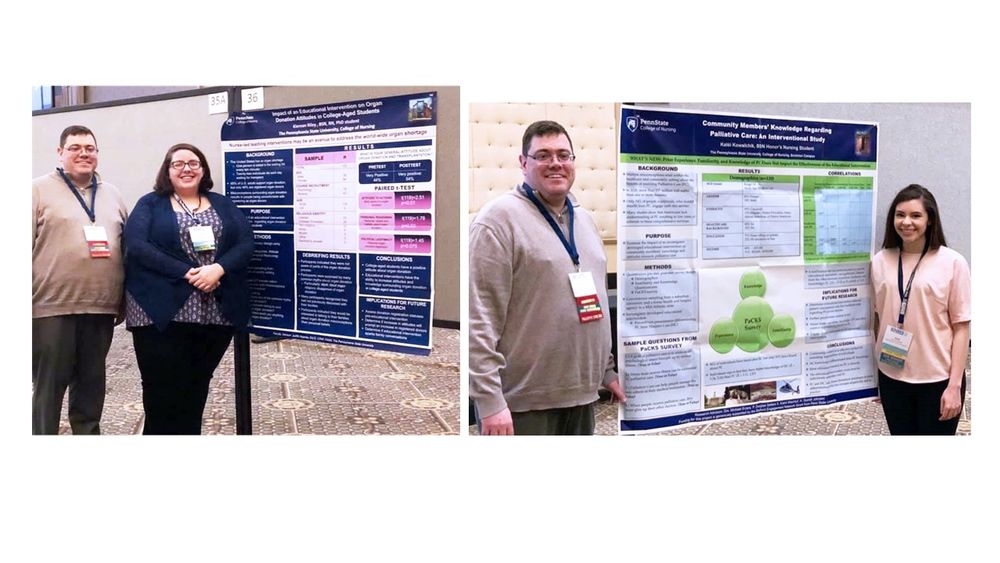 UNIVERSITY PARK, Pa. — Several representatives of Penn State Scranton's nursing program recently traveled to Rhode Island to do their part to advance the field of nursing science.
Michael Evans, campus assistant chief academic officer and associate teaching professor of nursing, junior honors nursing student Kaléi Kowalchik, and campus alumna and current Penn State College of Nursing doctoral student Kiernan Riley presented their research at the Eastern Nursing Research Society's 31st Annual Scientific Sessions (ENRS) at the Rhode Island Convention Center & Omni Providence Hotel in Providence.
The theme of this year's conference was "Transforming the Future of Nursing Research: Imagination, Innovation and Engagement."
Kowalchik presented the poster, "Community Members' Knowledge Regarding Palliative Care: An Interventional Study," while Riley presented the poster, "Educational Intervention on Organ Donation Attitudes in College-Aged Students."
"The conference was amazing. This is my fourth or fifth time attending, and every time I leave with new information and inspired by what I learned," Evans said. "It provides researchers — novice researchers to experienced scientists — with workshops on a variety of topics and workshops. It also is a tremendous venue for networking with colleagues throughout the Eastern part of the country."
Kowalchik and Riley were both selected by Penn State College of Nursing research faculty to participate in the conference, which Penn State co-sponsored. In addition to presenting their work, both students had the opportunity to network with scholars and peers.
"I really enjoyed getting the chance to discuss and disseminate my research with more nursing professionals," said Riley, who took first place for doctoral students in the student poster session.
Kowalchik particularly enjoyed attending the morning and afternoon Research Interest Groups on qualitative research and palliative care.
"I met many nurse researchers who have inspired me to re-frame my way of thinking in regards to nursing research, as well as encouraged me to continue my passion for research and higher education," Kowalchik said. "While it is always difficult missing class and clinical time, attending and presenting in conferences like ENRS are valuable learning experiences which cannot be taught in a clinical or classroom setting. It was a memorable experience that I will always cherish."
Kowalchik's poster presentation focused on assessing local residents' familiarity, experience and knowledge of palliative care, a specialized form of medicine focused on providing relief to those with serious illness. Many people lack basic understanding of the concept, and often mistake it for hospice care, according to Kowalchik.
Along with Evans and Riley, Kowalchik created a palliative care teaching intervention for community members. The results showed that the intervention worked in terms of effectively giving test subjects meaningful knowledge on the subject.
"Community outreach is an effective method for educating large numbers of individuals, and more educational means are needed for palliative care to flourish," Kowalchik said. "To avoid more misconceptions, clearer theoretical differentiation of palliative care and hospice care is needed."
"The hope is that by helping community members learn about palliative care, they will be able to make more informed decisions in the future if they or loved ones ever need it," Evans added.
For her study, Riley, a 2018 Penn State Scranton graduate and first-year B.S.N.-to-Ph.D. student at University Park, researched the impact of an organ donation teaching intervention to campus students. In addition to Evans, she was assisted on the project by her current adviser, Judith Hupcey, professor of nursing and associate dean for Graduate Education and Research in the College of Nursing.
"We found that an educational intervention is an effective way to address organ donation attitudes — and increase positive attitudes — in college-aged students," said Riley, who upon completing her doctorate plans to enroll in a post-doctoral research program and continue her career in nursing research.
"The hope is that through the intervention, college-aged students will be able to make informed decisions regarding organ donation and help dispel some of the negative myths surrounding the topic," Evans said.
Like Riley, Kowalchik intends to move into a B.S.N.-to-Ph.D. program upon graduating from Penn State Scranton in May 2020. Eventually, she'd like to work in academia, and serve as the type of mentor to students that Evans has been to her. Among other things, she said, he's instilled in her the importance of grant writing, data collection and analysis, and socialization within nursing research.
"He truly is an individual I look up to and one day aspire to be," Kowalchik said.
Evans, meanwhile, is convinced both Kowalchik and Riley have bright futures ahead of them in nursing science, given their passion for research and stellar work ethic.
"They are both amazing individuals who have the potential to be become highly respected nurse scientists in the profession," he said. "I am truly privileged to work and mentor them."
Comprised of RNs and others interested in promoting nursing research, ENRS is dedicated to creating a community of nurses interested in promoting research in the Eastern Region of the United States.
ENRS was established in 1988 as the research arm of the Mid-Atlantic Regional Nursing Association and the New England Organization for Nursing. Regions include: Connecticut, Delaware, Maine, Massachusetts, New Hampshire, New Jersey, New York, Pennsylvania, Rhode Island, Vermont and Washington, D.C.