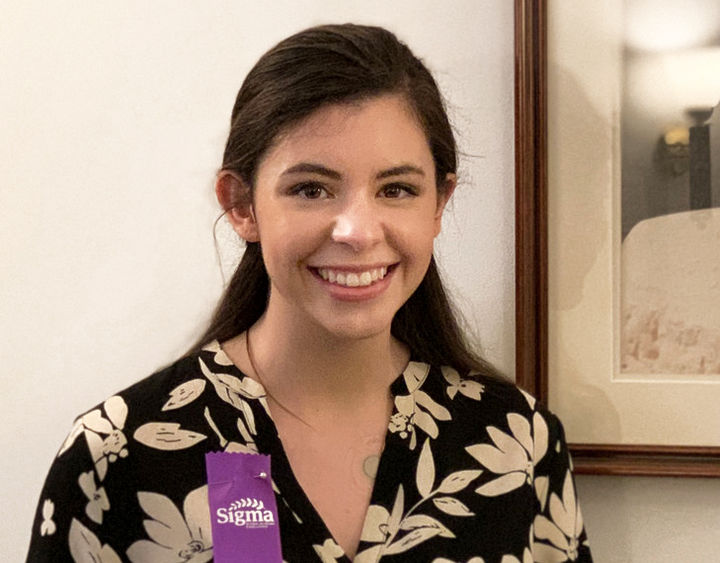 DUNMORE, Pa. — Penn State nursing senior Kaléi Kowalchik champions research regarding the awareness and importance of palliative care in the nursing field.
Kowalchik is a four-time recipient of Penn State Student Engagement Network (SEN) grants, which are given to motivated students who will conduct research, allowing them to expand their experience beyond the classroom.
From a young age, Kowalchik said she knew she wanted to work in a medical field. Throughout her life, she was amazed by the positive impact nurses had on patients, families and communities. She was interested in both the science and art aspects of the nursing profession and knew she could utilize both interests in research.
"Nursing allows me to care for a patient utilizing the science, theory, and evidence-based practice behind what I am applying in the field," Kowalchik said. "But it also allows me to provide therapeutic means to a patient through compassion and empathy to them and their family throughout their journey of illness and wellness."
At the Penn State Scranton campus, where Kowalchik studies, she came across Michael Evans, now the assistant dean for undergraduate nursing education at the Commonwealth Campuses, who was at the time specializing in palliative care, and end-of-life care research.
Palliative care is a type of care that can be implemented at any stage of a serious long-term illness that is focused on providing relief from the symptoms and stress of living with a life-limiting illness. The overall goal of palliative care is to improve the quality of life of a patient and their family through many means including, but not limited to, spiritual, holistic, psychosocial and physical care.
Freshman year, Kowalchik had the opportunity to work with Evans on his palliative care research, jumpstarting her interest and honing her focus on palliative care throughout her career.
"Over the years, the more I researched within these areas, I was able to see the current gaps in palliative care throughout literature," Kowalchik said. "and how it is impacting not just the country but local communities as well."
This past summer, Kowalchik was given the opportunity through her SEN grant to conduct research in Costa Rica. On the trip, everyone was asked to pose a research question and answer it through an extensive literature review and observational experiences.
Kowalchik knew Costa Rica as being a country known for its ability to provide and have access to palliative care to many patients in its acute-care setting. On the trip, she was better able to understand how palliative care is utilized in other countries along with its accessibility to those who may need it.
"Traveling to Costa Rica gave me the insight to see how palliative care can be better implemented in other hospitals here in the United States," Kowalchik said.
According to the National Health Council, in 2014, an estimated 133 million of the U.S. population were affected by chronic diseases. It is approximated that by 2020, 157 million will suffer from more than one chronic disease.
Statistics like these are the reason Kowalchik continues to spread awareness about and conduct palliative care research.
"As our population ages," Kowalchik said, "we should be working on creating accessibility to palliative care resources for all patients who may need to access them."
Now that Kowalchik is back at home, she is currently working on two projects regarding palliative care.
Her first project is about identifying community members' perception of palliative care. The aim of the study is to determine whether an educational intervention would be associated with changes in attitude and knowledge regarding palliative care, which could help aid healthcare planning and decision-making in the future.
Kowalchik's second research project focuses on nurses' perceptions of palliative care and the impact it has on palliative care referrals in the acute-care setting. Although the research is still ongoing, early findings show improving access to palliative care education and increasing hospital resources for palliative care can help acute-care nurses understand and appropriately refer patients to palliative care.
"Having completed and disseminated two research projects as an undergraduate student is a huge undertaking and Kaléi never shied away from the hard work that it took to complete these projects," Evans said. "She is a true asset to the College of Nursing and the nursing profession and has positioned herself nicely for graduate school."
Kowalchik said that Evans is one of the main reasons she has been invested in palliative care research and that he has been one of her biggest supporters throughout her college career.
"The mentorship and family comradery Penn State offers its students is amazing," Kowalchik said. "It empowers it students to give back and do their best for their community."
November is National Hospice and Palliative Care Month. Kowalchik believes that being able to spread awareness not only of the need and benefits of palliative care, but also distinguishing the difference between palliative care and hospice care will aid in future health planning decisions and how these two types of care are perceived.
"We have the ability to impact many individuals and therefore increase a larger population's quality of life," Kowalchik said.
For more information on Kowalchik's current research projects regarding palliative care, contact her at [email protected].