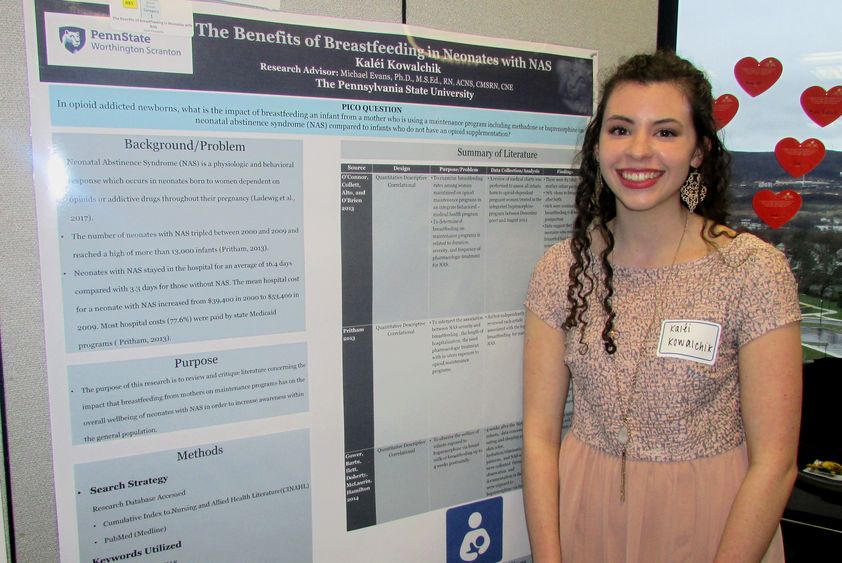 DUNMORE, Pa. — Kalei Kowalchik, a junior at Penn State Scranton, and an honor's nursing student, has received her third Student Engagement Network (SEN) award.
The SEN is offering grants to students who want to expand their experience beyond the classroom. Individual awards of up to $3,000 are available to cover unpaid internships, research opportunities, travel costs, event fees, supplies and materials, books, software needed for projects and presentations, and more.
Kowalchik will be working every other weekend during the Fall 2019 semester with the Lackawanna County Visiting Nurses Association (VNA) Home Health and Hospice agency under Michael Evans, associate teaching professor and assistant chief academic officer at Penn State Scranton.
"I will assess and educate patients with congestive heart failure (CHF) under the guidance of Dr. Evans," Kowalchik explained. "CHF is a prevalent and progressive disease which impacts multiple organ systems. Due to its systemic effect on patients, it is a disease process which frequently causes hospital readmissions if proper educational and preventative care are not provided."
Evans and Kowalchik will specifically review and revise this health care provider's home health education materials related to CHF. After doing this, the VNA will continue to monitor their patients to determine hospital readmission rates and they will compare this data with historical data to determine the effectiveness of the revisions, said Kowalchik.
"As I continue my undergraduate education with an interest in graduate level education, this engagement experience will allow me to enrich my professional development in multiple avenues," Kowalchik said. "This experience will provide me a glimpse into a different aspect of nursing, which will allow me to focus on the importance of educational interventions in relation to patients with CHF.
"Almost 6 million individuals suffer from CHF, and it is imperative that I understand best practices to help this population of patients. I will also further develop my research skills by searching the evidence-based literature to revise current teaching tools."
She also plans to further develop her statistical abilities by examining hospital readmission rates pre- and post-educational revisions.
"This experience will also allow me to develop professionally in multiple multicultural settings, as I will be monitoring the preventative teaching in their home health setting," she added. "As I start my junior year of nursing education, this engagement experience will help me narrow into an area of specialty I hope to pursue in the future."
The number and amount of SEN grants awarded at Penn State vary based on the number of applications received; however, there is a maximum allotted amount of $3,000 per applicant.
The Student Engagement Network is a joint initiative of the University's offices of Undergraduate Education, Student Affairs, and Outreach and Online Education, and connects Penn State students with opportunities that empower them to grow beyond the classroom and achieve their highest potential. Students can explore, plan and execute successful experiential learning opportunities that empower them to have a positive impact on our community and world.