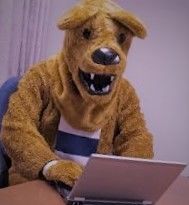 When the COVID-19 pandemic hit northeast Pennsylvania and self-quarantine measures were put into place, Penn State made the decision to switch its classes to remote learning; however, students at Penn State Scranton still wanted to maintain a connection to the campus and needed an easy way to keep informed of new developments and changes that were taking place.
Luckily, Director of Student Services and Engagement Brad Kovaleski and Administrative Support Coordinator for Student Services and Engagement Michele Nicoteri are helping to keep students informed and engaged during this pandemic with a special campus newsletter, PSU Scranton Daily Updates.
This online newsletter, delivered via email to all Penn State Scranton students, provides information on research, academics, impacts, campus life, athletics, administrative issues, arts and entertainment.
According to Kovaleski, this newsletter will help keep the students engaged in student activities and events virtually.
"We are offering virtual events through our campus and around the globe where students can connect. Additionally, the coffee/chat, open office pop-ins, town hall, and all the opportunities we are attempting, provide avenues for engagement. Additionally, we will be having major meetings in April and hopefully club meetings will take place in April. Lots of opportunities for students to stay engaged," he said.
He has also announced that a few trips that were canceled due to the pandemic were the Washington, DC and Baltimore trips; so Julie Gilpatrick, coordinator of student activities, will be offering virtual tours for both trips to the students.
The special newsletter also helps students stay informed about the changes in the global outbreak of COVID-19 and its effects on campus life and the community ever since the announcement of remote learning on March 16.
Nicoteri explains that this newsletter is sent through the student listserve, so it's sent to every registered student at Penn State Scranton.
She has also received a substantial amount of feedback from the students. "I have received questions from students, so I know that they're reading it, but I haven't received a testimonial or anything saying how much they enjoy it."
Kovaleski has also received information from students that they were receiving a significant number of emails and they were struggling to keep track of them all.
"We thought as a staff, how we could control what type of information was sent through the listserve to minimize the number," he explained. "At the same time, we wanted to ensure the students had access to resources, events, news . . . so we hoped if we put the content in one place, they would know the information would be in that one place each day for easy access."
As there has been a lot of digital strain during the first two weeks of the remote learning implementation, Kovaleski hoped that the newsletter would help reduce the electronic pressures we are all facing during the quarantine.
"The sheer amount of communication has spiked during the transition to remote learning," he said. "Now that we are completing week two, there is an understanding that we have a better balance on using the various platforms efficiently, so as not to overwhelm. We still have a way to go, but everything we can do to help is great."
Students are also able to send items in for inclusion in the newsletter by sending them to Nicoteri directly through her email, [email protected].
For more information on Penn State News, visit www.news.psu.edu or contact Kovaleski at [email protected].