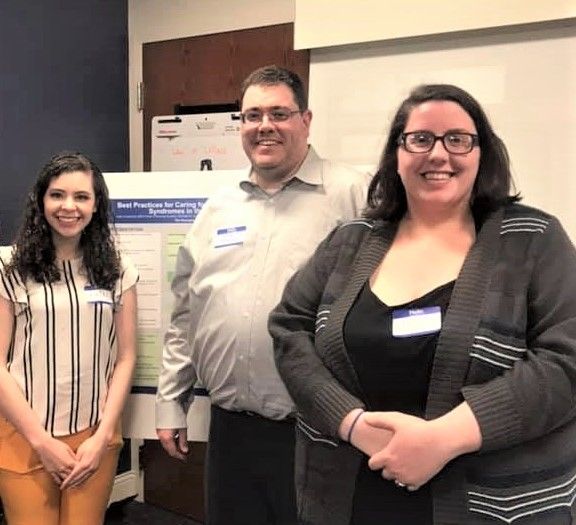 DUNMORE, Pa. — Several representatives from Penn State Scranton's nursing program recently presented their research at the inaugural University Park Medical Campus Research Symposium.
The event featured 34 posters presented by students and faculty from the College of Medicine University Park regional campus and other Penn State campuses.
A team of Penn State Scranton faculty had one poster accepted at the symposium. The research, "Best practices for caring for a patient with functional somatic syndrome in a medical surgical setting," was a collaboration by four nursing program representatives: Kalei Kowalchik, senior honors nursing student; Michael Evans, associate teaching professor of nursing and campus assistant chief academic officer; Kiernan Riley, campus alumna and BSN-Ph.D. program student in University Park's College of Nursing; and Theresa Baker, instructor of nursing.
According to Dr. Michael Flanagan, assistant dean for student affairs at the College of Medicine University Park, close to 100 people attended the symposium.
"We invited participants who had completed research, had research in progress or had ideas for collaborative research," he said. "It allowed presenters to get feedback on their research activities and learn about what their colleagues are doing."
Evans said he particularly enjoyed the fact that the conference brought together students and faculty from a variety of disciplines, including medicine, nursing and kinesiology.
"This interaction is important as this is how we practice as healthcare professionals and it allows us to see the important research taking place in each discipline and promotes interdisciplinary collaboration," Evans said.
Evans noted the symposium was the perfect venue to present the team's poster, given that patients suffering from functional somatic syndromes like chronic fatigue syndrome and fibromyalgia quite often require interdisciplinary care teams to treat their symptoms and respond to various other needs.
"One must realize that while these diseases may appear silent and not produce visible symptoms, they can greatly impact a patient's quality of life. Functional somatic syndromes impact about 30 percent of all patients in the U.S.," Evans said. "At the conference, we received great feedback that can help further our research."
At the symposium, four best poster awards were presented to the following students:
Kayley Swope, fourth-year medical student, for "Imposter Phenomenon Across the Span of Medical Training"
Priyanka Shrestha, doctoral candidate, College of Nursing, for "Implementing a Two-step Delirium Identification Protocol with Hospitalized Older Adults: A Focused Ethnography"
Kaitlyn Ruffing, second-year medical student, for "Effects of Metabolic and Psychological Stressors on Serum 24-Hour Cortisol and Luteinizing Hormone"
Chaoran Ma, doctoral candidate, for "Low-density Lipoprotein Cholesterol and Risk of Intracerebral Hemorrhage: A Prospective Study, Systematic Review, and Meta-analysis"
Considering the success of its first year, the symposium appears to have a bright future ahead of it, Flanagan said.
"The interest was overwhelming, and it indicates we will continue to have a robust annual symposium in the future," he said.
Evans added, "This was a great conference and we look forward to presenting our research at it again."