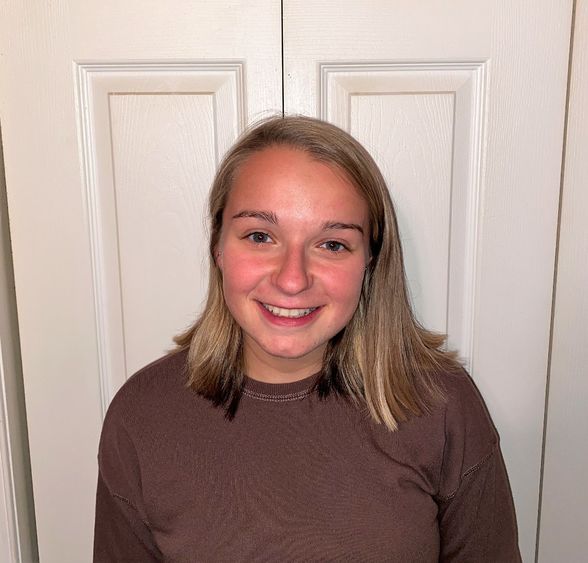 DUNMORE, Pa. — Logan DeSanto has developed a genuine passion for the clinical and research sides of nursing during her time at Penn State Scranton.
Now, the honors nursing student is getting the opportunity to conduct her work on a larger scale, thanks to the University's Student Engagement Network (SEN) Remote Innovation Grant.
DeSanto recently received a $2,000 SEN grant that's allowing her to work with Michael Evans, assistant dean for undergraduate nursing education at the Commonwealth Campuses and associate teaching professor in nursing, and his research team.
The grant's application process was "intimidating but exciting," according to DeSanto, a junior from Dickson City.
"I was super excited when I learned I received the grant," she said. "I was studying for an exam when I received the email. I immediately smiled and rushed to tell my parents and the rest of the research group. Receiving the grant made me even more motivated and excited to begin my work with Dr. Evans."
"Logan is great to work with. She's very attentive to detail, hardworking and motivated," Evans said. "Students like her keep me inspired to continue to do more for the profession and our students. They bring a fresh set of eyes to a project and ask many great questions, which often allows me to think of the project in a new light."
The SEN grant provides students with the funding to work with a faculty member on projects that they may not otherwise have the chance to do on account of other work commitments.
Thanks to the grant, DeSanto will now have the time and financial resources to shadow Evans while he makes his rounds as a part-time RN for VNA (Visiting Nurse Association) Hospice & Home Health of Lackawanna County.
"In Penn State's nursing curriculum, students typically only get a few days of hospice and/or home health experience. But, because of the SEN grant, Logan is able to shadow me one-on-one when I work and really hone her clinical assessment skills, along with her clinical reasoning and judgment abilities," Evans said. "She is learning to provide person-centered care to home health patients and hospice patients with life-limiting illnesses. Through this work, she is learning to be part of an interdisciplinary team of providers to provide patients with the best care possible."
Meanwhile, DeSanto is also collaborating with Evans and his research team, comprised of campus alumni Kiernan Riley and Kalei Kowalchik, both doctoral students at University Park, and current campus nursing undergrads Lucy Adams and Megan Lucey. All four students are past SEN grant recipients who have published manuscripts and given scholarly presentations on their work.
DeSanto is assisting the group with literature reviews, data collection and analysis, and grant proposals. Most notably, she's working with the team on Lyme disease research, which includes the development of a manuscript titled, "The Role of the Nurse in the Treatment of Persons Impacted by Lyme Disease."
"Logan is involved with all stages of manuscript development and working with my research team. We hope to complete the manuscript by the end of the year to submit for publication," Evans said.
"I'm really enjoying the research so far," DeSanto said. "I like that I am able to find out more information about certain topics that we might cover in class, but maybe not as extensively. The topics I am learning about are going to help prepare me to become a better nurse by receiving more knowledge during my undergraduate experience. And Dr. Evans has been really supportive; I feel I've already learned so much."
A desire to help
During high school, DeSanto developed an abiding interest in science and medicine. Combined with her longtime desire to help others, nursing seemed like a great career option, she said.
At the campus, she has found a high-quality nursing program that has provided her with advanced, relevant, useful knowledge in both the clinical and classroom settings. Along the way, she's become increasingly interested in research. For her, the appeal is in acquiring information that goes beyond course lectures and allows her to go in-depth on various diseases, syndromes and practices.
And the nursing faculty have been top notch, she said.
"They go above and beyond to make sure we succeed in the classroom and clinical settings. They are always willing to meet with us to ensure we are understanding the material being provided to us," DeSanto said. "In addition, I am able to find opportunities and experiences with the help of faculty, such as with Dr. Evans. I am really happy I chose to study at Penn State Scranton."
Post-graduation, DeSanto is considering multiple potential pathways, including attending graduate school to become a nurse practitioner and working in critical care, which would give her the needed experience to eventually become a nurse anesthetist.
No doubt, her current work with Evans and the research team will help inform that future, she said.
"I really appreciate the knowledge I have received so far," DeSanto said. "My ultimate hopes are to gain as much experience as possible and learn more about the field of nursing. This opportunity can provide me with more insight regarding what I want to do with my degree in the future."
"I am so fortunate to work with Penn State Scranton students like Logan who strive to be the best at what they do," Evans said. "I expect her to pursue graduate studies and become a leader in the nursing profession."