Penn State alumni representing four northeast regional campuses will perform Oct. 21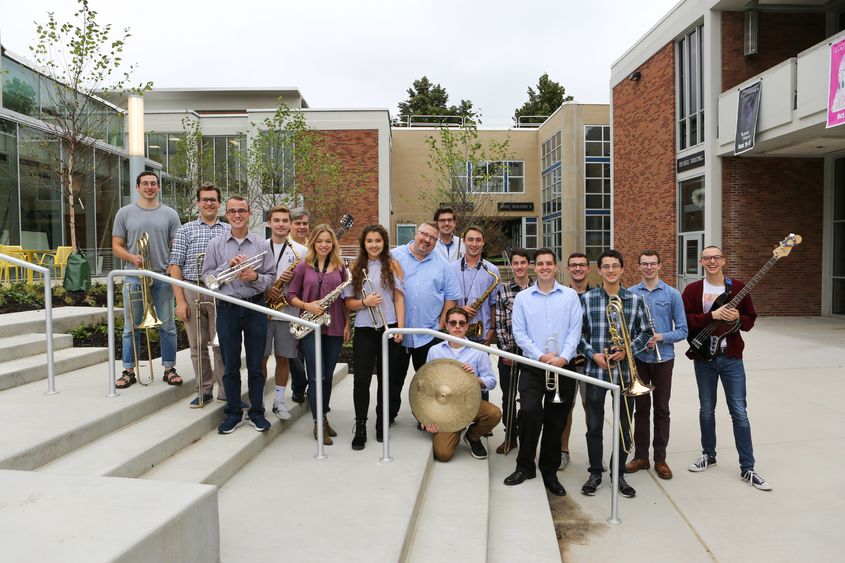 HAZLETON, Pa. — Penn State alumni representing four northeast regional campuses will be offering "A Night of Penn State Jazz" at the Alice C. Wiltsie Performing Arts Center, 700 North Wyoming Street, Hazleton, on Sunday, Oct. 21. The concert, featuring Penn State's Centre Dimensions jazz ensemble, will begin at 7:30 p.m. Doors open at 6:30 p.m. for general seating.
Centre Dimensions, the premier 20-piece jazz ensemble at Penn State, performs frequently on campus and tours throughout Pennsylvania and the East. Conducted by the renowned Penn State School of Music Director of Jazz Studies Marko Marcinko, Centre Dimensions performs and works with several internationally known artists each year.
The students, recognized among the top in the University music program, perform a challenging repertoire of modern and classic jazz, as well as originals written by the director. This highly selective ensemble is open by audition to Penn State undergraduate and graduate students in all majors.
Chancellor Gary Lawler commented about the upcoming program. "We are looking forward to this exciting evening of jazz from one of the premier groups within the Penn State family. The Alice C. Wiltsie Center in Hazleton is the perfect venue to enjoy an evening in the arts. It will be truly an event not to miss, and we thank our alumni groups for making this all happen."
Admission is $15 per person and $10 for students or members of the Penn State Alumni Association. For a reservation form and information, go to https://hazleton.psu.edu/night-penn-state-jazz. Questions may be directed to the Penn State Hazleton Alumni Office at 570-450-3560.
In addition to the alumni organizations at Penn State Hazleton, Schuylkill, Scranton and Wilkes-Barre campuses, the Penn State Alumni Association (PSAA) is sponsoring this event.
"Alumni groups allow us to extend the Penn State experience throughout the lifelong relationship that we maintain with our alumni. In particular, the groups associated with our northeast campuses are a tremendous asset to the Penn State Alumni Association," says Paul Clifford, PSAA CEO. "Events that involve our alumni and feature talented students and faculty highlight our academic quality and showcase Penn State pride."