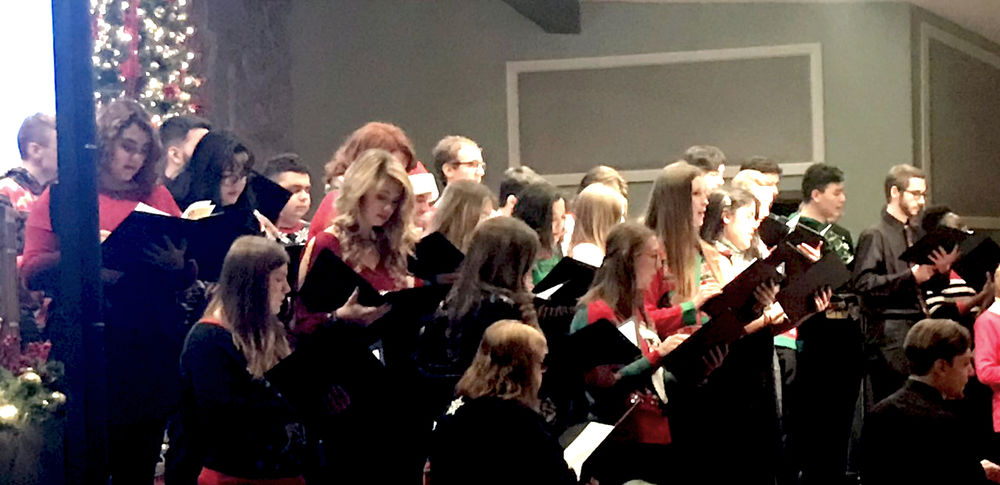 DUNMORE, Pa. — For anyone looking for a solid dose of holiday spirit, Grace Bible Church in Dunmore was the place to be Sunday afternoon, Dec. 8.
There, more than 400 members of the community came out to see Penn State Scranton's three musical ensembles — Penn State Scranton Chorale, Roc[k]tet and Campus Jazz Band — present their annual Holiday Concert.
A yearly gift to the community for the past five years at Grace Bible Church, the free concert featured an hour's worth of holiday favorites, as well as some well-known rock and pop tunes thrown in for good measure.
The group will present the concert again for the campus community at noon on Wednesday, Dec. 11, in The View Café. That show has been a tradition since 2005.
Under the direction of campus Music Director and Associate Teaching Professor of Music Sharon Ann Toman, each group took its turn in the spotlight against a festive backdrop decorated with Christmas trees, white lights and a large video screen.
First up was the Chorale, a 50-member mixed chorus made up of students, faculty and staff members. With crisp, multipart harmonies and plenty of emotion, the singers delivered stellar versions of the holiday staples "Baby, It's Cold Outside" and "Over the River and Through the Wood," as well as an arrangement of Leonard Cohen's "Hallelujah" made popular in the film "Shrek."
The set also included the Ukrainian carol "Ring Silver Bells," with solos by Deymeliz Desarden-Ruperto and Catherine Huggler, and "Calypso Deck the Hall," which was accented with congas.
From there, the talented eight-singer mixed chorus Roc[k]tet performed first-class renditions of two Yuletide classics, "Have Yourself a Merry Little Christmas" and Irving Berlin's "White Christmas."
Finally, the Campus Jazz Band took the stage for the last portion of the show.
Made up of 25 instrumentalists, the band delivered a high-energy performance showcasing its versatility. On the holiday end of the spectrum, there were arrangements of "The Christmas Spirit" and "Big Band Holiday." In addition, the band performed lively covers of Van Morrison's "Brown Eyed Girl," Ozzy Osbourne's "Crazy Train," Marvin Gaye's "I Heard It Through the Grapevine" and Led Zeppelin's "Stairway to Heaven."
Collectively, the groups spent the fall semester putting in countless hours of rehearsal time. Given the standing ovations they received at the concert, it was certainly time well spent.
"The one thing I want to stress is that these are not music majors," Toman told the crowd. "They are a joy to work with, and I look forward to working with them every semester."
For photos from this year's holiday concert, visit Penn State Scranton on Flickr.