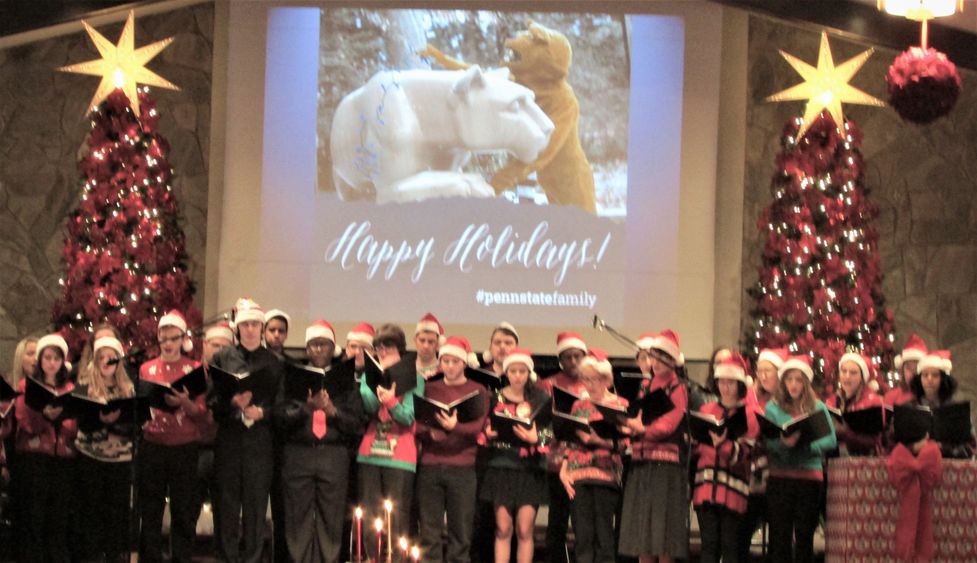 DUNMORE, Pa. — Following their annual holiday tradition, Penn State Scranton's musical groups will be doing their part to lift the holiday spirits of area residents and the campus community.
On Sunday, Dec. 8, the campus' three musical ensembles — Penn State Scranton Chorale, Roc[k]tet and Campus Jazz Band — presented their annual Holiday Concert at Grace Bible Church, located at 130 University Drive in Dunmore. A gift to the community, admission to the concert is free for the general public.
On Wednesday, Dec. 11, the groups will perform their annual on-campus Holiday Concert at noon in The View Café.
The musical groups have been performing the off-campus concerts at Grace Bible for the past five years, while the on-campus show has been a tradition since 2005, according to campus Music Director and Associate Teaching Professor of Music Sharon Ann Toman.
The three musical groups consist of campus students, faculty and staff members. The Penn State Scranton Chorale is a mixed chorus of 50 singers, while the Roc[k]tet is a small mixed group of singers who perform in a show-choir style. The Campus Jazz Band is made up of instrumentalists who can play in a variety of styles.
The groups' versatility will be put to good use at the Holiday Concert, which will include such holiday favorites as "White Christmas," "Over the River and Through the Woods," "Baby, It's Cold Outside" and "Have Yourself a Merry Little Christmas."
Meanwhile, the show will also include renditions of classic rock and pop songs like "I Heard It Through the Grapevine," "Brown Eyed Girl," "Crazy Train" and "Stairway to Heaven."
Toman said the groups have put in many hours of hard work at their rehearsals. At the beginning of the fall semester, she observed the respective personalities of the musical groups and from there sought their song suggestions. All these weeks later, the students are performing their repertoires with plenty of skill and confidence, she said.
"The students who comprise these musical groups are so talented and dedicated to doing their best," Toman said. "Their musical performances are outstanding and of the highest quality even though they are not music majors. I'm so proud of them!"
No doubt, the groups' passion for the music will translate nicely to the audience, resulting in a festive experience for everyone involved.
"It gives me much joy to see the students enjoying their music and performance, as well as seeing the audience get into the holiday spirit," Toman said. "The holidays and its traditions are all about music and the sharing of music, and our students and I get much joy from sharing the holiday spirit with music."
For more information on the Holiday Concert, call 570-963-2696.