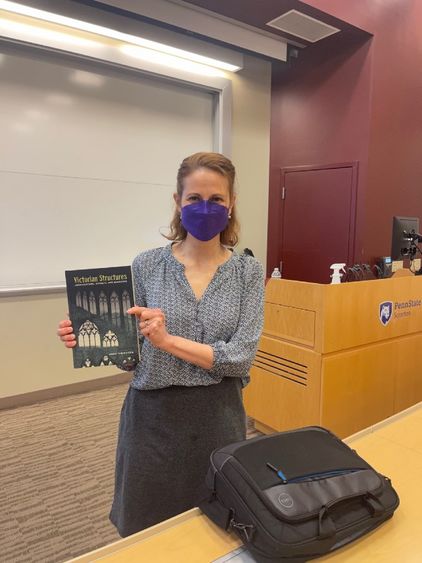 DUNMORE, Pa. — Jody Griffith, assistant teaching professor of English at Penn State Scranton, presented highlights of her nonfiction book of literary analysis, "Victorian Structures — Architecture, Society and Narrative," at this semester's second Brown Bag Lunch Seminar last month and to the campus' Advisory Board earlier this month.
The book, published in March 2020, touches base on four different novels: "Little Dorrit" by Charles Dickens, and "Adam Bede" by George Eliot, as well as "The Mayor of Casterbridge" and "Jude the Obscure," both written by Thomas Hardy.
"I specialized in the Victorian era, especially the Victorian novel," said Griffith. "I wanted to figure out a way to analyze the novels of that era that would combine narrative and cultural theory, so that's how I ended up looking at structure itself for my focus. It took quite a long time from start to finish to end up with a book — I think about five years, including revisions."
More specifically, Griffith focuses on structure within each of these novels in a concrete and abstract sense, and emphasizes two important aspects within them: communal function and temporal presence. Griffith noted that the focus of structure within each of these novels is one of the biggest takeaways within her research.
"I think it's that structure itself can be a form of social criticism. It isn't just what authors say about their social concerns, but that the way they say it can itself make us question things" said Griffith. She noted within her research that buildings and architecture, like novels, are like "cultural systems," as it reflects concern for social relationships and how they're maintained, as well as figurative imagery that changes through time.
Additionally, buildings have stories to tell, as they can reveal social and narrative formations, which help make the invisible language of structure visible, she explained. Interestingly, Hardy was an architect before writing novels, and demonstrated an acute awareness of changes within architecture within his novels.
Griffith had mentioned that 19th-century architecture captures tensions between dramatic social restructuring on the one hand and the desire to hold onto the past on the other, and emphasizes how the stories we tell shape the society we live in.
She noted how each of these four novels aligns with the principles from the "lamps" within John Ruskin's novel "The Seven Lamps of Architecture," as it portrays an aesthetic and value concern of architecture: Dickens' "Little Dorrit," signifies the "lamp" of obedience, as it serves as an indication of chaos and confusion, in which the walls provide safety; "Adam Bede" by George Eliot represents the "lamp" of power and beauty; Hardy's novel "The Mayor of Casterbridge" pairs with "The Lamp of Memory"; and "Jude the Obscure" pairs with "The Lamp of Life."
"I really enjoy doing the reading and research. I could just gather notes and ideas endlessly. I also enjoy revisions, because it seems like a puzzle to figure out the best way to put ideas together. The hardest part is what comes between: the actual writing of everything," said Griffith.
The book is available for borrowing at the Penn State Scranton Library.
The Brown Bag Lunch Series was started several years ago at Penn State Scranton as a collaborative effort between Mike Evans, assistant dean for undergraduate nursing education at Penn State's Commonwealth Campuses and a teaching professor in nursing, and two former psychology faculty members, Doug Sellers and Karin Machluf, to provide a forum where faculty, students and alumni could share their research, quality improvement projects and creative works in a non-intimidating format before presenting at larger conferences.