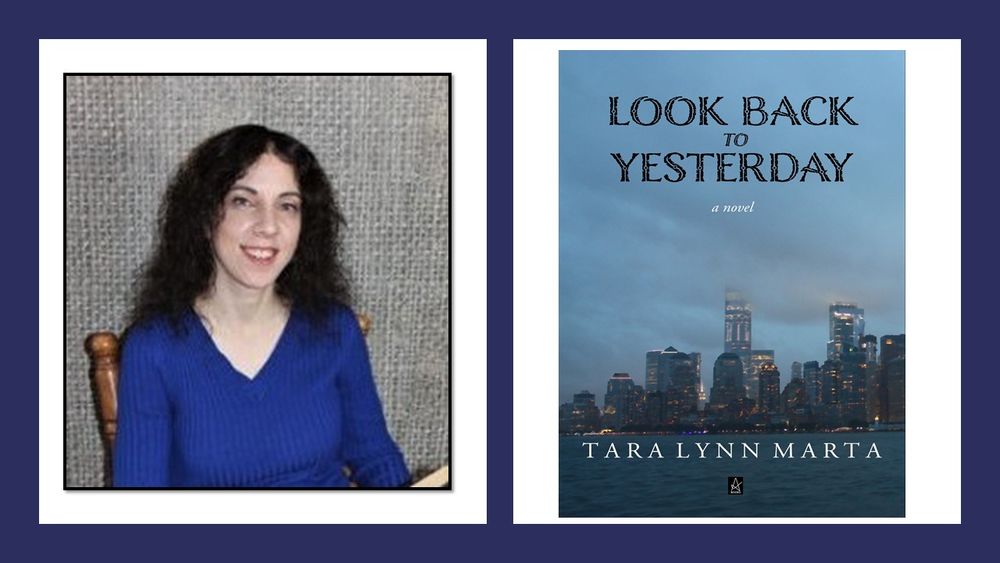 Penn State Scranton alumna Tara Lynn Marta continues to make inroads in her budding literary career.
Marta, who graduated from the campus in 2015 with a bachelor's degree in English, has been selected to take part in the upcoming Writers' Showcase Fall Edition at Scranton's Old Brick Theatre, 126 W. Market St.
The public reading, which will take place from 7 to 9 p.m. Saturday, Nov. 16, will feature Marta and fellow local writers Chris Eibach, Robb Fillman, Dan Pape, Marcie Herman Riebe and Brianna Schunk. Admission is $4.
There, Marta will be reading an excerpt from her upcoming debut novel, "Look Back to Yesterday," which will be published by Adelaide Books in May 2020. She was selected to take part in the event by its hosts, local writers Brian Fanelli and Dawn Leas.
Marta, who last did a reading at the Writers' Showcase in 2017, said she's extremely excited about having the chance to introduce "Look Back to Yesterday" to a local audience.
"Being shy by nature, I never imagined myself doing readings or speaking in a public setting," Marta said. "But I have come to realize that being a writer is so much more than just writing – it's also about presentation. I've done several readings since first getting my work published, so I've come to enjoy sharing my work with an enthusiastic crowd."
The novel revolves around Rebecca, a 33-year-old woman who, following the death of her father and the breakup of her relationship, finds herself clinging to the memories of her childhood in Brooklyn which, prior to the death of her mother, seemed so safe and secure.
Arriving back in Brooklyn for the first time in 23 years, Rebecca falls asleep on the subway and wakes to find herself back in the year 1980. There, she comes into contact with her parents and her childhood self. While attempting to alter the past and save her mother from an untimely death, Rebecca comes to realize that the only person she can truly save is herself.
At the Writers' Showcase, Marta will be reading the section of "Look Back to Yesterday" where Rebecca first encounters an instrumental character known as "The Stranger." The character, she said, will serve as the voice of reason for Rebecca throughout the novel, "urging her to let go of the past."
According to Marta, her initial inspiration for the novel goes back to 2009, a year after her father died.
"At that point, both my parents were gone, my mother having died of cancer when I was 12-years-old," Marta said. "I felt alone and vulnerable, and since I always wanted to be a writer, I thought it would be cathartic to transfer my own grief into a fictional story. I combined a very universal topic -- loss -- with the fantastical idea of traveling back in time to deal with one's grief."
More monumental life events followed soon after. In 2009, Marta decided to enroll at Lackawanna College. She was in her early 30s at the time, and had spent the previous few years regretting the fact that she hadn't gone to college after graduating from West Scranton High School.
Then, in 2013, she enrolled in Penn State Scranton's English program with intentions of becoming a professional writer. Throughout the course of her studies, she found great mentors in the English faculty.
"Penn State Scranton is lucky to have such a dedicated English department," she said. "I learned so much about how a story works and comes together from the English courses I took. My professors were always generous with their time and willing to discuss not only the readings we were working on in class but the writing process. They were also instrumental in pointing me in the right direction when it came to getting published."
Upon graduating from Penn State, Marta pursued her master's degree in creative writing at Wilkes University. There, she decided to make the novel, which was already well underway, her thesis project.
She went through numerous drafts before completing the book.
"Writing a novel is not easy," she said. "It's a very demanding process, especially considering all the revisions that need to be done. It can be frustrating being locked in a room for hours on end, trying to get your characters to do as you want. But it's rewarding when the novel is finished and you sit back and say, 'Hey, I actually wrote a book.'"
From there, Marta started looking around for publishers. Having published two short stories in Adelaide Literary Magazine, she decided to send publisher Stevan V. Nikolic her manuscript. A few months later, he contacted her with the good news.
Adelaide has proven to be a wonderful collaborator, she said.
"They have been involved in every process of my book, from editing to helping choose the best cover," she said. "They also are very hands-on about promoting their writers. They set up venues for writers to do readings, book launches, interviews, and they do a book trailer, etc. Once my book comes out, Adelaide will be keeping me busy doing readings not just in Pennsylvania, but in New York and wherever else they send me."
Recently, Marta completed the outlines for two more projects – a nonfiction motivational book and another novel. Meanwhile, she's eagerly awaiting the response to "Look Back to Yesterday."
"What I want readers to take away from the novel is a sense of acceptance," Marta said. "Anyone who has ever lost a loved one knows the incredible grief that is attached to that loss. Some people are unable to move on right away because everyone processes grief differently. Hopefully, readers will identify with Rebecca and learn from her mistakes as she navigates through her grief."