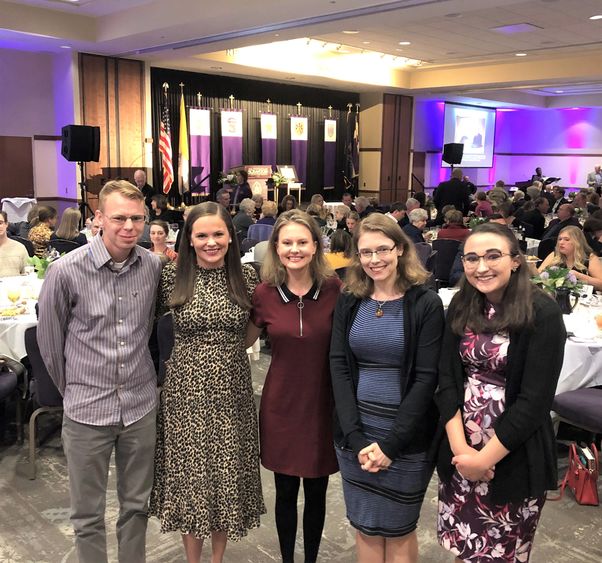 DUNMORE, Pa. — Students enrolled in Penn State Scranton's English program spend countless hours reading, analyzing and discussing great works of literature.
Rarely, though, are they given the chance to meet the people behind the words. So, the opportunity Assistant Teaching Professor of English Kara Stone recently presented to students in her Literature and Society course was almost too good to pass up.
Stone and three of her students — Gabby McFey, Micah Cameron and Emily Schick — recently attended the University of Scranton Weinberg Memorial Library's annual Royden B. Davis, S.J., Distinguished Author Award dinner honoring Madeline Miller.
Miller is the author of two popular novels — "The Song of Achilles," winner of the 2012 Orange Prize for fiction, and "Circe," a No. 1 New York Times bestseller that received both the 2018 Elle Big Book Award and the American Library Association's Red Tentacle Award for an adult book of special interest to teen readers. In addition, HBO recently ordered an eight-episode series based on "Circe."
At the event, the students had the opportunity to spend a few minutes interacting with Miller, who spoke to them individually and wrote personal messages in their copies of "Circe," which revolves around the goddess from Homer's epic poem, "The Odyssey." In Miller's hands, Circe, the daughter of the Greek god Helios, is a sympathetic character with a rich and multifaceted life.
Miller's dinner presentation was "fabulous," said Stone, who, as the event's chair, got to spend the entire day with the author.
"Miller is an excellent presenter and storyteller. She has a way of drawing the audience in," Stone said. "She focused on how she always knew she wanted to write Circe's story since she was in eighth grade because she was disappointed with her treatment in the original epic. She decided the way she wanted to tell the story wasn't right for an academic thesis in her MA program, and ultimately this decision led to her creating a fictional account of Circe's life."
A member of the Weinberg Library's board, Stone suggested inviting Miller to the Distinguished Author Dinner after reading "Circe" last winter.
"I thought it was a good pick for the library since it covers classical themes in line with Jesuit education," said Stone, noting she'd like to see Penn State Scranton partner with other local universities to bring high-profile writers like Miller to the campus.
Stone then decided to offer her students the chance to attend the dinner. Schedules prevented some from going, but McFey, Cameron and Schick were all thrilled with the prospect.
"I had never met a bestselling author before and thought it was a wonderful opportunity," said McFey, a third-year English major.
To prepare for the event, Stone had the students in Literature and Society read Emily Wilson's translation of "The Odyssey," followed by "Circe." That allowed the students to draw connections between the two works, resulting in robust classroom discussion, Stone said.
While Cameron is a bigger fan of "The Song of Achilles" — "I read the whole novel in one sitting," he said — he thoroughly enjoyed "Circe" and its decidedly feminist point of view.
"I was intrigued by the way Madeline Miller portrayed Odysseus in 'Circe,' as he is much more likable than in 'The Odyssey,'" Cameron said. "'Circe' also contains a lot of Greek heroes and myths with which I was previously unfamiliar. And Miller's command of Greek mythology is very impressive and is evident in both of her novels."
At the event, McFey particularly enjoyed hearing Miller read aloud several passages from "Circe."
During the meet and greet, the author inscribed McFey's copy of "Circe" with the words, "For Gabby, a true literature lover." That left McFey "at a loss for words," she said.
"She was so grateful that I loved 'Circe,' and I told her about my plans to become a professor of the Romantic era and Edgar Allan Poe. She was a delight to interact with," said McFey, who has aspirations of one day writing a book of poetry and a young adult novel.
Cameron, a junior, loved everything about the dinner, including the Mediterranean menu that Stone came up with to go along with the Greek mythology theme.
Like McFey, he found Miller to be "extremely humble" during his five-minute talk with her. Then, at the dinner presentation, she spent an additional 10 minutes answering his question about why she made Odysseus so likable in the novel.
"The depth of knowledge she possesses is amazing, but she does not come across as condescending at all," Cameron said. "She was an absolute joy to speak with and her passion for literature is immediately evident. … I can't help liking her as a person after meeting and listening to her."
Cameron recently transferred to Penn State Scranton from Luzerne County Community College. An adult learner with a full-time job as an administrative assistant, he said a bachelor's degree will allow him to further advance his career.
As far as majors went, Cameron picked English because it seemed like the most enjoyable option. So far, the courses he has taken with Stone and Paul Perrone, assistant teaching professor in English and program coordinator, have lived up to those expectations.
"Learning from faculty like Dr. Stone and Mr. Perrone, who are so passionate and knowledgeable about literature and writing, is such a pleasure," said Cameron, who does a fair amount of technical writing in his job. "And, it reinforces my decision to get a degree in English instead of being like all of my co-workers and getting a degree in business or human services."
With intentions of eventually earning her doctorate and becoming a published author, McFey believes Stone and the other English faculty members are preparing her well for the road ahead.
"We have a really supportive network of professors who are always willing to help us with any issues or questions we have; they're all so kind," she said. "They allow us to have our own ideas and opinions about the texts we read in our classes."
Meanwhile, she said, having the chance to gain exposure to writers of Miller's caliber just makes the experience that much better.
"It definitely helps English majors to see what life could be like if we want to go into the writing field," McFey said. "It puts the idea of being a published author into perspective because it allows me and my peers to see what we could become one day."