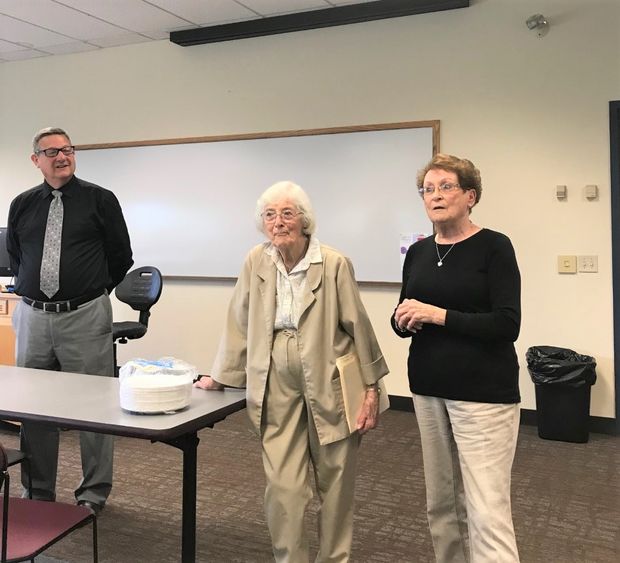 Accounts of the horrors of World War II tend to be told mostly from the soldier's perspective. But the Penn State Scranton campus community was recently treated to compelling firsthand testimony from another important voice – the children of war.
Local residents Thelma Lowry, 83, and Elinor Daley, 92, visited the campus to recount their time as children evacuees during wartime Great Britain. The talk was arranged by Todd Adams, assistant professor of philosophy and co-coordinator of the campus Honors Program.
For an hour in the Gallagher Conference Center, Lowry and Daley captivated the full classroom with their tales of perseverance and resourcefulness during one of the most perilous periods of human history.
Lowry, of Dundaff, was three-and-a-half years old on Sept. 3, 1939, the day she, her brother, and her mother were evacuated from London as Britain prepared to be bombarded by the German Air Force.
When the family arrived at London's Waterloo Station, a terrified woman handed over her 10-day-old baby boy to Lowry's mother. The infant's name was Kenny -- the same as Lowry's brother.
"She gave us a bag of clothes, two tins of dried formula and a note. The woman said to my mum, 'Please take him with you,'" Lowry said. "This is the desperation of war -- when a mother gives her baby away to a stranger."
From there, they were sent to the village of South Petherton in Somerset, England, where they spent the next six years living with and amongst other evacuees. Lowry's father, meanwhile, was in Conventry, rebuilding dams and digging ditches as part of the war effort.
At first, a gentleman farmer took the family in, under the condition that they never set foot in the main house and that they left the property every day from 6 a.m. to 6 p.m.
Eventually, a better opportunity came along when a village doctor fled his home to spend the war in Canada. Lowry and her family were among six mothers and 17 children who took up residence in the house, which was spacious enough for epic games of hide and seek, she said.
"I don't mind telling you, we had a blast," Lowry said. "I can remember the names of every child in that house – all 17 of them."
It wasn't all fun and games, though. Lowry vividly relayed the terror of German planes strafing her school playground with machine gun bullets, and of Allied fighter planes crash landing upon returning from missions.
Due to wartime rationing, food supplies were meager, requiring Lowry and the other kids to go "hunting" for eggs, potatoes, apples, rhubarb and turnips that actually fell off trucks.
Fortunately, the scavenging came to an end when 1,000 American airmen from the Eighth Air Force arrived in the village in 1942. Most days, the airmen would leave their leftovers at the village green.
"They had steaks, and whole chickens in a can, which I had never seen before," Lowry said. "They could feed our whole village, and they did, God bless them. You read about all the killing that took place during the war, but not about what the soldiers did for the civilians. The Americans were good to us in so many ways."
The food was so plentiful that when Lowry returned to London, people remarked, "Well, aren't you chubby."
Daley, meanwhile, was 12 and living with her family in the port city of Aberdeen, Scotland, when the war began. She recounted carrying around a gas mask and using a cupboard in her home as a makeshift bomb shelter.
"So, with that in mind, when there came an opportunity in 1940 to evacuate overseas, a lot of people were considering it," said Daley, of Newton Lake. "The idea of evacuating children was debated throughout Britain, because of the effects it would have on families."
That year, she and her sister set sail for Canada, where her aunt was living. On the ship were 90 other children evacuees. British warships escorted them for part of the journey, then turned around to protect merchant vessels from German U-boat torpedoes.
She and the rest of her young shipmates made it safely to Montreal. However, another child-evacuee ship that departed around the same time was sunk.
Daley finished high school in Ontario, then decided to return home following the D-Day invasion of Europe in the summer of 1944.
"I wasn't sure what to expect," she said. "We arrived in Liverpool, which had been bombed. And the food was terrible. I thought, 'Oh, what have I come home to?'"
In February 1945, Lowry and her family made their way back to London, which had been decimated during the Blitz. The war was still three months from ending, and they spent the remainder of it living in a shelter.
"(Fuhrer Adolf) Hitler bombarded us day and night with the V-1 and V-2 rockets. You never knew when they were coming," Lowry said.
Due to the trauma of the experience, her mother went through a temporary bout of hysterical blindness, leaving the then 9-year-old Lowry in charge of all the domestic duties.
When the war finally ended in May 1945, Britain got on with the hard work of rebuilding. Instead of staying, though, Daley moved permanently to Canada, where she attended college and ended up teaching in Ontario schools.
Lowry stayed for about another decade, until marrying an American member of the military in the mid-1950s. Around that same time, her mother was reunited with Kenny, the baby who was given to her at the start of the war. His mother eventually took him back, and Lowry's mother had spent the years afterward worrying about his well-being. Then, one day on a London street, a teenage Kenny approached her and addressed her by name.
"Finally, my mother could rest easy. He did survive, and he did remember her," Lowry said. "So, there was a happy ending."
The same went for Lowry, who left Britain for a good life in her husband's native northeast Pennsylvania. Still, she noted, the war never really left her.
"It impacted me for my entire life," Lowry said. "There's nothing glamorous about war. And we don't want you all to forget about it."