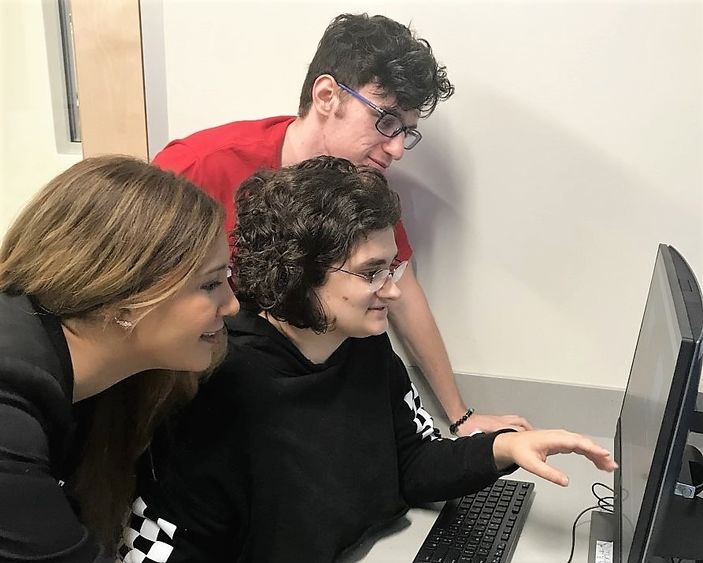 DUNMORE, Pa. — Students enrolled in Penn State Scranton's Corporate Communication program are always looking for new ways to develop their skills in a professional setting.
Recently, the Family Business Alliance (FBA), a collaborative regional partnership of Penn State Scranton and Wilkes University, presented them with an opportunity that was far too good to pass up.
The FBA invited Corporate Communication Club members Marissa Boyd, Lucines Polanco, Sebastian Pruett and Maria Veniamin to film and edit a video of its event, "If These Walls Could Talk," a presentation by members of the Dempsey family, owners of the local companies Dempsey Uniform & Linen Supply and DxDempsey.
According to FBA Executive Director Susan Reilly, the student videographers were "engaged, focused, professional and great to be around" at the event, one of many innovative programs the group hosts throughout the year for employers from across northeast Pennsylvania.
"It was exciting to introduce students to two fantastic family businesses," Reilly said. "The students used their excellent training at Penn State Scranton to produce a quality video all while learning about proactive progressive businesses in our area. The FBA is very appreciative of their efforts."
"We are thrilled that the students from Penn State (Scranton) were able to capture our talk," added Michele Dempsey, president of DxDempsey, an award-winning boutique architecture firm that is one of the community partners involved in the Scranton LaunchBox business pre-incubator in South Scranton.
Kimberly Flanders, assistant teaching professor of corporate communication and program coordinator, said the project proved to be a terrific learning experience for the students.
"All five students had no previous coursework in video production, but they took on the challenge of a new role that they did not have, embraced it and learned it," Flanders said. "They were more than willing to give it a try and see how it went. And, in the end, it allowed them to enhance their knowledge."
Flanders couldn't attend the event, but spent the time leading up to it showing the students the basics of video production – camera placement, shot angles, close-ups, etc.
The students traveled to the event, held at Dempsey Uniform's Jessup facility, with Griff Lewis, campus instructional designer. While Lewis was there to provide technical support, "it was really up to us to figure out what to do," Polanco said.
The group set up four tripod-mounted cameras – two Canons and two Sonys -- in the front, back and sides of the room in order to capture the presentation from a variety of angles.
"I instantly thought of a TED Talk, where you have to find different angles so it's not boring for the viewer," Polanco said. "We wanted to give it an organic flow."
The room's lighting was a bit dark, but the students nonetheless managed to carry off the assignment with only a few issues. In the beginning, Polanco had to spend a few minutes figuring out why her camera kept zooming in automatically. Meanwhile, the battery in Veniamin's camera died before the end of the program.
Nonetheless, it was "a wonderful experience," Veniamin said.
"It was my first time doing anything like that before. I liked the interactive nature of it. It felt very professional."

-- Marie Veniamin
"Adjusting to the different positions of the speakers was a bit difficult at first, but overall, it went more smoothly than I thought it was going to," Pruett added.
It also helped that the presentations themselves were so interesting.
"It's always nice to go out in your community and learn something new," Boyd said.
With assistance from Flanders, the students then teamed up to edit the footage, making use of the campus' Media Lab for some of the work. Eventually, they overcame several logistical and technological challenges to produce the final video.
"They were so relieved when it was finally complete," Flanders said. "I think the project made them closer as a group, gave them a sense of teamwork and accomplishment, and perhaps made them either love or hate video production."
And, of course, it gave them some critical real-world experience that will undoubtedly serve them well down the road.
"I just wanted some experience, something that leads me to the path I've been dreaming of," Polanco said. "This is just good practice for my future."