'Field to Front: Nittany Lions at War, 1917-1919' is on display in the campus library through Dec. 13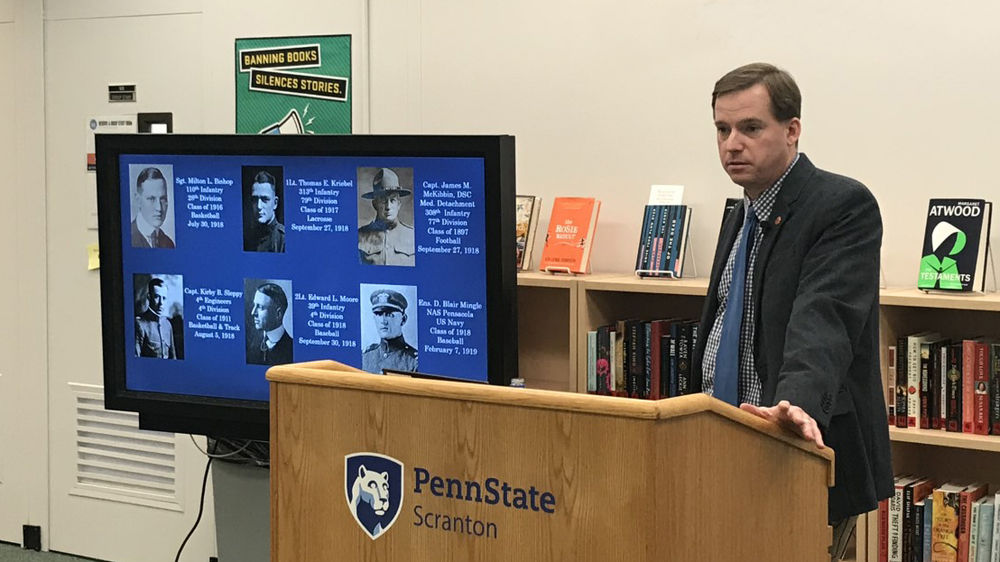 DUNMORE, Pa. — Just over a century ago, many of the young men on Penn State's varsity athletic teams were exchanging one uniform for another and leaving behind the idyllic environs of University Park for the blood-stained trenches of Western Europe.
While many returned from the battlefield, some weren't so lucky. However, their stories live on today in the Penn State All-Sports Museum's World War I-themed exhibit, "Field to Front: Nittany Lions at War, 1917-1919."
On Thursday, Nov. 14, Ken Hickman, director of the Penn State All-Sports Museum at the University Park campus, came to Penn State Scranton to deliver two engaging and informative lectures about the exhibit, which is on display in the campus library through Dec. 13.
Both lectures were open to the campus community and the general public, and were sponsored by Penn State University Libraries, the Penn State Scranton Alumni Society and the campus Student Activity Fee.
First exhibited in 2017 at the Beaver Stadium-located All-Sports Museum, "Field to Front" had been on display at Penn State Harrisburg before coming to the Scranton campus in October.
Created to coincide with the centennial of the United States' involvement in World War I, "Field to Front" centers on the heroic contributions Penn State athletes made to the war effort, from their training in the states to their experiences fighting in France and Italy. The exhibit uses numerous photos, letters and diaries to provide an in-depth understanding of the service of notable Penn State scholar-athletes of the era.
According to Hickman, about 2,200 Penn Staters served in World War I in some capacity. Seventy-four ended up casualties of war, he said.
All told, eight Nittany Lion athletes died during the war, including Levi L. Lamb, a three-sport star athlete who was commissioned a second lieutenant with the Army's 2nd Division, 9th Infantry. On July 18, 1918, Lamb awoke in a beautiful "field of wheat" in the French countryside, Hickman said. Later that afternoon, he was killed while leading his men during the Second Battle of the Marne.
"He was the first Penn State athlete to die overseas," Hickman said.
Years later, Lamb's name within the Penn State community would be immortalized when the Nittany Lion Club's annual fund was named in his honor in 1953.
During the lecture, Hickman also discussed the exploits of former football standouts Bob Higgins and James "Red" Bebout, both members of the 318th Infantry of the Army's 80th Division.
When Bebout was killed by German machine gun fire, Higgins was able to get word back to his friend's family in Pittsburgh quicker than the Army could. Because he was prohibited from naming Bebout in the letter, Higgins had to resort to mentioning his friend's personal characteristics, among them his red hair, Hickman said.
Higgins went on to play professional football with the Canton Bulldogs before embarking on a successful coaching career that eventually brought him to Penn State from 1930 to 1948. He led the Nittany Lions to an undefeated season in 1947, and the football program was also desegregated under his leadership, Hickman said.
In addition, Higgins was among the founders of the "Last Man Club," a group of 318th Infantry soldiers who made a pact that the last surviving member would claim possession of a cheap bottle of rum. Higgins passed away in 1969, while the final two members died weeks apart in the same hospital in 1985, according to Hickman.
World War I also marked the first prominent usage of airplanes in warfare, and the exhibit pays homage to football players William "Whitey" Thomas and Richard Stanley Davis, both of whom served with the fledgling U.S. Army Air Service.
Davis initially served the war effort by driving a French ambulance. One day, he visited the Paris office of the Army Air Service. They didn't have the capacity to train him, so the French taught him how to fly. Before the war's end, Davis shot down two German planes. He then went on to become a revered Army air instructor.
"Any American pilot who learned to fly formation learned it from Stan Davis," Hickman said.
Putting the exhibit together was a large undertaking, Hickman said. Luckily, the museum had a treasure trove of information at its disposal, thanks to a University book devoted to students serving in the war and in-depth government records.
"From an institutional standpoint," Hickman said, "World War I was better documented than World War II."
Hickman has been the director of the Penn State All-Sports Museum since 2006 and is chair of the Penn State University Museum Consortium. A 1998 Penn State graduate, he previously served as the curator and director of development for the USS Constellation Museum in Baltimore, and as curator of the American Merchant Marine Museum in Kings Point, New York. He has been featured on the History Channel and has overseen all military history content for About.com/ThoughtCo.com since 2007.
Hours of Exhibit
The "Field to Front" exhibit is available for viewing during regular campus library hours — 7:30 a.m. to 10 p.m. Monday-Thursday; 7:30 a.m. to 6 p.m. Friday, and 3 to 9 p.m. on Sunday.
For more information on the exhibit, contact Penn State Scranton Head Librarian Jennie Knies at [email protected] or 570-963-2632.