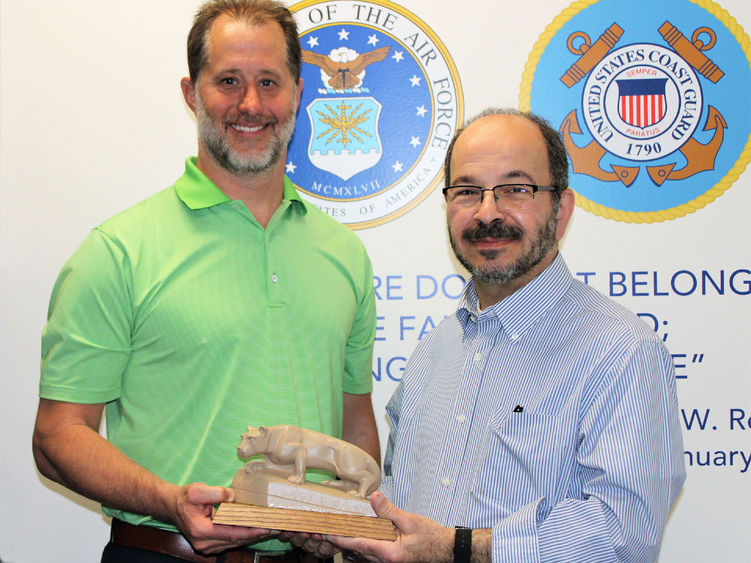 DUNMORE, Pa. — For E.J. Long, it was a rejection letter from Penn State that set into motion a series of events and relationships that culminated with him not only earning his bachelor's degree and building a successful career in finance but becoming a philanthropist as well — with a desire to give back so that others can have a shot at a successful future. The experience also instilled in him a great appreciation for the value of the University's Commonwealth Campuses and how vital they are to student success.
It was 1990 when Long, fresh out of the U.S. Coast Guard, took that rejection letter from University Park to Patrick Rose, then the dean of students at the Penn State Scranton campus. Long admits that he did not have good grades in high school, "nor did I have anything short of bad SAT scores," he recalled. "But Dean Rose, being a fellow military man, gave me a shot."
Rose was able to get Long's rejection letter changed to a provisional acceptance at Penn State Scranton (then Penn State Worthington Scranton).
"He promised me that if I achieved good grades, he'd have me at (University Park) in a year, versus the standard two years. He promised, and I delivered — making the dean's list," Long recalled. He then went on to University Park, graduating in 1995 with a bachelor of science degree in finance.
Today, he is president of the Long Financial Group in Plymouth Meeting, Pennsylvania, and an adviser with Wealthcare Capital Management in Blue Bell.
He has never forgotten those at Penn State Scranton, and over the years he has made a number of contributions to the campus, as well as the University. Most recently, he committed $20,000 for a Veterans' Lounge in the Study Learning Center. The lounge is a quiet, private space for those students who are veterans now working on their college degrees and needing a quiet, private space to study or take a break from their classes and the daily grind, where they can relax and decompress.
The lounge has a computer station, desk, couch, refrigerator and coffee maker, and it is located near amenities such as the campus cafeteria, bookstore and game room, with campus Student Services staff who can help veteran students with any administrative needs or questions. It is also in the same building as the campus' health and wellness services and its tutoring and writing centers.
"Penn State has an enormous military family and a long history of current and former military students," Long said. "It also has a tremendous military support system, especially at University Park, and the staff would reach out and ask questions: 'What services can we provide? Can we help you to find medical, financial and social support?' I visited there in 1993 and was surprised at the willingness to help with the issues I was facing."
In addition to his gratitude to Rose, Long said he also holds a special place in his heart for former Instructor in Business Bernie Fagnani, "another person that lifts people up"; as well as Paul Perrone, teaching professor of English, who taught Long's business writing class; and Dave Burnis, former instructor in business and economics. "I never forget those who lifted me up in life while I was trying to succeed," said Long.
This is Long's second large gift to Penn State Scranton — the first being a named office in the campus' Business Building, which was Fagnani's office at the time. He also has committed support to the Paterno Library Technology Endowment at University Park.
"As a campus, we are committed to our veteran students, and we believe that being able to establish a unique space just for them is important to enhancing their experience here," said Penn State Scranton Chancellor Marwan Wafa.  "We are so grateful to the Long family for their generosity in helping us to be able to create this space, and I am certain it will be a space that veteran students will utilize and appreciate."
Long emphasized his commitment to helping the campus where he began his undergraduate education.
"I enjoy being able to pay it forward to the local campus," he said. "I started at the Scranton campus and attribute a lot of my success to the mentors I met there, such as Dean Rose, Bernie Fagnani, Paul Perrone and Dave Burnis.
Long said he also wants his philanthropic efforts to set a good example for his children.
"It is hard for my children to understand some of the social and economic issues that families face today," he said. "My wife and I are trying to keep them grounded and help them to understand that everyone starts life on a different base, but everyone needs the opportunity to hit a home run, and sometimes a little help from someone is all they need."
In addition to his commitment and generosity to Penn State Scranton and Penn State, Long offers support to several food banks in and around the Philadelphia area. He also works with financially disenfranchised high school students looking to pursue a degree in accounting or finance by providing paid internships and partial tuition funding for them.
With the record-breaking success of "A Greater Penn State for 21st Century Excellence," which raised $2.2 billion from 2016 to 2022, philanthropy is helping to sustain the University's mission of education, research and service to communities across the commonwealth and around the globe. Scholarships enable Penn State to open doors and welcome students from every background, support for transformative experiences allows students and faculty to fulfill their vast potential for leadership, and gifts toward discovery and excellence help serve and impact the world. To learn more about the impact of giving and the continuing need for support, visit raise.psu.edu.