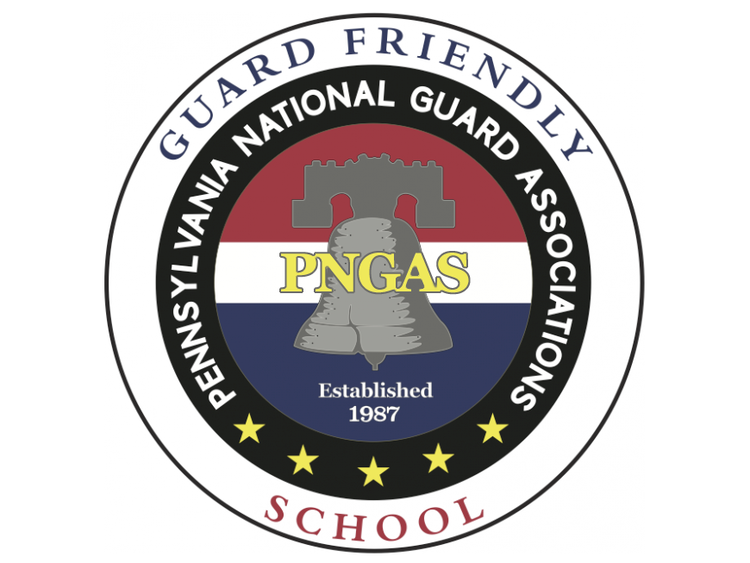 DUNMORE, Pa. — Penn State Scranton has been recognized by the Pennsylvania National Guard Associations for its continuing efforts to better serve the needs of its veteran and active-duty military student population.
"Being a Guard-Friendly school is an important distinction because it signifies our continued commitment to our community to support the amazing work the National Guard does and what the guard members bring to the Penn State family," said Stacy Shattuck, veterans certifying official, enrollment management and financial aid coordinator at Penn State Scranton.
Launched under the leadership of retired Brig. Gen. George Schwartz, the PNGAS Guard-Friendly School program was designed to recognize high schools, colleges, universities and trade schools that meet or exceed a set of standards that support and promote the Pennsylvania National Guard, as well as the recruitment and retention of soldiers and airmen, and the pursuit of post-secondary degrees and certifications by members of the Pennsylvania Guard, veterans, spouses and military children.
The logo for PNGAS Guard-Friendly Schools serves as a beacon and star-rating that promotes the institution to Guard members, veterans, spouses and families, as well as to state leaders, high school and college counselors, prospective recruits of the Guard and the general public.
Penn State Scranton was one of 65 recognized PNGAS Guard Friendly Schools in the state, with 11 out of the 65 belonging to other Commonwealth Campuses, including Abington, Beaver, Berks, Greater Allegheny, Harrisburg, Lehigh Valley, Mont Alto, Schuylkill, University Park and York.
In addition, Pennsylvania College of Technology, Penn State Harrisburg's School of Student of Public Affairs, and Penn State World Campus were also named on this year's list.
"Guardsmen have unique responsibilities that active-duty troops and reservists do not have, and this creates different challenges for them when pursuing a degree," stated Joseph Dagney, Chairman of the PNGAS Education Action Council. "These schools have made a deliberate effort to be flexible, accommodating, and supportive of Guardsmen and their families, and they are most definitely deserving of recognition. The PNGAS Guard Friendly School designation is a triple-win!"
Shattuck hopes prospective students and families who are affiliated with the National Guard will know they can find support, understanding and help to reach their higher education goals at Penn State Scranton.
"We have several faculty advisers who have served in the military to assist students, so they always have someone with shared experiences to turn to," Shattuck said. "We have an amazing student veteran lounge open for their use on campus as well as staff support for their physical and mental health and a connection with all the programming and services at all Penn State campuses at their disposal."
For many years, the Education Assistance Program (EAP) has been the No. 1 recruiting tool for the Pennsylvania National Guard. Since the EAP's inception, the state has distributed more than $300 million through the EAP so guard members can get college, university and trade school degrees. The EAP provides a tuition benefit equivalent to the yearly tuition rate set by the Pennsylvania State System of Higher Education, so that members of the Pennsylvania National Guard can attend one of 488 Pennsylvania Higher Education Assistance Agency approved schools. Presently, the EAP is an almost $36,000 tuition benefit for each guard member.
With the July 2019 enactment of the Military Family Education Program (MFEP), there is now a non-lapsing fund providing EAP-like tuition benefits to spouses and children of members of the Pennsylvania National Guard when a guardsman re-enlists for another six-year term. Next year, the MFEP will be an almost $36,000 tuition benefit for spouses and/or children of a guard member that reenlists for six-years.
As state and national emergencies and global warfare become increasingly sophisticated, technology-driven, and complex, having a well-trained and educated force is more strategic and valuable than ever for the National Guard.
"The PNGAS Guard-Friendly School programs is producing immediate and long-term benefits and synergies for students, veterans, faculty, alumni, schools, employers, military-families, the Commonwealth of Pennsylvania and its economy," said Chad Rettew, executive director, PNGAS and Pennsylvania National Guard Foundation. "We're very proud to support this program!"
To help optimize guard recruitment and retention, PNGAS collects and shares best practices among K-12, colleges, universities, trade, certification, and training schools. The promotion and championing of these best practices, helps schools to improve and compete to deliver excellent value to guard members, veterans, military families and the general public.
"PNGAS places great value on recognizing individuals and organizations that promote the Pennsylvania National Guard. We are very pleased to announce the 2022-23 PNGAS Guard​ Friendly Schools," stated Ronda Fawber, chairman of the PNGAS board of directors. "Surrounding the guard are many people and organizations undertaking exceptional actions to support the Pennsylvania National Guard. Simply put, recognizing excellence is important and we are pleased to celebrate the​se strong and supportive schools!"