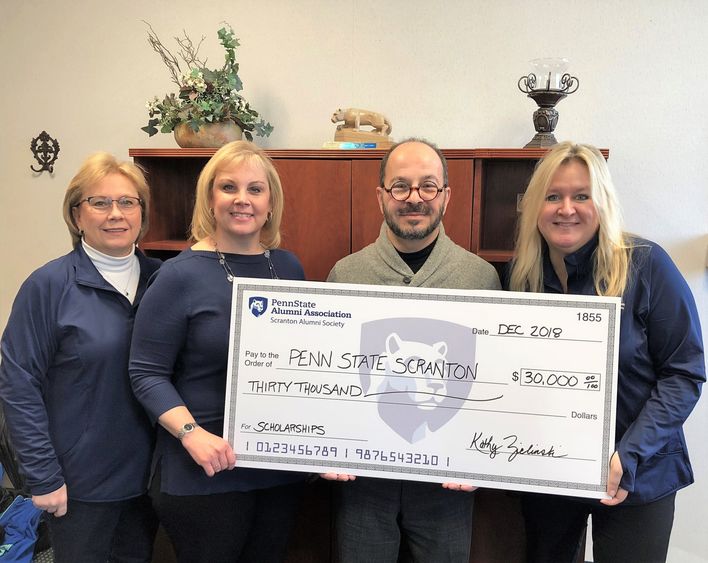 DUNMORE, Pa. — The Penn State Scranton Alumni Society furthered its commitment to the campus through its recent establishment of a $30,000 Open Doors Scholarship for deserving campus students.
Under guidelines established by the Alumni Society, the scholarship will be given to students participating in the RaiseMe, Pathway to Success: Summer Start (PaSSS) or Complete Penn State programs.
Students involved in Complete Penn State will be given first preference. The gift received a 2:1 match from the University through a recently concluded matching program.
The scholarship is among more than 170 offered annually by Penn State Scranton.
"By creating the Open Doors Scholarship at Penn State Scranton, our Alumni Society is able to give our local students an opportunity to finish their education. And with the University matching our $30,000 donation 2 to 1, we were able to secure a $90,000 endowment that will allow us to continue our mission for many years to come," said Kathy Zielinski, president of the Penn State Scranton Alumni Society.
"We are very grateful to our campus' alumni society for their generosity in establishing this scholarship, which will help more Penn State students fulfill their dream of a college education. Their ongoing commitment to our campus and students is a shining example of what it means to be a Penn Stater — and will now help others become part of our Penn State community," said Marwan Wafa, campus chancellor.
RaiseMe is a national micro-scholarship program for low-income students that includes Penn State among its more than 250 college partners. Penn State's PaSSS program allows students to jumpstart their college careers in a more relaxed summer setting, at a reduced cost per course. Complete Penn State assists students in their last two semesters of study who have experienced a personal setback that could hinder their chances of finishing their degree.
The Penn State Scranton Alumni Society is dedicated to connecting campus alumni to each other and the University via professional development, networking, volunteer and social opportunities.
The group meets monthly and plans a number of fundraisers throughout the year. It also awards an Alumni Society Scholarship to full-time campus students enrolled in any degree program.
The Open Doors Scholarship Program aims to address the financial, academic and personal challenges undergraduates face earning their degrees. Donors create scholarships for students with financial need who are enrolled in one of five programs Penn State has created to help undergraduates succeed academically.
Beneficiaries of the programs include students from low-income areas, those who are transferring to the University Park campus from another Penn State campus, those who are at risk of not graduating due to unexpected hardships, and others who may benefit from extra support. While the 2:1 University match has concluded, the University is still seeking support for Open Doors Scholarships.
This gift will advance "A Greater Penn State for 21st Century Excellence," a focused campaign that seeks to elevate Penn State's position as a leading public university in a world defined by rapid change and global connections.
With the support of alumni and friends, "A Greater Penn State" seeks to fulfill the three key imperatives of a 21st-century public university: keeping the doors to higher education open to hardworking students regardless of financial well-being; creating transformative experiences that go beyond the classroom; and impacting the world by fueling discovery, innovation and entrepreneurship. To learn more about "A Greater Penn State for 21st Century Excellence," visit http://greaterpennstate.psu.edu.