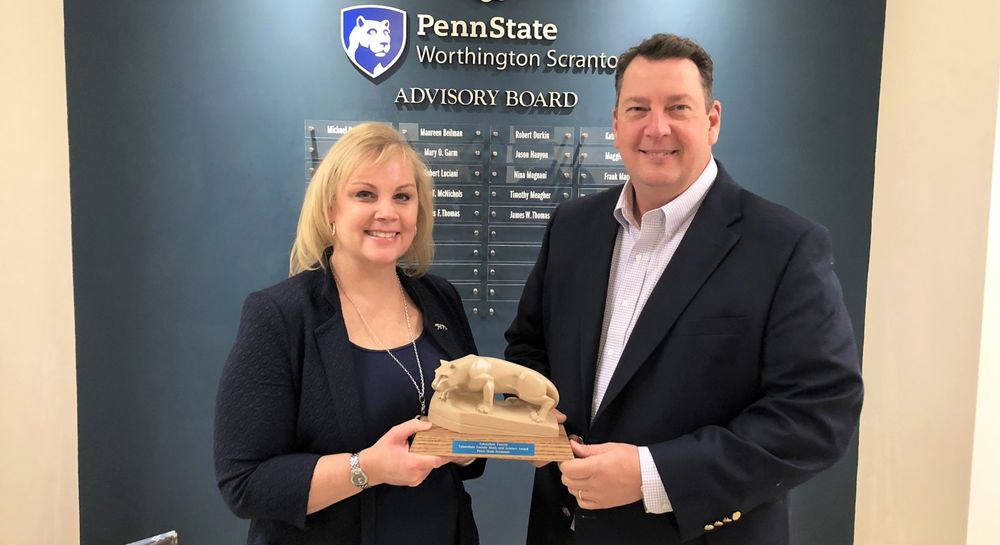 DUNMORE, Pa. — UGI Utilities Inc. has made a long-term commitment to Penn State Scranton through its recent establishment of a $100,000 Open Doors Scholarship for campus students.
Based on UGI's criteria, the scholarship, which received a 2:1 match from the University via a recently concluded matching program, will be given to students participating in the RaiseMe, Pathway to Success: Summer Start (PaSSS) or Complete Penn State programs. Students involved in PaSSS will be given first preference.
The scholarship is one of more than 170 offered annually by the campus.
"UGI is very pleased to strengthen our partnership with Penn State Scranton by establishing this Open Doors Scholarship," said Robert F. Beard, executive vice president of natural gas for UGI Corp. and president and CEO of UGI Utilities Inc. "We encourage hard-working students who will be assisted by this scholarship to continue their pursuit of a Penn State education, which we believe will benefit them when they graduate and throughout their careers."
"This is a tremendous commitment on behalf of UGI, and we are extremely grateful for their generosity," said Marwan A. Wafa, campus chancellor. "This scholarship will have an enormous impact in terms of assisting numerous Penn State Scranton students as they work to achieve a first-rate college education."
RaiseMe is a national scholarship program for low-income students that includes Penn State among its more than 250 college partners. Penn State's PaSSS program allows students to jump-start their college careers in a more relaxed summer setting, at a reduced cost per course. Complete Penn State assists students in their last two semesters of study who have experienced a personal setback that could hinder their chances of finishing their degree.
UGI Utilities is a natural gas and electric utility with headquarters in Reading, Pennsylvania. UGI serves 700,000 customers in 45 Pennsylvania counties and one county in Maryland. Customers and community members are invited to visit the UGI website at www.ugi.com; their Facebook page at www.Facebook.com/ugiutilities; or follow them on Twitter at www.twitter.com/ugi_utilities.
The Open Doors Scholarship Program aims to address the financial, academic and personal challenges undergraduates face earning their degrees. Donors create scholarships for students with financial need who are enrolled in one of five programs Penn State has created to help undergraduates succeed academically.
Beneficiaries of the programs include students from low-income areas, those who are transferring to the University Park campus from another Penn State campus, those who are at risk of not graduating due to unexpected hardships, and others who may benefit from extra support. While the 2:1 University match has concluded, the University is still seeking support for Open Doors Scholarships.
This gift will advance "A Greater Penn State for 21st Century Excellence," a focused campaign that seeks to elevate Penn State's position as a leading public university in a world defined by rapid change and global connections.
With the support of alumni and friends, "A Greater Penn State" seeks to fulfill the three key imperatives of a 21st-century public university: keeping the doors to higher education open to hard-working students regardless of financial well-being; creating transformative experiences that go beyond the classroom; and impacting the world by fueling discovery, innovation and entrepreneurship.
To learn more about "A Greater Penn State for 21st Century Excellence," visit greaterpennstate.psu.edu.