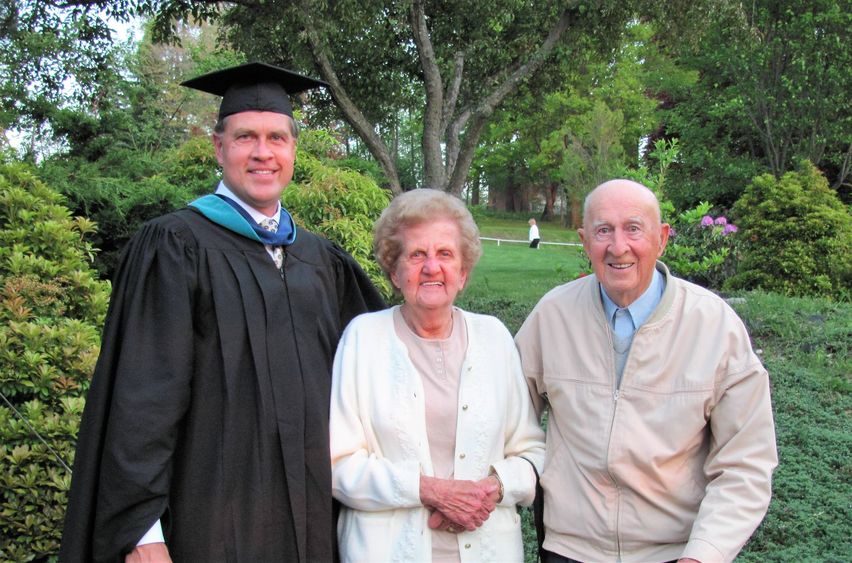 DUNMORE, Pa. — Penn State alumnus Thomas F. Zenty III has set a new standard for private giving to Penn State Worthington Scranton. With a commitment of $1.6 million, the largest gift ever made to the campus, Zenty will create two new scholarships for Penn State Worthington Scranton students with financial need. Zenty's commitment will leverage University matches through "A Greater Penn State for 21st Century Excellence," multiplying the impact of both scholarships in perpetuity.
"As part of 'A Greater Penn State for 21st Century Excellence,' the University is asking our alumni and friends to become our partners in ensuring that a Penn State degree remains accessible and affordable to students from every economic background," said O. Richard Bundy III, vice president for development and alumni relations. "Tom Zenty's extraordinary commitment to create need-based scholarships is at the very heart of this effort. We are deeply grateful for his generosity and leadership."
Of Zenty's gift, $1.5 million will endow the Thomas F. Zenty III and Family Scholarship to support students from Lackawanna County who have financial need and are pursuing a bachelor's degree in nursing and other health-science disciplines that require licensure upon graduation.
The remaining $100,000 will establish the Thomas F. Zenty III and Family Open Doors Scholarship to support students enrolled in one of five Open Doors programs designed to help students overcome the obstacles that can hinder their path to graduation. First preference will be given to students enrolled in Pathway to Success: Summer Start (PaSSS), a program designed to help entering first-year students make the transition to college life.
Both scholarships qualify for University matches through the "Greater Penn State" campaign. The $1.5 million scholarship will earn a 1:1 match through the Leadership Gift Matching Program, which applies to gifts of $1 million or more to support need-based undergraduate scholarships. The $100,000 scholarship will earn a 2:1 match through the Open Doors Scholarship Program, which multiplies the impact of new need-based scholarships for students in the Open Doors programs.
"The Penn State Worthington Scranton community is fortunate that Tom Zenty has made such a generous gift to our campus," said Penn State Worthington Scranton Chancellor Marwan Wafa. "This landmark commitment will create opportunities for many talented students with limited financial means and unlimited potential. I hope that Tom's generosity inspires others in northeastern Pennsylvania to consider how they, too, can make a difference for students at Penn State Worthington Scranton."
Zenty, a native of Jermyn, began his undergraduate education at Penn State Worthington Scranton before completing his degree at University Park, graduating in 1977 with a bachelor's degree in health planning and administration. He also holds a master of health administration degree from Xavier University, a master of public health degree from New York University, and an honorary doctorate of laws degree.
He is CEO of University Hospitals (UH), a $4 billion comprehensive health system with more than 27,000 employees and a national reputation for providing extraordinary care, groundbreaking research and superb education. Headquartered in Cleveland, Ohio, University Hospitals includes 18 hospitals, more than 50 community health centers and 5,000 physicians. Prior to his role at UH, he served as executive vice president at Cedars Sinai Medical Center in Los Angeles and held executive roles at health systems in California, Arizona, New Jersey and Connecticut.
Zenty is a past trustee of the American Hospital Association and was recognized by Modern Healthcare among the 100 Most Influential People in Healthcare. He has received numerous national and international awards, including the Warren Bennis Award for Excellence in Leadership from the Global Institute of Leadership Development and the B'nai B'rith International Healthcare Award. Zenty also serves on numerous publicly traded, private equity and not-for-profit corporations and holds university appointments in the U.S. and China.
"My Penn State education provided me with the foundation for a rewarding career, and now I want to invest in other Penn State students to have the same opportunities that I was afforded," said Zenty. "I want the Zenty scholarships to provide the recipients not only with financial assistance, but also with the confidence that comes from knowing another Penn State graduate supports and cares about them as aspiring professionals, as well as their educational and career aspirations."
In addition to his most recent gift to the campus, Zenty previously established a scholarship in honor of his parents, the Edna and Thomas F. Zenty Trustee Scholarship for students enrolled in the nursing program at Penn State Worthington Scranton who have a demonstrated financial need. He also has contributed well over $1 million to the UH Harrington Heart and Vascular Institute in honor of his late father, Thomas F. Zenty Jr., in recognition of the excellent care he received as a UH patient, as well as to his mother's passion, University Hospitals Rainbow Babies and Children's Hospital.
Gifts from Penn State's alumni and friends have been essential to the success of the University's historic land-grant mission to serve the public good. To fulfill that mission for a new era of rapid change and global connections, the University has begun "A Greater Penn State for 21st Century Excellence," a fast-paced campaign focused on the three key imperatives of a public university: Private support will keep the doors to higher education open to hard-working students regardless of financial well-being; create transformative experiences that go beyond the classroom; and impact the world by fueling discovery, innovation and entrepreneurship. To learn more, visit greaterpennstate.psu.edu.