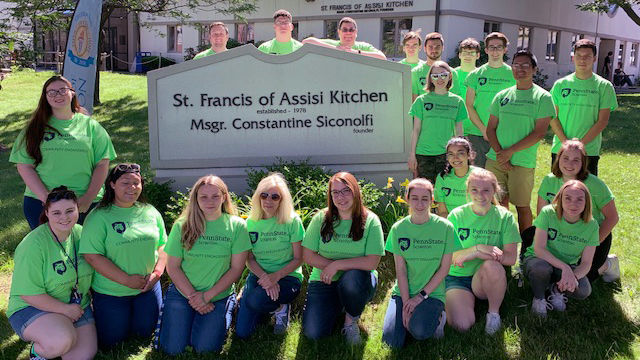 DUNMORE, Pa. — Students in the Pathway to Success: Summer Start (PaSSS) program at Penn State Scranton recently had the opportunity to learn the value of community service.
Nineteen PaSSS students traveled to St. Francis of Assisi Soup Kitchen in downtown Scranton, where they volunteered at its Client Choice Food Pantry and Free Clothing Store. They were joined by Michael Evans, assistant chief academic officer and associate teaching professor of nursing, and Maripat O'Donnell, part-time lecturer in sociology.
PaSSS allows freshmen to enroll at the campus during the summer semester. Among other things, they can take courses at reduced tuition, gain valuable work experience, serve as peer mentors and engage in service-learning opportunities like the soup kitchen visit.
"This experience fits into the PaSSS program as we strive to provide students with the tools and resources needed to earn their Penn State degree in a timely manner," Evans said. "This service-learning experience is part of that, as research has shown that experiential learning experiences help students learn better and provide them with a deeper appreciation for their education."
According to Evans, this was the first time that members of the PaSSS cohort volunteered at the soup kitchen.
It made for the perfect venue, given Evans is teaching a bio-behavioral health class that focuses on the fundamental understanding of disease processes, disease states and principles of disease prevention and health promotion, while O'Donnell is teaching a sociology course that examines current social problems such as economic, racial and gender inequality, social deviance and crime, and population, environmental, energy and health issues.
"We felt that volunteering at the soup kitchen would not only expose students to the importance of volunteerism, but also provide them with a real-life context to the content we are covering in both of our courses," Evans said.
Throughout the day, the students and faculty members worked in groups cleaning, sorting, organizing and stocking items in both the food pantry and clothing store.
Student Ariana Petrillo said her group spent their time cleaning the pantry.
"I had no idea that the soup kitchen also had the food pantry, a free clothing area, and also rooms for homeless veterans to stay in," Petrillo said. "I think the soup kitchen is a great thing for the Scranton area, and even though I have lived in Lackawanna County my whole life, I never knew all that was available to those who are in need."
St. Francis of Assisi's staff provided the group with lunch, which they ate with community members served by the soup kitchen.
All told, it was a great day on multiple levels, Evans said.
"It was great for us all to interact with everyone. And it was great for our students to realize how truly blessed we all are, and how important it is to help others during their time of need, as any one of us could end up in a dire state where we may need to take advantage of a community resource such as the soup kitchen," Evans said.
"I hope it taught them the importance of never judging anyone, and to treat everyone with kindness and respect. We hope through this and future experiences that volunteerism will become something that they carry with them for years to come."