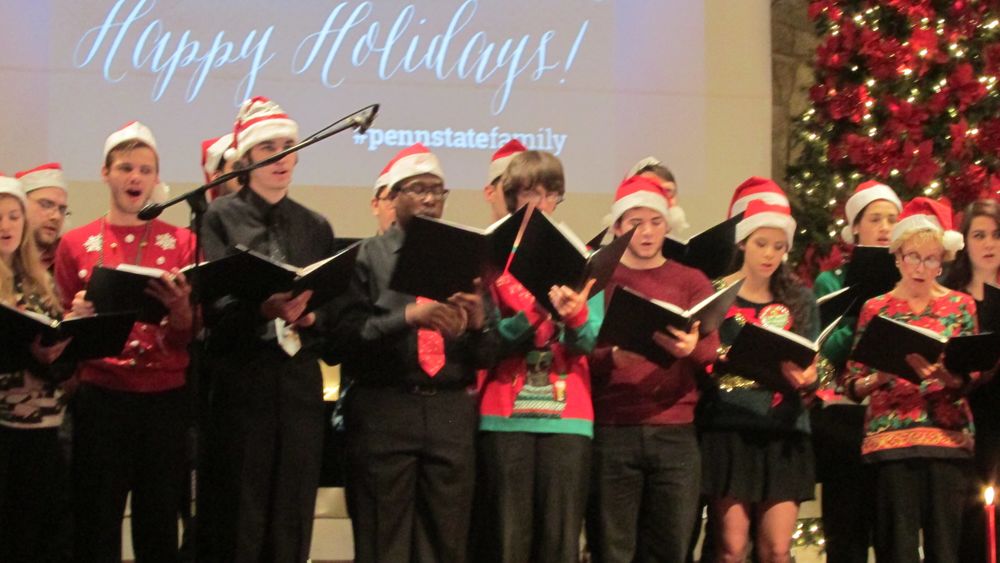 DUNMORE, Pa. — The Penn State Worthington Scranton Chorale and Jazz Band, along with the Roc[k]tets, will continue its annual tradition of performing holiday music for the campus and local community.
The Chorale and Roc[k]tets will sing a variety of holiday music and the Campus Jazz Band will play some great holiday music, along with some jazz.
he groups have two appearances scheduled for this year. The first is an off-campus performance for the Living Christmas Village at Grace Bible Church on University Drive, Dunmore, at 4 p.m. on Sunday, Dec. 3. The campus' three musical groups will be featured at the Church among other local high schools, and colleges/universities.
The second concert will be the campus' Annual Holiday Performance in The View Cafe at noon on Wednesday, Dec. 6. There will be a special appearance by the Nittany Lion, and holiday cookies also will be provided to get all into the holiday spirit!
Members of the Jazz Band are: Austin Antoine, Danielle Berghoff, Morgan Boonyam, Ryan Meinard Choa, Matthew Collins, Alivia Deleon, Kyle Delhagen, Keegan Ficarro, Dominick Fink, Grady Germain, Randall Kasorek, Kyle Robert Kocsis, Hannah Luben, Gianna Mackreth, Christian Mazur, Gabrielle Mcfey, Autumn Mead, Jordan Pugh, Meela Smith, Todd Snee, Kelsey Tucker, Temo Uvera and Joshua Winslow.
Members of the Chorale are: Andrew Adams, Ashley Altiery, Alayiah Ashmore, Megan Auttonberry, Vidal Baez, Austin Casper, Ryan Meinard Choa, Antonia Corma, Joshua Davis, Jessica Duff, Victoria Fitzgerald, Jaclyn Fusik, Korri Hill, Adam Kasper, Madgalene Kish, Kalei Kowalchik, Danielle Lasewicz, Benjamin Lasota, Hannah Luben, Julie Maconeghy, Katarina Maikranz, Brenda Miele, Elacea Mucovic, Noah Novotka, Mitchell O'Connor, Mackenzie Pryzant, Mari Quinn, Britney Reinhart, Devan Raniello, Geena Rizzo, Kenndra Ross, Samantha Rutkosky, Geoffrey Sekelsky, Elizabeth Simmons, Meela Smith, Madison Snyder and Danielle Velikic.