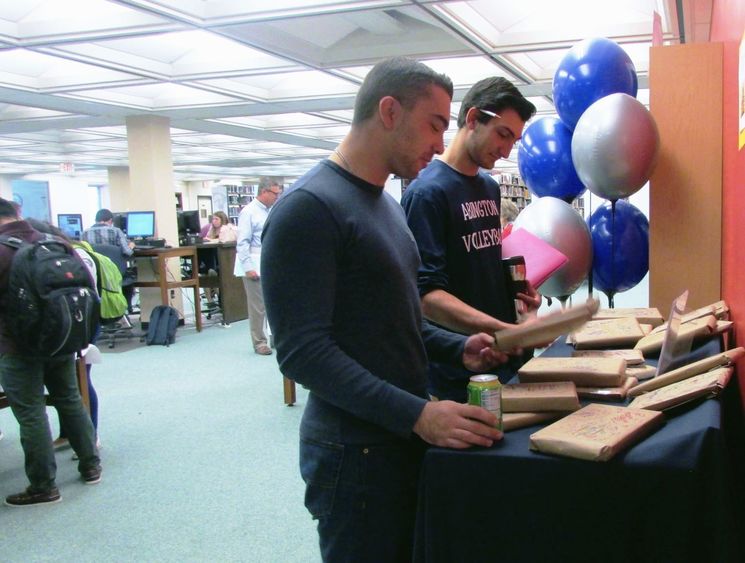 The library staff at Penn State Worthington Scranton held an Open House event on the first day of national Banned Books Week, honoring both the resources that the PSWS campus library offers today's students, as well as celebrating people's right to read whatever books they choose.
The open house was held Monday from 11:30 a.m. to 1:30 p.m. and featured cake, refreshments and prizes for students to enjoy.
Banned Book Week is a nationally recognized event that is being held this year from September 25-October 1 and recognizes the diverse realm of books in society. The American Library Association collects data on all of the books that get challenged in schools and public library systems across the country and rate the top 10 books to create the Banned Book List of the Year.
Many of these books have been on the list since the 1800s and some books have been banned from entire nations. By hosting this event and circulating the books on the banned book list, the PSWS library is showing that it recognizes this list and represents adversity and awareness of these books.
"In today's society, it is exceedingly crucial for libraries to provide access to all viewpoints. As a librarian, I consider myself to be an Intellectual Freedom Writer who defends people's rights to read what they want to read," said Kristin Green, interim head librarian at PSWS.
The week's events on campus feature four raffles and a reading competition where students can win prizes such as gift cards, books and Penn State swag, and visitors to the open house on Monday also had their choice of plenty of free giveaways.
The four raffles available to students included:
"Guess How Many Banned Authors Are in the Jar" for a $25 gift card to BAM.
A Harry Potter-themed Mad Lib where the winning Mad Lib will win a $25 gift card to Amazon.
Penn State gear, which included a picture frame, wall decoration and a football-themed photo frame that was the prize for a four-question mix and match game that required students to match the book title to how it was banned; and
A Classic/Contemporary Book Win that featured two classic books including George Orwell's 1984 and two other books. In order to win this traditional raffle, students just needed to write down a title of a banned book that they have read or were interested in reading.
There is a list of the Top Ten banned books of 2016 featured by the American Library Association, and they are featured during Banned Book Week as well. Of these 10 books, the PSWS Library has seven featured on campus for the event and available to students.
All 10 books are in the Penn State Library system and available to students to check out. Just be ready to wait -- because these books are heavily circulated and used in many classes for teaching purposes.
For the top ten list and more information on the banned books feel free to visit: https://libraries.psu.edu/
or