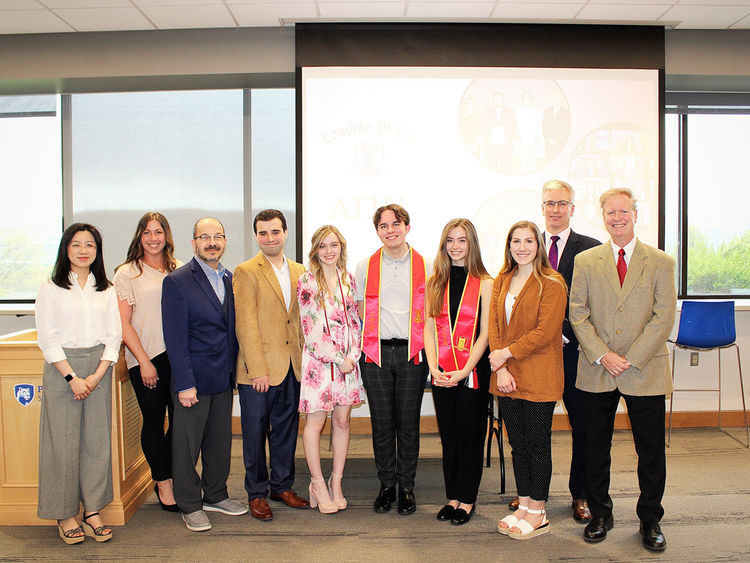 DUNMORE, Pa. — Every year, a select group of high-achieving students from the corporate communication degree program celebrate newly inducted members and graduating students at an induction ceremony for the Penn State Scranton chapter of the National Communication Association's official honor society, Lambda Pi Eta, Alpha Epsilon Pi chapter.
Held in the campus' Sherbine Lounge, students, their families, faculty members and alumni gather to celebrate and recognize the new inductees, and the chapter's graduating members, for their accomplishments.
Chief Academic Officer Durrell Johnson, Penn State Scranton Chancellor Marwan Wafa, and Associate Professor of Corporate Communication Xialing Lin, who serves as interim program coordinator of corporate communication and the Lambda Pi Eta adviser, opened the ceremony — explaining the high academic standards required to be part of Lamda Pi Eta and praising the current members and inductees for their hard work and dedication to the corporate communication program.
To be eligible for membership, students must have a declared interest in the communications field, while also having completed 60 hoursof undergraduate credit courses, with 12 of those hours being in communication courses. Students must also be enrolled full time and in good academic standing with a cumulative GPA of 3.0 or higher, maintain a 3.25 GPA in their communication courses, and be in the top 35% of their graduating class.
"These students have maintained outstanding academic performance, serving as great role models for their corporate communication major and minor peers. Thus, our Lambda Pi Eta, Alpha Epsilon Phi Chapter feels obligated to recognize, foster and reward these excellent students, stimulate student interest, and promote their professional development in communication," Lin explained.
"Our Corporate Communication alumni, faculty, member families and friends also took the time to attend the induction ceremony, which offers a great chance to establish further networking and maintain mutual understanding among faculty, students and families," she said.
Graduating students received honor chords to wear with their regalia at commencement. Those members are Tanner Begin, outgoing vice president of Lambda Pi Eta; Taylor Burdick, outgoing member; and Molly Morgan, outgoing president of Lambda Pi Eta.
"Penn State Scranton is all about community, and I feel that the Corporate Communication Club and Lambda Pi Eta embodies this," Begin said. "Everyone is super nice, always willing to lend a hand, and our members always look out for each other."
Morgan feels the same.
"Penn State has been more than just a university to me, it's been a place where I discovered my passions, made lifelong connections, and learned that with determination, hard work, and a supportive community, anything is possible," she said.
As a corporate communication major, Morgan said she has developed an appreciation for the power of communication in driving positive change. "And I am excited to take these skills into the next chapter of my life," she added.
Newly inducted students were presented with official honor society certificates and pins. Those members are Taylor Burdick, Justin Dorneman, and Jenna Scarfo.
Dorneman will be taking over as Lambda Pi Eta president for the 2023-24 academic year.
Lambda Pi Eta was founded by communication students within the University of Arkansas and was later endorsed by the faculty and founder Stephen A. Smith. It was named as the official national honor society for undergraduates by the Speech Communication Association in 1994.