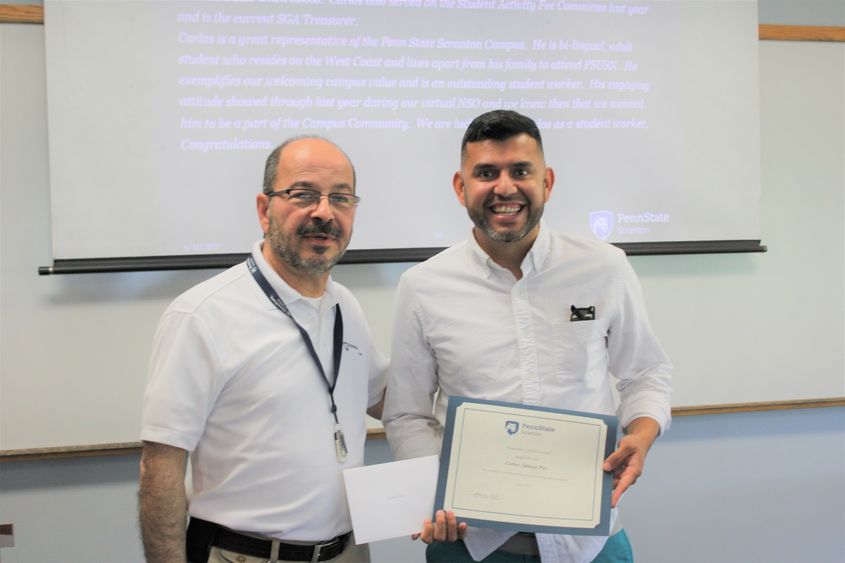 DUNMORE, Pa. — Penn State Scranton student Carlos Salazar Paz is the 2022 Chancellor's Service Award recipient, having been honored with the award earlier this year at campus' Fall Assembly and Convocation — an annual campus event for faculty and staff at the start of each fall semester that brings new and current staff and faculty together, along with one student chosen each year to be honored for their outstanding service and commitment to the campus. 
"Having received this award means a lot to me," Salazar Paz said. "I was not expecting this award and having the opportunity to be recognized by the chancellor, faculty, staff and my fellow students is awesome. I do things without expecting to receive things back, but it feels good when you get recognized at such a level. It was great to share this award with all my family and friends."
An immigrant adult learner, Salazar Paz is in his fourth year majoring in project and supply chain management at Penn State Scranton and is involved in the Business Club, Student Organization of Latinos, and Student Activities Fee Committee.
A resident of the West Coast, he moved to Pennsylvania and currently lives apart from his family to attend Penn State Scranton to enhance his knowledge and earn a degree that will help him secure a better future for him and his wife. 
"The people at school helped me overcome all of these obstacles so I do feel proud that I was chosen to receive the Chancellor's Service Award. I love being involved on campus and giving back to the school and the community," Salazar Paz said. "I love sharing my stories with other students and, at the same time, I love helping others with classes, problems in life or just overall listening to others."
Salazar Paz is especially appreciative of the family-oriented nature of Penn State Scranton and the one-on-one connections from faculty and staff that he receives as a student.
"I love Penn State Scranton because I feel like we are a big family," he said. "I love that I can walk up to any faculty or staff member and talk about anything. I have a great relationship with a lot of people at school and not being from around this area, it feels good to know people and to count on people.
"I just want to take a moment to thank all the people that have helped me throughout the time I have been here at school. As a work study student, I have had the opportunity to meet and know a lot of people — from the president of Penn State, Neeli Bendapudi, to the new students that come to our campus. I feel like this award is not just for me but for all the hard work students at this campus have. I want to share that with all of them and to let them know that hard work pays off."