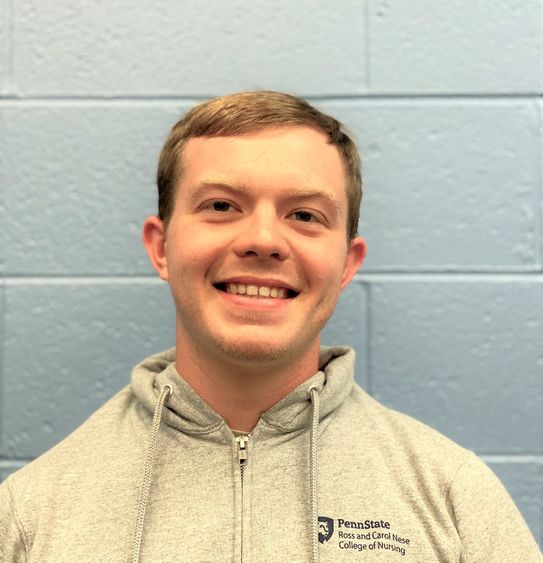 DUNMORE, Pa. — When he first enrolled at Penn State Scranton, Daniel Grant, now a senior biology major, had contemplated taking advantage of the University's 2+2 Program, where students spend their first two years at a Penn State Commonwealth Campus, typically close to where they live, before going on to finish their degree at University Park or another Penn State campus. However, after having very positive experiences during his first two years at Scranton, Grant chose to remain and complete his bachelor's degree program at the campus instead of transitioning to University Park.  
Grant enjoyed getting involved and helping students on campus. "I made a lot of friends and was able to get involved on campus through being part of the cross-country team, honors program, (as a tutor for) the Learning and Writing Center and other extra curriculars. I also liked the many events and activities happening on campus every week. The biology program specifically was great because it allowed me to get a diverse education on different biology topics." 
Instead of having to go through the process of readjusting to life at a new campus, "it made sense to stay all four years [at Penn State Scranton] since I was enjoying the campus and it was closer to home" Grant said.
He also felt that he benefitted from the smaller class sizes at Scranton and the more close-knit relationships students are able to develop with faculty. "Professors were always willing to answer questions and expand on ideas they talked about during lecture," said Grant. "The lab work and research opportunities are also great opportunities."
Over the past 25 years, Penn State Scranton has continuously been adding to its bachelor degree options in order to allow students who do not wish to go, or are unable to go to a larger campus due to financial constraints or family obligations, to fully complete their degrees locally.
In addition to advantages on campus, Grant was also able to take advantage of other local opportunities this summer. Over his summer break he interned with Lackawanna County 4-H, Pennsylvania's largest youth organization which helps young people via leadership, learning, friendship and service. "I'm passionate about the 4-H mission and was grateful to be able to help with the programs that 4-H provides for the community," he said. "My favorite part was being able to give back to the community and getting the opportunity to help others in a meaningful way just as 4-H helped me."
Grant also wrote an article regarding the changes that have been happening in the world recently, which was published in the local community weekly newspaper, "The Valley Advantage" last July.
"With the COVID-19 pandemic and the switch to online learning, many people had to face an unexpected lifestyle change," Grant said. "My article was focused on how we often react to change and desire control over our situations. When I saw that it was published, I was very grateful to be able to share my ideas with others and possibly inspire them through my writing.
"Penn State Scranton helped me with my internship by preparing me for the responsibilities I would handle," he added. "I also was able to meet some inspirational role models at Penn State Scranton, who helped me discover how to inspire others though my own work. Also, Penn State Scranton taught me how to have time management, organizational skills, and strong interpersonal communication that benefitted me during my internship."
While Grant is still considering his options post-graduation next year, he does know that he wants to use his knowledge and skills to help others in his community. "I may seek to work in a lab setting or continue with the Penn State extension," he said. "I know that I want to keep giving back to the community, inspiring others, and helping them in meaningful ways."