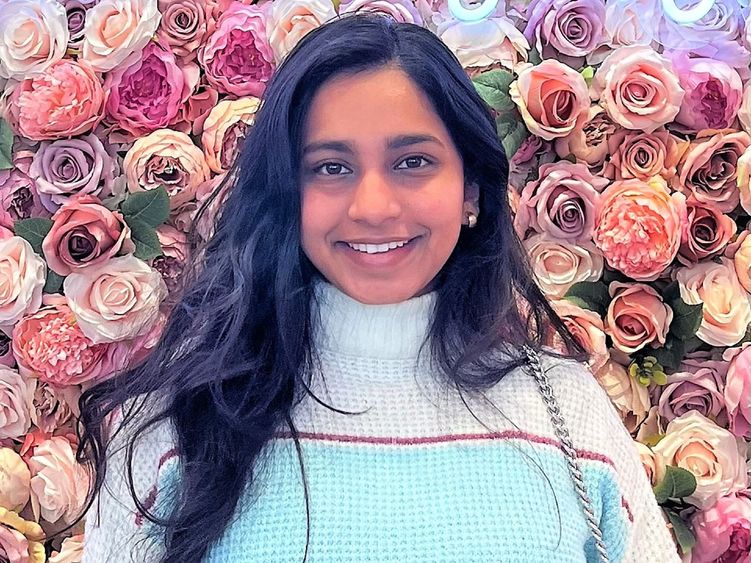 DUNMORE, Pa. — Recent alumna Janvi Patel, who graduated with a bachelor's degree in psychology this December, found a passion while being a peer-tutor at Penn State Scranton's Learning and Writing Center last semester when she got the opportunity to help educate others through an English as a Second Language teaching position for United Neighborhood Centers in Scranton.
Patel moved from India to the United States in 2019 and soon after began her undergraduate experience at Penn State Scranton in 2021.
Being the first person in her family to attend college in the United States, Patel noted that she is highly motivated by her parents, their struggles due to cultural differences, and feels obliged to help others through the same difficulties, especially those who face language barriers.
"I know how it feels and how it could affect one's mental health," Patel said. "Therefore, I would like my life to be dedicated to helping people have great mental health and help them through counseling and providing education."
"Looking at other students of color have the same access to opportunities as any other individual with any other race and ethnicity made me believe 'if they can, I can too,'" Patel said, adding, "Penn State Scranton is very diverse and gives me a chance to explore other cultures and appreciate the differences."
The opportunity to be an ELS teacher arose during the fall semester when campus Writing Center Coordinator Jaime Mosher was looking into how campus tutors could get involved in community service. She contacted United Neighborhood Centers, but they were not in need of tutors at the time, and was told that even if they had been, "the process of doing something as a group seemed too complicated for us to pull off, especially being my first semester in this full-time role," Mosher said.
"So instead of us doing something as a group, Arlene Jamarillo, the ESL coordinator at United Neighborhood Centers, said she would be in touch if she had a need," said Mosher. Before long Jamarillo did contact Mosher looking for an ESL teacher to teach remotely.
"I told Jamarillo I would let my tutors know and would be in touch. Janvi was interested, so I was able to get them connected, and they worked out the details," Mosher said.
Patel credits Assistant Professor of English Kara Stone, as well as her English 15 course, which prepared her to become a peer tutor. She also credits Assistant Professor of English Jody Griffith, who gave her a better understanding of teaching the English language.
Patel noted that her ESL teaching experience was remarkably similar to her peer tutoring experience, aside from the fact that peer tutoring mostly involves helping college-level students.
"Teaching students is a very rewarding experience, as it has not only a giving experience for me, but also a taking experience too, by getting to learn from other's knowledge," Patel said.
Patel enjoys getting to know more individuals like herself, who are going through similar stages of life and are determined to gain knowledge through education. "I also get to meet and help immigrants like me overcome their language barriers and help them understand that they do not have to 'fit in' to be accepted," she said.
Patel plans to continue teaching at United Neighborhood Centers while perusing a master's degree. "And after that, my end goal is to counsel and teach as a professor, too," Patel said.
Interested in tutoring sessions or becoming a peer tutor? Contact the Learning and Writing Center here. For additional inquiries, contact Mosher via email: [email protected]