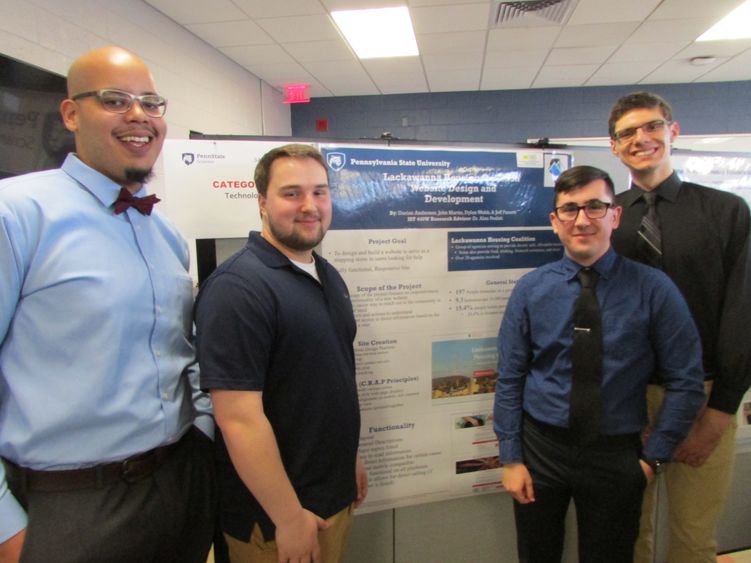 DUNMORE, Pa. — When the Lackawanna County Housing Coalition needed a new website, it didn't hire a pricey graphic-design firm to carry out the task. Instead, it opted for the services of four talented students from Penn State Scranton's Information Sciences and Technology (IST) program.
This spring, IST students Dylan Webb, Jeff Panetti, Dorian Anderson and John Martin designed the Housing Coalition's website as a project for the IST 440W capstone course taught by Alan Peslak, professor of IST.
The website, lchousingcoalition.org, is elegantly designed and chock-full of easy-to-find information spotlighting the myriad housing services provided by the Housing Coalition's more than 30 local members.
That list includes United Neighborhood Centers of Northeastern Pennsylvania, NeighborWorks Northeastern Pennsylvania, Catholic Social Services, Friends of the Poor, the Women's Resource Center and Scranton Lackawanna Human Development Agency, Inc.
Among other things, the site links visitors to useful information regarding home repairs; emergency housing; homebuyer education; financial assistance; weatherization and energy efficiency; homeless shelters; and food, clothing and furniture pantries.
"The site will serve as a 'stepping stone' to direct individuals to the right agency, reducing the time it takes to locate help," wrote the students in their summary of the project for the campus' 2019 Undergraduate Research Fair and Exhibition, where the project took second place in the technology category.
"Along with the links to the main agency sites, the LCHC site will contain a 'volunteering' page that can link users with an agency that offers an opportunity to those who want to donate time to help others," continued the summary.
Peslak said the students received great feedback from the Housing Coalition's members.
"We have had nothing but praise from the coalition, and that is no small task considering that there were dozens of organizations included in the coalition and at least three clients involved in the daily details," he said.
Real-world, service-learning projects like this one have long been an integral part of the IST program's curriculum. Every year, Peslak said, students in IST 440W partner with nonprofits and businesses on their projects.
Often, those partnerships are set up by John Drake, director of Penn State Scranton's Center for Business Development and Community Outreach (CBDCO).
In addition to the Housing Coalition, Drake provided the course's students with two other projects this spring — preparing a design and framework for Hemlock Farms' community mobile app, and designing interactive computer-based knowledge content and ancestry models for the Wayne County Historical Society.
"CBDCO has been an invaluable resource for the inclusion of real-world community projects," Peslak said. "These projects were all rated as A-grade projects by the client sponsors. This continues a series of successful years where the CBDCO has been essential in helping our students, our community and my role as instructor of the course."
Peslak said he requires a structured, project-management approach for the students that includes a definition of the project's scope, deliverables, Gantt charting and follow-up, and an overall project plan.
"In addition, I require frequent written and oral presentations throughout the semester to make sure we are on track," he said. "But it is very encouraging to see the students take responsibility and control of the project very early on. Their enthusiasm and rigor truly show the pride and diligence they take in their work."
Of course, things sometimes don't go according to plan, Peslak said. Some projects are affected by communication issues, while others are disrupted by changing client requirements, he said.
Typically, though, by the end both clients and students are happy with the final product. And, above all, the students have an impressive professional experience to showcase on their resumes.
"I believe they have learned a great deal from the projects," Peslak said. "They have learned the importance of clear requirements, continuous communication throughout the development process, specific implementation of project management skills, and commitment to quality. They have also learned valuable client-interaction skills that are especially important as they progress to the workforce."