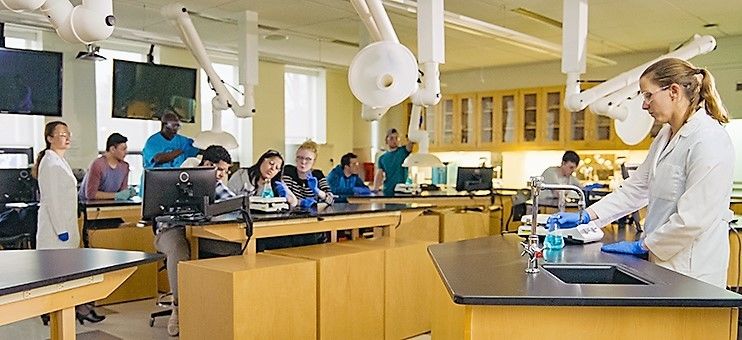 DUNMORE, Pa. — Penn State Scranton's science department is hosting a special welcome event at noon on Tuesday, Oct. 4 that will include a scavenger hunt on the third floor of the Dawson Building.  Lunch will also be provided.
The event, funded by the Quinnan Endowment Funds for Science, is intended to help students become better acquainted with the campus' science spaces and faculty members. The event is open to all students majoring in a science degree program, or who may have an interest in them, and members of the campus community. Currently, Penn State Scranton offers bachelor degrees in biology and science.
"Over the past two years, we went through a period when we had to function mostly remotely, followed by construction on the third floor of Dawson with the new Science Suite. Back in spring, as our offices were being finished, I felt that we should have a return to campus celebration in the fall, where we would show our new space to students so they could find us and feel comfortable to come and see us," said Agnès Kim, Ph.D., associate professor of physics and the science program coordinator.
With this idea in mind, Kim did just that and began the planning process of the science scavenger hunt in collaboration with other science faculty and student services.
"The science faculty came up with a list of questions. We will have them try and find objects and living things in our offices and in the labs and find faculty members with certain characteristics. They will be collecting stickers for the items they find and there will be prizes. For the new students, we are also including our labs in the space we want our students to explore. I also thought it would be a good recruiting event for our science programs," said Kim, while adding "I am hoping to promote our science club and recruit officers. But the main idea is to have an informal interaction between our students and science faculty."
Student Services is working closely with the science faculty to provide this event with quest items for the science scavenger hunt, as well as helping with food service, and will be planning additional academic-related events later in the year that may include more science demonstrations and activities.