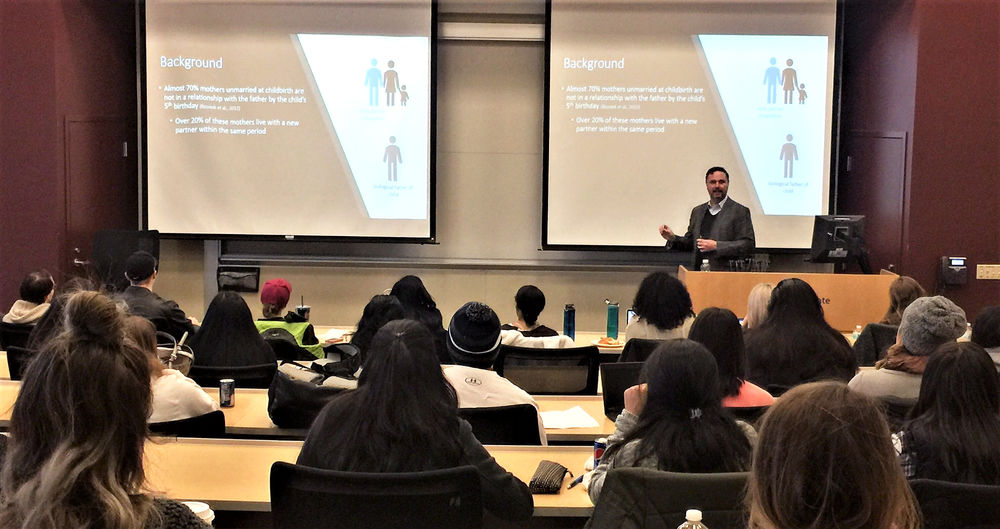 DUNMORE, Pa. — Raymond Petren, assistant professor of human development and family studies at Penn State Scranton, recently shared his findings from his study, "Union Stability among Mothers and Stepfathers: Contributions of Stepfathers and Biological Fathers," which was published in the Journal of Family Psychology in 2018.
His lecture, titled: "What Helps Mothers of Young Children and Step-Fathers Stay Together?" filled the Hawk Lecture Hall in the campus' Business Building for another installment of the campus' Lunch and Learn Lecture Series, which invites faculty and staff to present their research to fellow faculty, staff and students during the noon hour.
When asked what inspired him to research this topic, he stated: "My dissertation on fathers' multiple-partner fertility is linked with this work. However, the real inspiration for this research, and most of my research, comes from a concern about the roles that men make in the lives of children. The contributions of fathers and stepfathers may be particularly important for children in low-income families. Yet, the instability and lack of resources that are common to these families often limit the ability of these men to make contributions."
During the Lunch and Learn session, Petren discussed the findings of various measures reported by mothers of young children in relation to children, stepfathers and biological fathers.
"This study examined factors that are associated with the stability of relationships between mothers of young children and stepfathers among low-income families," he explained.
"These families can be complicated, as mothers are often negotiating co-parental relationships with both the stepfather and the biological father of the child. We sought to know how each father figure's parenting and economic contributions affect the stability of these mother-stepfather relationships." Petren said.
"Results showed that economic contributions of both father figures were of primary importance. Mothers were more likely to continue living with stepfathers who were working, and they were less likely to continue living with stepfathers when biological fathers were making formal child-support payments. Mothers' perceptions that stepfathers were supportive co-parents and engaged with the child increased the likelihood that mothers and stepfathers would stay together, particularly when stepfathers were working."
Petren went on to state: "Given that family instability can be harmful to children, it is important to support these relationships. This research suggests that programs and policies designed to foster the stability of these families should help stepfathers' make strong contributions as economic providers and parents."
His presentation was followed up with questions by students asking about other areas of interest, such as the potential findings of a similar study with same-sex couples, or step-mothers as the study group.
Petren wants students to be exposed to research and scholarship.
"Beyond learning about interesting research findings, these presentations provide students with an opportunity understand the process of research and develop an appreciation for the use of rigorous methods to generate knowledge," he said.
To read the published article in full, visit this link.