Penn State Worthington Scranton students accompany faculty to Eastern Psychological Association's annual meeting in Philadelphia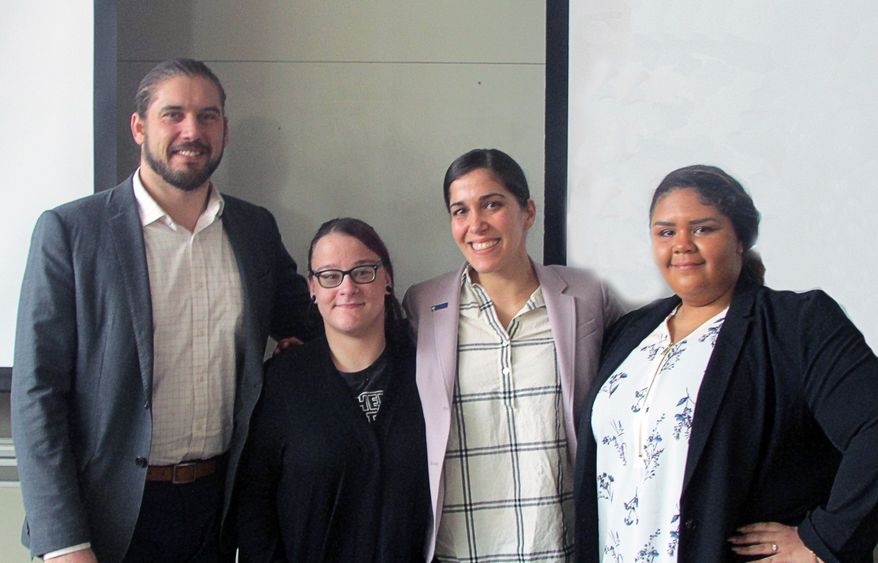 DUNMORE, Pa. — Three students in Penn State Worthington Scranton's psychology degree program spent part of their spring break in Philadelphia showcasing their academic research at this year's annual meeting of the Eastern Psychological Association.
Katelynn Lake, Andrea Ross and Danielle Berghoff, all psychology majors, along with their advisers, Karin Machluf and P. Douglas Sellers II, assistant professors of psychology, traveled to the conference where they presented their research poster: "Rape Myth Acceptance in College-Age Men and Women: Predictions from Life History." The research attempts to understand why some people believe that victims of sexual assault are responsible for their own assault.
"This is a big accomplishment for these undergraduate students," Sellers said, explaining that undergraduate students have the opportunity to present their work with posters at the annual meeting. The research is peer-reviewed for quality, and acceptance is competitive.
In addition, Lake presented the research findings to the campus community a week before the students left for the conference, during a Lunch and Learn talk, the campus' monthly scholarship presentation.
Worthington Scranton students weren't the only ones represented at the EPA's annual meeting. Sellers gave two talks. The first was titled "Mental Health, Social Support, and 12-Step Program Engagement Predict Sobriety in Opioid Addicts," which looks at what helps keep recovering opioid addicts sober once they are in recovery. Undergraduate student James McKenna III worked on this project with him. The second was titled "Extension of the Animacy Memory Effect in Second and Fifth Graders", which extended some memory work to children for the first time that had previously only been done with adults.
According to Sellers, the research found that the best predictor of word memory is if the word depicts something that is animate (a live animal, for example). "This has has implications for evolutionary psychology, the fact that our memory systems appear to be 'tuned' to remembering things that are alive," he said.
Machluf also gave a talk at the conference: "Infants' Physical Immaturity Triggers Empathy in Adults," the goal of which is to understand how infants trigger empathy in adults in order to induce caretaking behaviors. "The ultimate goal is to try and understand child abuse. Perhaps there are people who do not respond in a typical way to infants, and maybe that is a factor in making them more likely to abuse children," she explained.
Penn State Worthington Scranton currently offers 13 bachelor degrees, with psychology being one of the newest offerings available to students, with an option of obtaining a Bachelor of Arts or Bachelor of Science. For more information on the psychology degree, go to: http://worthingtonscranton.psu.edu/psychology
The Eastern Psychological Association (EPA) was founded in 1896 and is the oldest of the regional Psychological Associations in the United States. Its purpose is to advance the science and profession through the dissemination of professional information about the field of psychology. EPA achieves this goal by conducting its annual meeting where the members of EPA present the latest advances in professional and scientific work to their colleagues. EPA welcomes psychologists from all fields across the discipline.