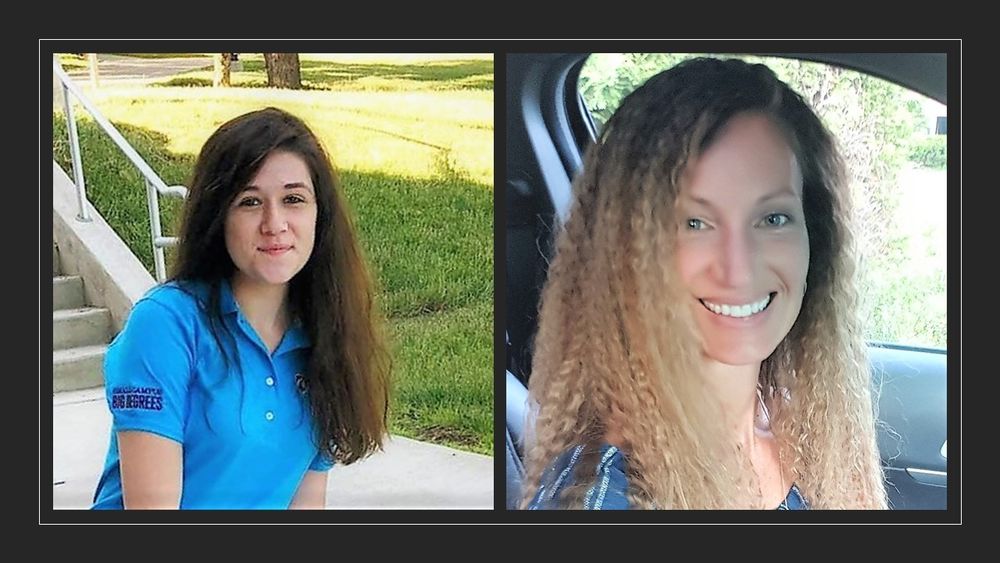 DUNMORE, Pa. – Penn State Scranton psychology students Jenifer Kolessar and Daniele Saranchuk needed an internship in order to graduate this summer. Of course, in the age of COVID-19, such things are easier said than done.
Challenging times call for innovative thinking, and Assistant Teaching Professor of Psychology and Program Coordinator Renae McNair was able to come up with a real-world service-learning experience that more than met the students' needs.
Kolessar and Saranchuk spent the summer months working with BOCES (Boards of Cooperative Educational Services) of New York State's Broome-Tioga office in Binghamton. An extension of local school districts and the New York State Education Department, BOCES provides educational services to thousands of youth and adult students throughout the state.
Specifically, Kolessar and Saranchuk were tasked with developing "Finding Your Path to Resilience," a series of eight workshops for returning teachers and administrators that BOCES plans to implement this fall.
"The aim is to develop programs and activities that will be beneficial in reducing stress and increasing resiliency in the faculty and staff as they return to school and teaching this fall in light of the fact that we are still dealing with a pandemic," said Kolessar, a 38-year-old adult learner from Clarks Summit. "It is just as important to provide mental wellness support for the faculty and staff as it is for the students."
When it became evident that the pandemic would prohibit Kolessar and Saranchuk from an in-person internship, McNair quickly set about trying to come up with an online version that was both feasible and meaningful.
"I knew that K-12 schools were working as hard as we were to ensure that the schools not only open safely, but also had enhanced programs for people who were dealing with the COVID crisis on an emotional level," said McNair, a Binghamton area resident. "My research is in health psychology, primarily resilience and healthy adjustment, so I knew schools would need these programs as they opened in the fall. The high school where the students did their internship had many programs for students, but they had a hole they needed to be filled — positive return-to-work transitional programs for the adults (teachers, staff, administration) for their emotional health and well-being."
In the beginning of the internship, McNair shared about 12-14 research articles with the interns about resilience and how it manifests itself in the community.
From there, McNair and the students met via Zoom with a BOCES administrator. Through some brainstorming, the students came up with the programs they could develop, including everything from the design and costs to the marketing materials and curriculum.
"Throughout the process, the students learned a great deal about program development and how to support the needs of the school. And, due to the independent nature of the internship, they had the flexibility 'to be creative as well as effective.'"

-- Assistant Teaching Professor of Psychology and Program Coordinator Renae McNair
That said, McNair proved to be a great resource and sounding board the entire time, according to the students.
"Dr. McNair has been a huge help as far as doing the communication with the school to get this off the ground and working out the details," Kolessar said. "I am truly grateful for her working so hard on this for us. She is phenomenal, and so knowledgeable in all areas of psychology. I appreciate her so much."
"I have had the pleasure of knowing and working with Dr. McNair for several years now. Thanks to her, I will be graduating this summer and I could not be more grateful," added Saranchuk, 23, of Taylor. "Working with her on this project, I have learned so much. She made this experience positive and helped me to get through any concerns I had about it. It has been a journey and I wouldn't have wanted to work beside anyone else."
In the end, the feedback from BOCES was very positive, while the work itself was both challenging and enjoyable, according to both students.
"The concept itself of the mental wellness workshops for the faculty and staff I think is great," Kolessar said. "Ideally, we would have done the internship in person. However, this is the next best way, given the pandemic precautions and restrictions. And, given that both Daniele and I have children, getting to do the work from home has been largely beneficial."
"It has been wonderful working with the administration. They are an amazing school to work with," Saranchuk said. "It may seem like a daunting task to complete an internship online, but any concern that came with this internship was quickly resolved. It was a learning curve, but one we readily welcomed and enjoyed being a part of. It didn't feel like work because we loved what we were doing."
With the internship now behind them and their undergraduate days coming to an end, both students can now focus on their impending careers.
Saranchuk would like to work in a school environment, ultimately as a psychologist. Inspired by her late fiancé, Kolessar initially had intentions of getting her doctorate and opening her own addiction treatment center.
"A lot has changed since then, so I now hope to start work in the field of psychology immediately upon graduation, as I possibly still work toward a higher degree," Kolessar said. "Fortunately or unfortunately, I think there will be a sizable need for mental health professionals in the very near future, given the effects of the pandemic, and I want to work wherever I am needed to help people. I feel that this internship will do a really good job in preparing me for this type of work, as well as work that will inevitably be carried out remotely. … I am grateful for all of the experiences Penn State has given me, especially this internship, and thoroughly look forward to taking what I have learned and applying it in the real world to help others."
"Getting to work in a professional manner during this internship has taught me so many new skills," Saranchuk said. "Not only has this given me new professional skills, but also experience in doing work online. This experience has taught me how to navigate a remote working environment in a positive and educational manner."
As it happens, the internship was a terrific learning experience for McNair, too.
"At first, I was not sure how the online internship would go, but in the end, I know that the students learned a lot, maybe even more than a traditional internship where they shadow someone," she said. "In the future, I am going to include online experiences for students if the experience aligns with their future goals."