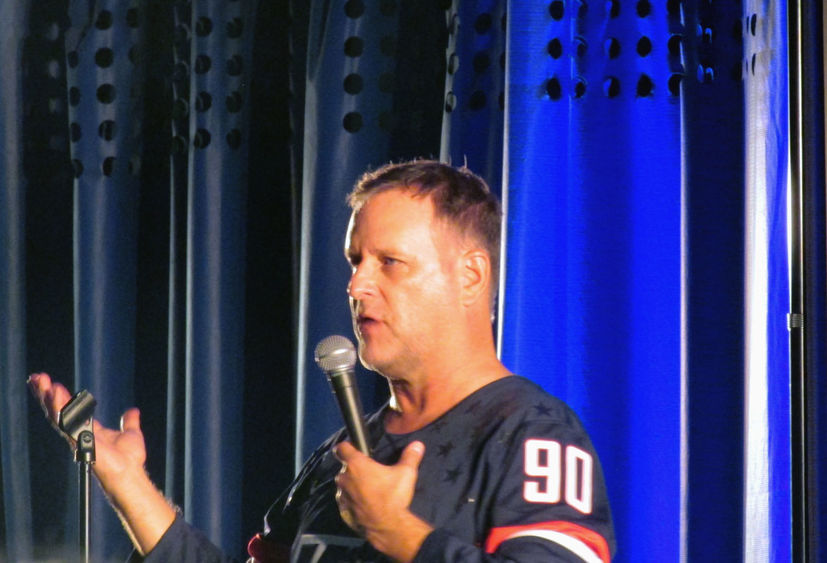 On September 23, actor and comedian Dave Coulier came to Penn State Worthington Scranton and had the entire crowd laughing within minutes after taking the state in the Multi-Purpose Building.
After ending the performance, he received a standing ovation, and then stayed for a brief interview and a meet-and-greet for the students with the Campus Activities Board (CAB).
Dave Coulier has been on the comedy scene for 37 years and has overcome many challenges along the way. Starting off on the couch of future co-star Bob Saget, and working his way into voice acting, Coulier knows the struggles that go along with becoming a comedian.
He is most famous for his role as Uncle Joey on the sitcom Full House (1987-95).
Now 57-years-old, he has directed upcoming episodes of his newest show Fuller House, and voiced many famous characters on shows such as the Muppet Babies, Scooby and Scrappy Doo and the Jetsons.
Dave has been honored to be chosen as the cover on the Cheerios cereal box coming this January in recognition of the wonderful efforts that Cheerios has worked on to donate over $800 million to ChildLine over the years.
Now, he is working on the sequel to the show Fuller House in his returning role. Dave is also touring nationwide, performing his stand-up comedy act, which he recently performed at PSWS.
During an exclusive interview with Coulier, he stated that he enjoys performing stand up on the college stage because the audience knows him from their childhood and can relate to all of his jokes.
His family friendly act has given him a heart-warming persona that resembles him perfectly. He prides himself on the fact that he has never sworn during any of his acts, and as seen on Friday night, when he noticed that there were several young children in the audience, he can easily modify his act to be suitable for any age.
Coulier has performed on many Penn State campuses over the years and says that he enjoys the energy that is present at each campus he performs at. He especially appreciated the standing ovation he received at Friday night's show.
When asked whether he prefers stand-up or acting, he said that it isn't a matter of preference but a difference in challenges. "Both acting and stand-up have their challenges. I find stand-up to be harder because I have to feed off the audience's reaction. When I am acting there is a fourth wall, I am reading someone else's work and doing my part to make people laugh at another person's words."
Coulier mentioned his mentors that have helped carve his way into show business, including Groucho Marx, Steve Martin, and Robin Williams, whom he had an opportunity to work with. He said that he has also had the pleasure of becoming close friends with Mark Cendrowski, the director of the hit sitcom Big Bang Theory.
These mentors have guided him into making a successful career as a voice over comedian, he explained.
Coulier ended the interview with these words to live by for the students: "Don't look at what's around you, go inside you. Find what is in your toolbox and bring it to the world."
His quote is in reference to the challenge of discovering oneself. He speaks to the students to say take the chance and explore who you are deep inside yourself and he hope that from that experience, students will walk into a career that they will love.