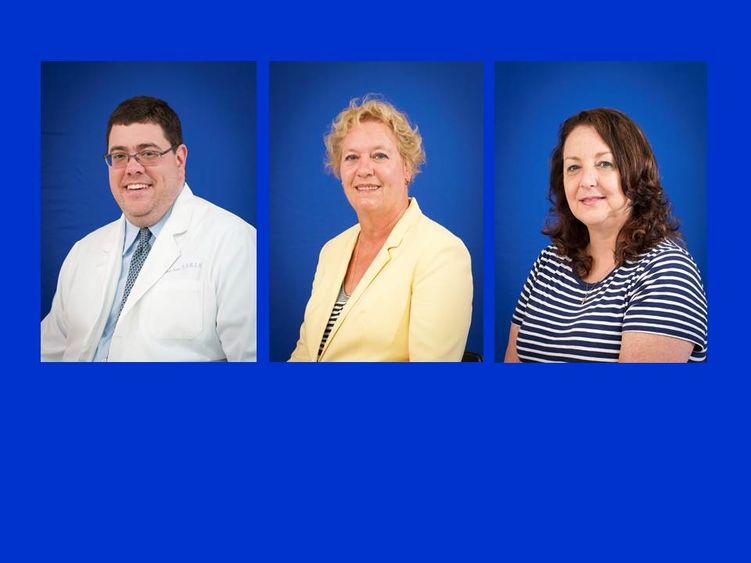 DUNMORE, Pa. — Penn State Worthington Scranton was proudly represented at the 28th annual Eastern Nursing Research Society Scientific Sessions in Pittsburgh recently, with three nursing instructors presenting at the conference.
Nursing instructor Michael Evans presented his paper titled "Comparison of the Life Descriptions of Newly-Diagnosed Versus Chronic Stage D Heart Failure Patients." He was the lead author on the paper and worked with co-authors Judith Hupcey, Lisa Kitko and Windy Alonso. All authors are from the University's College of Nursing. Evans explained that his paper was researched on stage D heart failure, a chronic progressive disease that impacts approximately 600,000 Americans. For his research, a thematic analysis was conducted on 75 interviews focusing on participants' discussions specific to living with advanced heart failure. The results of their research showed that newly diagnosed patients have naïve expectations with hopes of returning to previous levels of function, while chronic advanced heart failure patients showed resignation and live day to day.
"Understanding patients' different perspectives of living with advanced heart failure based on length of time from diagnosis could provide health care providers with better guidance regarding timing of intervention and allow us to provide quality person-centered care," Evans explained.
Nursing instructor Linda McAndrew presented a paper titled "Pain Management of the Substance-Using Trauma Patients and the Impact on Nurses: A Systematic Review." McAndrew was the lead author with help from Judith Hupcey and Harleah Buck, both from Penn State's College of Nursing.
Nursing instructor Donna Volpe co-presented a research poster titled "A Pilot Focus Group Study of Risky Choices in Nursing Home Residents: Implementation of the Rothschild Person Centered Care Planning Process" with Liza Behrens (lead author), Jennifer Brush, Kimberly Van Haitsma and Ann Kolanowski. All authors are from the University's College of Nursing.
Evans recently received his doctorate from Penn State. He also holds an associate of science degree in nursing and a bachelor of science in nursing from Penn State, and a master's of science in nursing, with a specialization in adult health and a sub-specialization in nursing education, from Misericordia University. In addition, he earned his master of science in education with a focus in professional studies from Capella University. He resides in Archbald with his wife, Stephanie, and their son, Finn.
McAndrew is a graduate of Wilkes University with a bachelor's degree in nursing. She earned her master's degree in nursing from the University of Scranton, where she graduated with honors as a board-certified family nurse practitioner. She also has a diploma in animal science and a master's certificate in nursing management. She has held scholar status in the University of Pittsburgh's Center for Public Health's Pennsylvania Preparedness Leadership Institute and in the institute's advanced leadership program. She has also been a guest speaker at Wilkes University, Marywood University, the University of Scranton, the Pennsylvania Trauma Systems Foundation Annual Conference, the American Trauma Society's Pennsylvania Division Annual Conference and the Visiting Nurse Association's Annual Education Day. She resides in Clarks Summit with her husband, Gerard, and daughter, Kate.
Volpe is board-certified in perinatal nursing with a master's degree in nursing education and also holds a nurse educator certificate. She is currently a doctorate of nursing practice student. She was a profiled educator in the May 2016 edition of Happenings Magazine. Volpe is married with four children and one granddaughter.