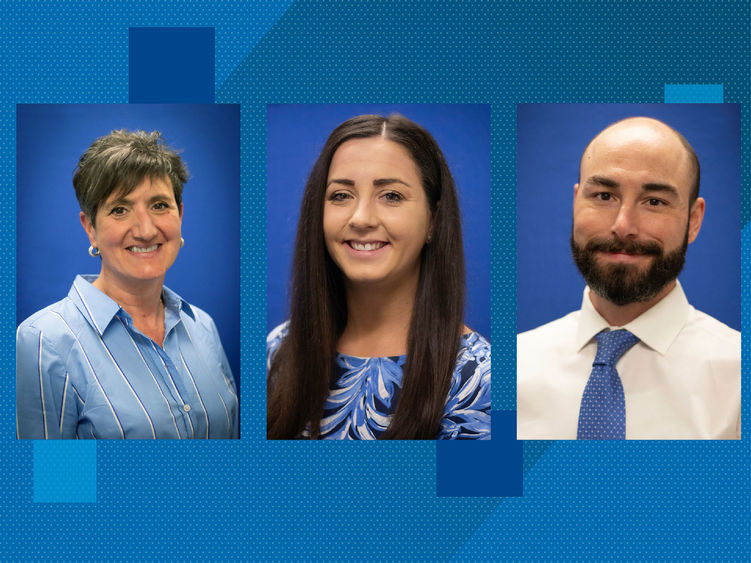 DUNMORE, Pa. – Penn State Scranton Chancellor Marwan Wafa has announced the addition of three new staff hires: Julia Cardillo, enrollment services specialist; Nicholas Tomaskovic, enrollment services specialist; and Stephanie Campo, nursing administrative assistant.
Campo became a new member of the Penn State Scranton family in April as an administrative assistant in the nursing department.
She brings a wealth of knowledge and diverse experience ranging from working 10 years in higher and elementary education and also as a licensed realtor with Coldwell-Banker.
So far, Campo said that working at Penn State Scranton has been amazing. 
"I feel so welcome, and everyone has been extremely helpful," she said. "[There is a] never-changing challenge to learn new things. In my role, I am constantly busy, and I love it."
Within her position, Campo keeps track of the campus' nursing students in regard to their clearances and compliancy with Penn State's Ross and Carol Nese College of Nursing handbook. Campo also works closely with Penn State Scranton nursing faculty to help the department run smoothly.
"I look forward to just helping faculty and students enjoy their work and studies here at Penn State [Scranton], so the program continues to grow," Campo said.
She wants students and the campus community to know that if she could help out in any way, she would be happy to do so. 
"I must say that the whole Penn State family has welcomed me as one of their own," Campo said. "I could not be happier that I am working with so many wonderful people, and I look forward to working here for a long time." 
In her free time, Campo volunteers for Friends of the Poor and enjoys partaking in events that help raise money for good causes, including the Multiple Sclerosis Foundation and St. Jude's Children's Hospital. 
Campo raised her three children in northeastern Pennsylvania and currently resides in Clarks Summit with her husband, Michael.
Penn State alumna Cardillo is taking on a new role at the Scranton campus as an enrollment services specialist in the admissions office.
"The position caught my eye because of my love for Penn State and education," Cardillo said.
A former 2+2 student at Penn State, she began her collegiate journey at Penn State Scranton, where she was actively involved on campus as a Lion Ambassador, THON supporter, cheerleader and shortstop for the women's softball team for which she earned the Penn State University Athletic Conference All-Conference Award.
She then went to University Park to finish her degree, where she joined the Gamma Sigma Sigma Sorority and continued to support THON through the special interest student group Ohana Benefitting THON.
Cardillo graduated from Penn State in 2018 with a bachelor's of science degree in early childhood and elementary education and has spent the past five years as a teacher for several different grades and subjects. ​
"As a former teacher, I have a lot of experience in working with students of various age groups tied in with my own personal experience of having attended Penn State as a student myself," Cardillo said. "I feel that I will... build meaningful relationships with prospective students since I can relate to them because I was in their shoes not too long ago.​"
Coming back to Penn State Scranton as a full-time employee has been a fulfilling experience, Cardillo said. 
"I was a student here, and now, I am back here as an employee so my Penn State story will continue on," Cardillo said.​ "What I enjoy most about starting this new position at Penn State Scranton is how welcoming, kind and helpful everyone here is."
As an enrollment services specialist, Cardillo's primary role is to recruit and help counsel students who are looking to make their college decision. She will also be a co-adviser for the Lion Ambassadors on campus, which she said is exciting.
"Since I was a teacher before this, I am really looking forward to still getting to work with and help students, but at the higher education level," Cardillo said, adding that she is also eager to spread her love for Penn State Scranton with prospective students who are in the process of making their college decision. "To be back working at my alma mater of Penn State, feels like I came home. I always knew I would find my way back here. Even upon graduating, I was a part-time Penn State Scranton employee as I have been teaching the Nittany Cub Camps every summer. So, I never truly left Penn State!"
She said she wants the students and the campus community to know that she is there for anything that they may need.
"Everyone and anyone are always welcome to stop by my office," she said.
Cardillo lives in Dunmore with her boyfriend Bryan, a 2020 Penn State graduate who also attended Penn State Scranton for his first two years.
Tomaskovic was also recently hired as an enrollment services specialist in the admissions office at Penn State Scranton.
Within this role, he is responsible for working with first-year students and families in navigating the often-intimidating worlds of higher education and financial aid.
Tomaskovic began his Penn State journey as an admission counselor at Penn State Hazleton in 2013, coming from his alma mater, Lycoming College, where he received a bachelor of arts degree in history in 2011 before working in admissions recruitment. He departed Penn State Hazleton in 2020 to serve as the associate director of graduate admissions at Wilkes University.
"I know that my experience gained from various roles in higher education, my familiarity with Penn State, as well as my ability to empathize with others who have experienced challenges in life, makes me well situated to share the value of a Penn State degree," Tomaskovic said.
His other duties include advising the Lion Ambassador organization and supporting students throughout the first-year financial aid awarding process.
"Penn State holds a very special place in my heart and is an inseparable part of my personal story," Tomaskovic said. He met his fiancée Sabrina when he joined the admissions team at Hazleton. Last summer, he proposed to her at the Arboretum at University Park. "Nothing compares to meeting the love of my life — and yes, our life plan very much includes raising a new generation of little Nittany Lions."
Tomaskovic earned his master's degree in higher education from Penn State World Campus. 
"I always had this feeling that I'd wind up back at Penn State," he said. "And it's like the saying goes — 'you have to go away in order to come back.'"
Joining the Penn State Scranton community, for Tomaskovic, felt like "coming home," he said, adding that, "it's amazing, incredible and absolutely what my soul needed."
"Penn State is an institution that is truly unlike any other and having worked for different schools throughout my time in higher education, I can say that with absolute certainty," Tomaskovic said. "It was clear to me from day one that the individuals who make up the Penn State Scranton community are welcoming, student-centered and passionate about what they do and authentic in their approach to serve the communities that make up Pennsylvania. As someone who was born and raised in northeast Pennsylvania, all of those things resonate deeply with me."
Tomaskovic said that as cliché as it sounds, just knowing he is back in a position and at an institution where he can be a force of good and make a positive difference to someone is what he is most looking forward to in his role.
"The greatest reward is being able to make real and meaningful connections with the individuals who make up our local communities in northeast Pennsylvania," he said. "Education, specifically higher education, when done right, can be powerfully transformative and helping others realize their potential through the value of a Penn State degree is both humbling and incredibly gratifying."
When Tomaskovic is not recruiting for Penn State, he enjoys spending time with his fiancée, family and friends. A huge Penn State football fan, he also said he has lots of love for the Pittsburgh Steelers and Boston Red Sox. Some of his other hobbies include going to food festivals, hiking, video games, history, Legos and anything Disney.
"Students will definitely see me around campus playing Pokémon Go — hey, it keeps me active!" he said.
Tomaskovic currently resides in Conyngham.