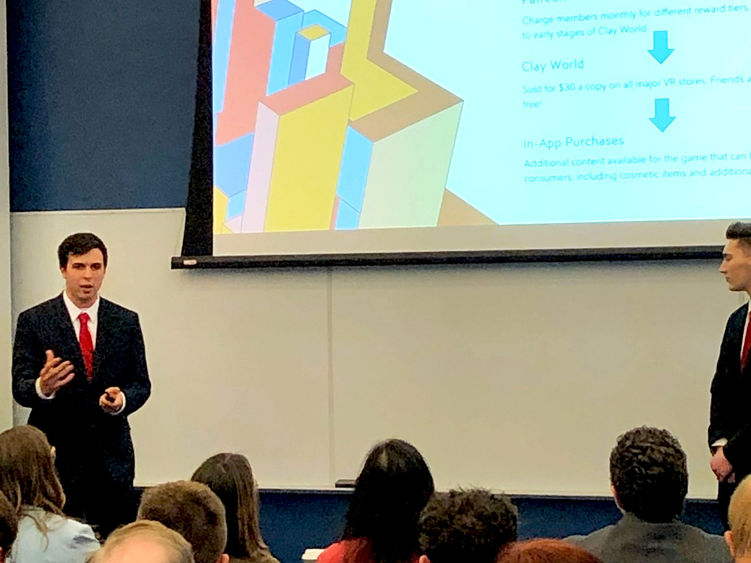 DUNMORE, Pa. — When Parkston Myers graduated in May from Penn State with his information sciences and technology (IST) degree and game development and design minor, he did so as an already accomplished budding entrepreneur.
While still a student at Penn State Scranton, the he turned a creative idea that stemmed from his passion for video games, which had developed at a young age, into a $10,000 business plan.
When he was 13 years old, Myers fell in love with gaming, which was then further enhanced at Penn State Scranton when he signed up for summer Nittany Cub camps on coding and gaming at the campus. Looking back, he said, it was those nostalgic memories that inspired Myers to create "Clay World" – a game that creates a casual competition for family, friends and online players.
As a camper, Myers took a plethora of Nittany Cub Summer Camps under the supervision of Fred Aebli, lecturer of information sciences and technology, learning about coding, game design and stop-motion clay animation. Years later, he returned to the campus as an undergraduate to further his knowledge and continue to learn from Aebli.
"I found my passion here and came back to the same teacher who taught me all that I know, which has been awesome. Professor Aebli has been the same energetic, tech-oriented person, which is a reason I got into that myself, and applied to this campus. He has always taken me seriously, even as a 13-year-old."

—Parkston Myers , 2023 information sciences and technology graduate, Penn State Scranton
Watching Myers transform from a Nittany Cub Camper into a young entrepreneur has been a rewarding experience, said Aebli.
"As a young coder in our Nittany Cub Camp, and then in Nittany Academy, Parkston was excited to learn about technology and enjoyed all the challenges and rewards it provided," Aebli said. "He also loved to work with other young people in our camps. He has a gift."
As a student at Penn State Scranton, Myers immediately sought out new opportunities to get involved and learn more about his future career, one of which was becoming president for the IST Club during the COVID-19 pandemic.
Aebli said Myers was "the perfect leader to bring us out of COVID and 'wake the club back up!'" he said.
"For me as an instructor who taught all through COVID, Parkston's energy, interest and passion for all he does gave me great hope for his generation," Aebli said, adding, "I think we're going to be in good hands."
Learning the basics at a young age, Myers said he is "pumped" to create his own claymation game with fun and realistic graphics. Similar to the setup of classic games, Clay World will introduce a series of virtual reality (VR) minigames that mimic traditional childhood games for everyone to take part in and enjoy, he said.
"I wanted something casual that everyone can play," Parkston said, adding that a big focus of crafting Clay World was making sure the games are user-friendly and appropriate for all ages.
Myers has crafted more than 100 different ideas for minigames which he intends to implement one at a time, and has already started the process of building a multiplayer game. Release updates will be available via Myers' YouTube channel, "Gamer Reality," which he created in 2018.
A $10,000 idea
Since its inception, Myers has presented his business idea to a number of organizations and local professionals within Northeast Pennsylvania, including Penn State Scranton's Advisory Board and Big Idea Competition, Lackawanna County's TechCelerator Program and the Business Plan Competition hosted by tecBRIDGE.
It was the Lackawanna County TechCelerator Program — a newly launched entrepreneurial program facilitated by Lackawanna County; the Greater Scranton Chamber of Commerce and its Ignite program; and Ben Franklin Technology Partners of NEPA, that helped start his business initiative, he said.
Taking place over the course of 10 weeks, 29 applicants applied to the program, which was funded by the Lackawanna County Commissioners via the American Rescue Plan Act, with eight of those 29 chosen as finalists after a competitive application process. Myers and seven others were selected because of their unique tech-based ideas, and their commitment to completing the program and creating companies and jobs based in Lackawanna County.
After successfully meeting the requirements of the program, Myers, along with the other seven teams, received $10,000 each for reimbursable business expenses to assist them in launching their ventures. 
"I was very happy and surprised," Myers said about the funding he received. "I'm excited to be able to start my business using these funds after graduation."
He plans to use this investment to hire professionals to help him with his work, which will also allow him to post updates about the project more often.
Working with other Penn Staters
Most recently, Myers presented his business idea again alongside Penn State Scranton student Maxwell Phillips and Penn State Wilkes-Barre student Nicholas Kline at the 21st annual Business Plan Competition hosted by tecBRIDGE at Misericordia University.
Phillips served as a writer, while Kline worked to design the financial plan for the project. This was the first year that students from multiple Penn State campuses combined to form a team for the competition.
Myers said that working with Kline and Phillips was great and they were very helpful.
"I spent some time trying to find the right people to stick with me and help me to completion. They both volunteered to take on parts of the writing and planning. Without their help I don't think I would have become a finalist," Myers said. "There was so much work to do on all the competition deliverables and it's really a group effort. They appreciated that someone had the idea and vision, and I like to think I was a pretty good communicator and leader."
Myers said that despite not winning the $20,000 prize from the Business Plan Competition, he gained invaluable experiences and skills that are worth far more to him than the cash reward.
You don't need to be a business major to have a business idea
As an IST major, Myers was only required to take one business course, but said he has always felt like an entrepreneur as he sought out new opportunities.
"Although I haven't taken too many business classes here on campus, the business faculty at Penn State Scranton helped me in more ways than I think any course could," he said.
Myers approached John Drake, director of the Center for Business Development and Community Outreach (CBDCO); Kevin Feifer, lecturer of business; and Frank Sorokach, assistant professor of business and economics, to tell them about his business idea.
"I was impressed with Parkston from our first conversation and knew he would take this idea and turn it into a viable business," Feifer said. "He is intelligent, energetic and motivated to pursue this business venture and will not let any obstacle get in his way. These traits will suit him well as a young entrepreneur. I am excited to see his business scale in the coming years."
Myers' idea expanded more on Sept. 8, 2022, when he walked through the doors of the Scranton LaunchBox — a pre-incubator/business accelerator that provides educational training and technical support for aspiring entrepreneurs and facilitates networking opportunities for faculty, professionals and students who are passionate about building a vibrant entrepreneurial community in downtown Scranton and the surrounding area.
The LaunchBox offers free consulting services to those who are currently operating a business and could use assistance. It also helps anyone who has an idea and would like to turn that idea into a business.
Drake, Feifer and Sorokach worked with Myers consistently — making sure he was working on his business plan weekly and setting up appointments to meet and discuss his progress at the Scranton LaunchBox.
"Penn State's LaunchBox initiative brings us into contact with many aspiring entrepreneurs. However, most entrepreneurs have only a vague idea of what they want to accomplish. Parkston was different," Sorokach said. "He was very clear on his concept when I initially talked to him. He knew exactly what he wanted to do. He had a technology-based idea. The idea involves an untapped technology market. And the concept lined up with his education. Most importantly, Parkston is a driven individual. This is a sweet spot that few entrepreneurs can ever get to."
Feifer feels the same. "Parkston worked on the deliverables for the competition starting in the fall semester and continued to adapt his business plan right up until the submission deadline in March. It included long nights and weekends to hone a plan that was suitable for the competition and would intrigue the judges and his future consumers. Parkston was humble throughout the process and understood that knowledge is power and appreciated the mentorship provided by Penn State Scranton faculty and staff," Feifer said.
Myers added, "Although I did not take any business classes here [at Penn State Scranton], they have taught me the correct way to speak non-technically when describing my business to others."
"Parkston made the most of his senior year in college. This is a lesson that all students should take away from Parkston's story. Leverage every opportunity that arises, and do not be afraid to step out of your comfort zone. Great things can happen when you do." 

—Frank Sorokach , assistant professor of business and economics
Myers said he advises anyone with their own business idea to take advantage of the services offered through the Scranton LaunchBox.
"The Scranton LaunchBox has been an awesome tool and supported me throughout the whole process. There's a lot of things you may not realize when you are creating a business idea by yourself," he said. "They are there to help you and the free mentorship and advice was so valuable."
Those who have a business idea they want to pursue can contact [email protected] for more information.
Nittany Cub Camps can be the springboard to a child's future career
Drake said that many other youngsters that have attended Penn State Scranton's Nittany Cub Camps throughout the years have developed an attachment to Penn State Scranton — and find themselves coming back to the campus to pursue their passions when they are older, either as camp instructors, or, as in Myers' case, as a college student.
"Our Summer Youth Program's mantra is 'Have Fun … Learn … Make Friends!' We work to have STEAM (science, technology, engineering, arts and mathematics) activities incorporated in almost every camp. Some of our camps and academies for teenagers are more focused on science and technology," Drake said.
Back in 2015, Aebli noticed that one of his campers, whom he taught at a young age, returned to help as an assistant in Aebli's camps. Josh Winslow, at that time a 16-year-old assistant, said that Aebli's computer graphics and animation camp inspired him to help other young students enjoy the experience that he appreciated so much as a Nittany Cub Camper.
"Summer camps are a great way to introduce children to these areas as there are no tests, no pressure. We hope that their wonder, discovery, and excitement can develop into a passion to learn more and possibly set them on a future career path," said Winslow.
Read more about other campers experiences and their reasons for returning to Penn State Scranton.