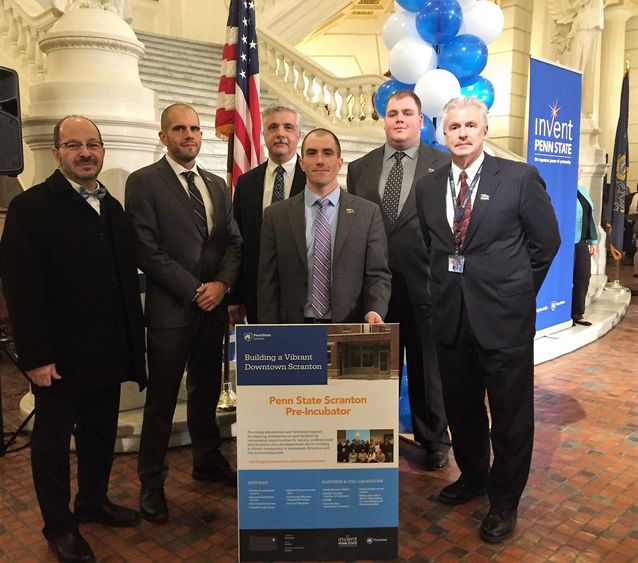 DUNMORE, Pa. — A group of Penn State Worthington Scranton students, faculty and administrators attended the Invent Penn State Media Day earlier this month at the state capitol building in Harrisburg. The campus group was part of a University contingent who went to the capitol to draw attention to the Invent Penn State initiative, created just two-and-a-half years ago, which has established 21 innovation hubs across the Commonwealth.
At the Invent Penn State event, University President Eric Barron announced four new seed grants, each valued at $50,000, that will help expand entrepreneurship and economic development in communities where the Beaver, DuBois, Greater Allegheny and Hazleton Penn State campuses are located.
Last year, Penn State Worthington Scranton was one of the campuses that received a $50,000 grant to establish an Entrepreneurial Pre-incubator Center in Scranton's South Side neighborhood, meant to help local entrepreneurs, community members, and students form ideas, meet other interested people, and create professional business plans based around their visions.
Attendees at this year's Invent Penn State event showcased students' start-up ideas and new innovations that the University and state are helping to fund.
"It was really cool to learn about other people's ideas, seeing what everyone's working on through these grants," said Jeremy Brown, a business major at Penn State Worthington Scranton. "I thought it was a wonderful opportunity to come out here."
Kyle Rosen, also a business major at PSWS who currently works at Amazon, was happy to see businesses and ideas that are in their initial stages of development. Coming from such a large tech company to seeing student start-ups, Rosen said, "It's a good change of pace from the regular nine to five, seeing these entrepreneurs in the first stages of developing their ideas."
"Watching other people like you launch their own businesses allows you to share in the excitement of growing ideas into something that's beneficial to everyone," said Marwan Wafa, chancellor at Penn State Worthington Scranton.
The incubator, which will be opening soon, will act as a center for homegrown businesses in Scranton, allowing entrepreneurs and those with creative ideas from a variety of backgrounds and majors to collaborate on businesses that can benefit the local economy.
"It doesn't always have to be the business students," said Wafa. "It can be the English student, the history student, the nursing student, anyone who has an entrepreneurial idea that they'd like to develop further should take advantage of these opportunities."
The incubator will be located on a fully remodeled floor of the People's Security Bank building on Elm Street in South Side Scranton. In addition to Invent Penn State funding, the campus will also be partnering with the People's Security Bank and United Neighborhood Centers, designing the high-tech business center as a part of UNC's broader neighborhood revitalization project.