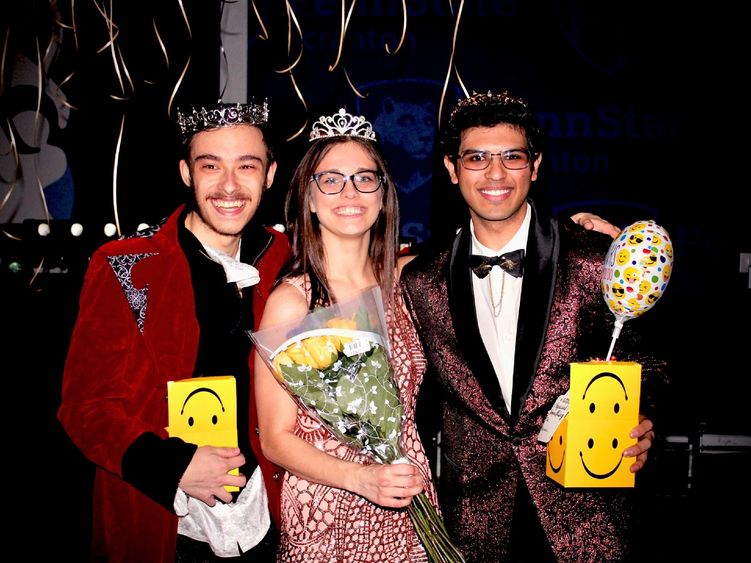 DUNMORE, Pa. – The wait is over to find out which Penn State Scranton students will be dancing in this year's IFC/Panhellenic Dance Marathon at the Bryce Jordan Center at University Park.
Raj Gandhi, Raymond Ondrako, and Amanda Rzucidlo were announced during last Friday's THON Prom event, which had a masquerade ball theme. Students dressed in formal attire and enjoyed a night filled with music and fun, along with anticipating the announcement of this year's THON dancers.
Gandhi, Ondrako and Rzucidlo made their grand entrances one-by-one down a red carpet and into The View Café to the cheering of their fellow students and staff.
THON is the world's largest student-run philanthropy that aims to provide emotional and financial support to children and families who have been impacted by childhood cancer.
This year marks THON's 51st anniversary, with the theme "Foster the Magic." It kicks off on Friday, Feb. 17, at 6 p.m. and runs through Sunday, Feb. 19, ending at 4 p.m.
Gandhi, Ondrako and Rzucidlo have been incorporating a variety of different ways to prepare for the 46-hour, no-sitting, no-sleeping dance marathon throughout the past few weeks.
Exercising and eating well are key for all three
"I cut out caffeine a couple weeks ago for this, so I've sacrificed some things for THON already," said Ondrako, a fourth-year business administration major. "Exercise is another big thing I've been incorporating into my lifestyle — like yoga and just finding things to do around my room so I can practice being on my feet for the full 46 hours," he said.
"We've been trying to do a bunch of endurance of just staying on our feet for as long as possible, because we're going to be there for 46 hours and that's a lot on the feet," said Rzucidlo, second-year bio-behavioral health major. "But I'm just going to embrace being with all the people and we're all going to have a good time there. We're ready!"
Gandhi, a second-year aerospace engineering major, said he's been preparing for this moment ever since last year's THON. He said he is most looking forward to meeting the kids first-hand and getting to see their smiles, all while having fun at THON weekend.
"Just knowing that I am doing this for them and for the kids all around the world, for research, and for pediatric cancer, just makes it so much better," said Gandhi.
One of the biggest things Ondrako is anticipating is seeing everyone cheering them on in the stands.
"As THON dancers, I think it's very important for us to have the support from the people who are coming down to be with us," he said. "I am looking forward to seeing everyone there the entire weekend."
For Rzucidlo, she is looking forward to the line dance the most.
"Every year I'm like, 'if the line dance is playing, you're going to find me on the dance floor,''' Rzucidlo said. "I am so ready for it!"
It's all for the kids
Gandhi mentioned that his mindset of THON has evolved throughout the past few years.
"Before I went to THON, all it meant to me was a philanthropic organization that helped the research of pediatric cancer, but then after I went to THON, I realized it was so much more than that," he said. "It was more of a community, more of a lifestyle, where people together all share one common goal — to help find research and treatment for the kids at Penn State Hershey Medical Center."
Ondrako said he feels the same way about THON.
"The number one reason I 'thon' is for the kids," Ondrako said, adding that his internships near Penn State's Hershey Medical Center increased his attachment to THON's mission.
"THON means so much to me, it's hard to describe in words," Rzucidlo said. "I thon for hope, smiles, and the kids, of course, so nobody has to hear the words, 'Your kid has cancer,' and I am so excited to do this for them."
How to support the THON dancers
"One of the most important things to do is to go to THON weekend. However, if you're not able to, there are other ways you can still support us," Ondrako said. "One of the ways you can do that is by sending us mail while we're down there or you can also stop by our campus for the big dancer send-off, so I'm looking forward to that as well."
Rzucidlo also encourages anyone who can attend THON weekend to "come on down, support us and have a good time."
"Donating is the biggest way to support us," Gandhi said. "There are still a few THON events happening at our campus before THON weekend, and our donor drive will be available for anyone that wants to support us in that way too."
Donations can still be made through the campus' virtual donor drive, which will continue to run throughout THON Weekend. The money raised by THON goes directly to the Four Diamonds Fund to enhance the lives of children and families by providing emotional and financial support, spreading awareness and ensuring funding for critical research, all in pursuit of a cure.
Since its inception in 1973, Penn State's THON has raised more than $200 million for over 4,000 families affected by pediatric cancer. Last year, THON raised a total of $13,756,374.50, with $18,282.60 of that being raised at Penn State Scranton — putting Penn State Scranton in the top 10 of all Commonwealth Campuses.