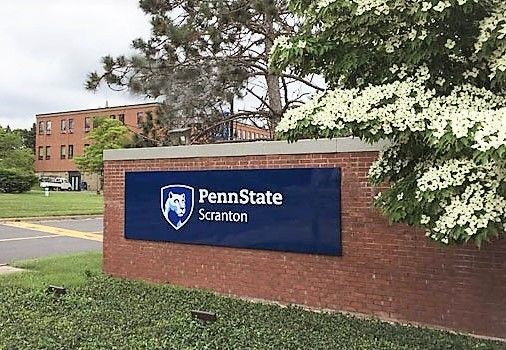 DUNMORE, Pa. — Penn State Scranton Chancellor Marwan Wafa has announced that the following students have been named to the Dean's List for the Spring 2022 semester, attaining a grade point average (GPA) of 3.5 or higher.
The students are:
Lucy Adams, Aless Jellan Agojo, Stephanie Algar, Angelena Allen, Fiona Alpar, Michael Apostolico, Samantha Artone, River Backman, Dalen Banicky, Evan Bannon, Keegan Barbetti, Marquis Baskerville, Stephen Bednarek, Tanner Begin, Catherine Bennett, Rhiannon Berghauser, Swapnil Bhatt, Michael Bodnar, Michael Border, Alexandra Bouselli, Kristina Bruzzano, Taylor Burdick, Christopher Burnis, Carson Cacioppo, Riley Callahan, Kyle Callejas, Ryan Carrotto, Samuel Casimir, Ankitha Chebiyam, Alissa Chorba, Michael Clark, Alexandria Clarke, Jordan Coles, Alona Copertino, Angelo Corradino, Kuma Cox, Shannon Czekaj, Liv Damski, Erica Davis, Briana Dawkins, Logan DeSanto, Alexandria DeWolfe, Michael DeWolfe, Amanda Delhagen, Robert Demian, Rhiannon Depew, Justin Dorneman, Joseph Dougherty, Nicholas Drago, Kayla Drutherosky, Spencer Duffield, Julia Earl, Ashleigh Earyes, Natalee Fawcett, Natalie Faybisovich, Michael Fedorka, Tyler Fofi, Alex Frietto, Eric Fritz, Jaclyn Fusik, Matthew Galka, Raj Gandhi, Luke Gardiner, Gabrielle Geldhof, Grant Geldhof, Frank Genell, Nicholas Gilberti, Gretchen Gilia, Margherita Giordano, Nicola Giordano, Daniel Grant, Zackery Gray, Jared Griffin, Brandon Griffith, Adrienne Griffiths, Douglas Griffiths, Madelyn Grilz, Jhopselin Guaman and Nikhita Gurukula.
Jazmine Hamilton, Philip Haser, Christopher Haudenschield, Amanda Herne, Sean Hervatic, Evan Hiller, Alexander Hineline, Matthew Howard, Angel Hunting, Joseph Jackson, Sean Jacobs, Carissa James, Ayden Johannson, Abryel Johnson, Kendra Jordan, Albana Kabashi, Delaney Kaeb, Jake Kalinowski, Fletcher Kanas, Maria Keifer, Makayla Keoonela, Tyler Kernan, Emma Kernoschak, Evan Kerrigan, Molly Killian, Mackenzie Kizer, Daniel Kleeman, Jason Kline, Brooke Kloss, Karli Kozel, Giana Krehel, Ryan Kretschmer, Casey Krushnowski, Dakota Kujawski, Abigail LaBadie, Marie LaRosa, Matthew Lacy, Ashley Lapiers, Haley Leonard, Austin Lipinski, Maxmillian Loiacono, Karissa Lombardo, George Loukopoulos, Nicholas Lowe, Melick Lubin, Megan Lucey, Dominic Lupini, Kylie Lynch, Peter Macdonough, Cameron Mackerley, Marshall Macknosky, Olivia Maikranz, Alison Marshman, Falen Mason, Emily Mattern, Robert Mattern, Amanda Mattina, Rachel May, Jalynn Mc Fadden, Connor McAndrew, Charles McAvoy, Connor McColligan, Mary McDermott, Miranda McLafferty, Litzy Mendez, Ariana Meserve, Eric Middleton, Amanda Moody, Molly Morgan, Elizabeth Morris, Jared Morris, Ralph Morris, Isabella Muncie and Parkston Myers.
Louis Natale, Rylie Nealon, Timothy Nelson, Teara Neu, Qussai Odeh, Sam Odeh, Francesca Orellana, Olivia Osborne, Andrew Oudshoorn, Lauren Owens, Julie Pabst, Steven Paredes, Aryan Patel, Darshan Patel, Deep Patel, Dhruv Patel, Dhruvi Patel, Harpal Patel, Het Patel, Janvi Patel, Keshi Patel, Kunj Patel, Pujan Patel, Rushi Patel, Tirth Patel, Trusha Patel, Griffin Paterson, Jeremiah Pauler, McKayla Payne, Jaden Peacock, Aniyahs Peck, Isabelle Pehanick, Devin Peterson, Melina Petrini. Victoria Petrosky, Courtney Phillips, Ericka Pica, Emily Pinto, William Portanova, Tressa Potis, Abhiram Prodduturi, Antonio Pugliese, Avianna Pugliese, Kamili Rachell-Williams, Mark Ranieli, Demitri Reece, Jessica Reed, Therese Reilly, Samantha Rescigno, Mia Richardson, Allie Riley, Sarah Robinson, Grace Rosecrans, Justin Rowe, Brianna Rowles, Benjamin Rudolph, Macey Rutledge, Patricia Ryan, Amanda Rzucidlo, Carlos Salazar Paz, Kaylee Salony, Taylor Saltkill-Mcrew, Kimberlyn Sanchez, Samantha Sashko, Jacquelyn Scherer, Ryan Schield, Gabriella Schmidt, Megan Schmidt, Michael Scutt, Makayla Seeram, Devin Seifert, Nicholas Sherman, Sarah Sherpinskas, Brandon Shotto, Brandon Sicovitch, Paul Siemieniewicz, Ankush Sodhi, Felicia Sompel-Welk, Angeleah Sopko, David Stoshick, Brianna Strein, Zachary Sulima, Rashel Swanson and Jennifer Swartz.
Alexis Tanana, Marceia Tanzini, Hannah Tolerico, Rebecca Tomczyk, Rebecca Tone, Ashley Torres, Gabrielle Torres, Madalyn Toth, Jarret Townsend, Matthew Traverse, Madison Tricarico, Alexandria Trinovitch, Elizabeth Trojan, Morgan Truskoloski, Frank Turnbaugh, Aidan U'Glay, Grace Ursich, Courtney Varcoe, Kelly Varcoe, Maria Veniamin, Rachel Veniamin, Francesca Villano, Jenny Vongmany, Joseph Walser, Hanwen Wang, Kyle Weller, Reagan White, Emma Wiggins, Andrea Williams, Jemya Wilson, Amanda Winter, Jenna Wright, Robin Wrobleski, Jared Yates, Dan York, Gabriel Yurkanin and Nicole Zehner.