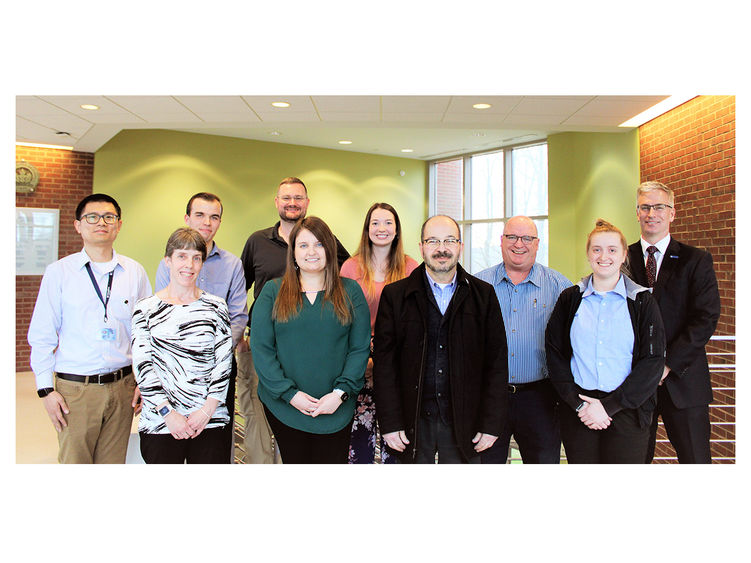 DUNMORE, Pa. — This spring, a select group of business students at Penn State Scranton were inducted into the newly established Sigma Beta Delta honor society at the campus.
Sigma Beta Delta is an internationally recognized scholastic honor society for students in the fields of business, management and administration. To be eligible for membership, business students must rank in the top 20% of the junior, senior or graduate class and be invited to membership by faculty. At Penn State Scranton, they must also meet an extracurricular engagement criterion. 
Business Program Coordinator and Assistant Teaching Professor of Business James Wilkerson, along with Angela Bassani, assistant teaching professor of accounting, and Zhuang Qian, assistant professor of project and supply chain management, helped establish the honor society at the campus, and now serve as members of its chapter council, which serves as the governing body of the chapter. The three also officiated at the inauguration ceremony held this spring for the first group of students to become members.
The inaugural group of members, inducted at an official ceremony this spring, are Markuss Bruveris, Jordan Coles, Brianna Rowles, Patricia Ryan and Dan York. In front of an audience comprised of faculty, staff and invited guests that included family and friends, the group confirmed their desire to be admitted into the honor society and pledged to accept and uphold the guiding principles of Sigma Beta Delta, which are to pursue wisdom, accept honor and aspire to fulfill worthy goals.
Offering messages of encouragement and congratulations for their hard work and academic achievements were campus Chief Academic Officer Durell Johnson and Chancellor Marwan Wafa.
"You should be very proud of all the hard work you have done during your years of study here to attain this honor," Wafa said to the new members.
After officially making their pledge, each of the inductees received a certificate of recognition of their acceptance into the society and an insignia pin. 
The campus' charter was officially approved in November. Membership in Sigma Beta Delta is the highest national recognition a business student can receive at a college with a Sigma Beta Delta chapter and the campus' chapter is now the second nationally recognized academic honor society on campus, joining the Lambda Pi Eta Alpha Epsilon Chapter, which is the official honor society of the National Communication Association and open to students in the campus' corporate communication program. 
Sigma Beta Delta was officially established in 1994 with seven founding chapters. Today, over 400 chapters have been established in 47 states and internationally and over 80,000 members have been inducted to honor their high academic achievement in business, management and administration. Its creation follows a 200-year tradition of honoring scholastic achievement in higher education, beginning with the establishment of Phi Beta Kappa honor society in Willliamsburg, Virginia, in 1776.