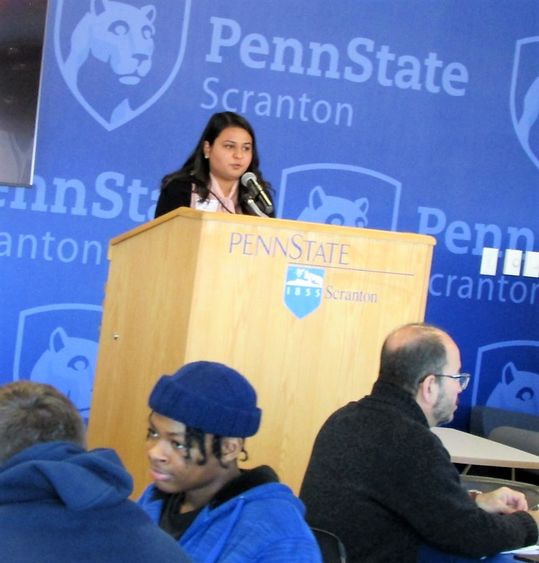 DUNMORE, Pa. – Over the past few years, Penn State Scranton has challenged itself to create a more diverse and inclusive environment that is reflective of its "Welcoming Campus" motto. Today, those objectives are more relevant than ever, given the country's current reckoning with systemic racism and injustice.
Campus Coordinator of Multicultural Programs Dharti Ray, takes those responsibilities very seriously.
Last year, Ray returned to her alma mater to take on her new role. In that time, she's overseen a variety of unique and thought-provoking multicultural student programming, including the campus' innovative Diversity Circles.
The job is multifaceted and always evolving – especially now in the wake of the national protests that followed the killing of George Floyd by a Minneapolis police officer. Since then, the University has vowed to further prioritize diversity and social justice initiatives in an effort to be a more equitable, inclusive institution.
"My responsibility is to provide the Penn State Scranton community with the opportunity to be involved in the work of diversity and inclusion," Ray said. "For students, my role is to create inclusive spaces where they are able to express themselves and celebrate differences. Diversity and inclusivity create a more welcoming environment for our students."
A campus student before going on to receive her bachelor's degree from University Park's Smeal College of Business, Ray has coordinated a number of diversity-themed events over the last year, including the International Bazaar, MLK Day Luncheon and Excellence in Diversity Awards, Diwali, Holidays Around the World, Women's Equality Day, and the Diversity and Inclusion Forum. That work has allowed her to foster tight bonds with many of the international and minority students who make up nearly 23% of the campus' student population.
In addition, Ray regularly sends the campus community informative emails promoting awareness of various multicultural holidays.
It's a role she was well-positioned to step into. As a campus student, Ray co-founded the Indian Student Association and served as a Lion Ambassador, Student Activities Fee committee member and New Student Orientation (NSO) leader. She also worked as a front desk assistant in the Learning Center.
"I have experienced the diversity and inclusive environment on the campus as a student, which truly made me feel at home. And I have only seen Penn State Scranton grow in its commitment to being a welcoming campus. As a student, I felt accepted here and I continue to have the same feelings," said Ray, who was born in India.
"My status as an immigrant has certainly helped me connect with a diverse student population, and being a Penn State alumna, I am able to share my experiences with the students."

-- Dharti Ray, campus coordinator of multicultural programs at Penn State Scranton
And she's especially proud of the continual growth of the campus' Diversity Circles, which bring together a diverse array of campus students, faculty and staff members, along with members of the community, in a welcoming, safe environment where they can exchange individual life experiences and perspectives as a way to expand their world views and become better promoters of diversity and inclusion.
A new five-week round of Diversity Circles is currently taking place virtually, with more to follow in the fall.
"I have only witnessed growth in Diversity Circle participation, which shows how people are taking the next step," Ray said. "Diversity Circles are the perfect opportunity for people to have a dialogue and learn from one another."
As the nation continues its dialogue on race, Ray intends to spend the coming academic year coordinating programs geared around social justice and providing spaces where the campus community can engage in meaningful conversations.
Moving forward, she has several long-term goals, among them initiating formal diversity training programs for students, faculty and staff.
None of this, she said, would be possible without the support of students, Chancellor Marwan Wafa, and her fellow colleagues.
"I really like my job," Ray said. "I have always enjoyed my time at the campus as a student, and I continue to feel the same now. The Penn State Scranton community is the best support system any student or employee could ask for. Everyone makes you feel welcomed here."
For more information on diversity and inclusion at Penn State Scranton, visit https://scranton.psu.edu/diversity-and-inclusion.