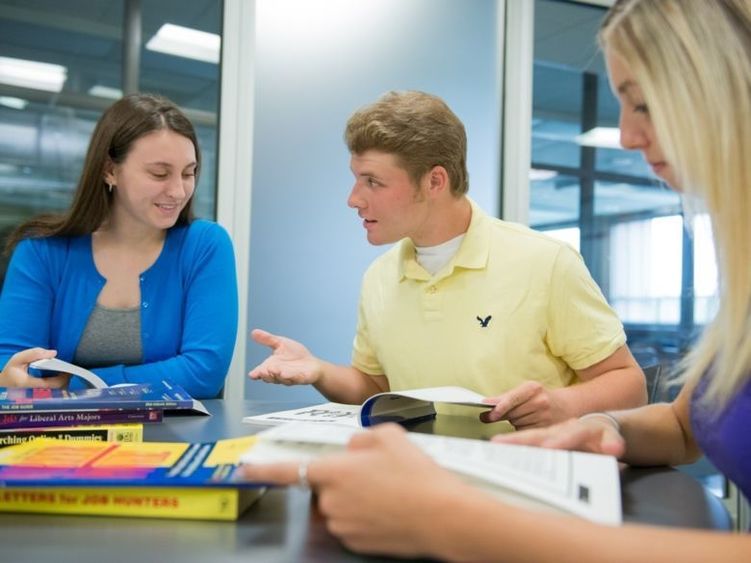 DUNMORE, Pa. — The ongoing pandemic of the COVID-19 virus has created a multitude of challenges, among them the challenge of getting remote services up and running, including those being offered to students through Penn State Scranton's Learning and Writing centers.
Scranton's dedicated staff and tutors rose to the challenge and worked quickly to adapt services from a one-on-one or group study format, to an online one, so that these services would be available to students immediately after spring break.
According to Associate Director of Learning and Disability Services Eileen Giovagnoli, 12 peer tutors have been trained and are ready to go; two faculty/professional tutors are conducting online appointments; 18 students have scheduled online sessions; and more than 25 appointments have been conducted.
"Our online writing assistance, the Blue and White OWL, has been very active as well," Giovagnoli said. "The tutors are giving positive feedback and the initial surveys by the students are positive as well. The greatest challenge was setting up online tutoring on such short notice."
The switch to remote delivery, and the need to offer real-time assistance, also created new challenges for the center's staff.
"Even though we offer online, asynchronous writing assistance through the Blue and White Owl, we've never offered real time (synchronous) online tutoring before," Giovagnoli explained. "So we had to investigate resources, develop materials for tutors and students who use our services, recruit tutors to make the switch to online, and train the tutors in the tools to deliver services. Then, we had to get the word out to students about the changes in our services. Luckily, the online scheduler system already had the ability to tutor online and, just last week, added the ability to incorporate ZOOM into online tutoring."
Giovagnoli said that in the first couple of days, they experienced a few technical glitches, likely due to the increased online traffic; but now, all is going smoothly. Students also seem to have become comfortable with ZOOM very quickly, so the center has been able to use that as a tool to enhance online tutoring.
"Ideally, face-to-face tutoring is the preferred option in most cases, but, given the circumstances, it's important to continue to offer tutoring services in an online format," she said, adding, "The tutors have been great! In addition to having to adjust to their own studies online, they've completed training in the new tutoring delivery format and are excited to offer help to other students. The remote learning format for classes can create challenges for students and the tutors can help with understanding material by offering assistance in learning new topics through additional explanation and practice. The tutors can also offer advice on how to successfully transition to online learning since they have learned how to navigate Zoom and are in remote classes too."
Writing Center Coordinator Kate Lafferty-Danner said things are moving along with the Writing Center as well.
"We have had seven online synchronous writing appointments last week," said Lafferty-Danner. "Although that is less than our normal, I think last week students were getting settled in and trying to figure out new assignments and what their professors will be requiring now.
"Meeting with students through our online tutoring system has been really effective and it is so similar to meeting in person. We can read their papers together using the screen share feature, share resources the same way we would in person, and continue to assist students for any of their writing needs," she said.
"I'm very hopeful that this week, since we're getting all settled into our 'new normal,' students will be using our services more — [since] especially with the move online, written communication is going to be an essential component of any class. Our tutors and I are ready to help with discussion posts, longer research papers, powerpoint presentations, etc.
"We are still using our online tutoring scheduler system, the WC Online, which mostly all students at Penn State Scranton are familiar with because they probably have used the same system for the FYS class and peer mentoring.
Students can make an appointment the same way they normally would. When their appointment time starts, they can log into the online tutoring system through their appointment information. The tutor will have a hyperlink (either for Zoom or through the WC online tutoring platform) embedded into their appointment information, which the student can click on, which will take them right to their tutor.
"It is very easy to use!" said Lafferty-Danner. "We also have detailed instructions that we have shared with students if they're having issues. Students who have resource issues can also contact me directly and I can arrange another way to 'meet' with them to discuss their writing — whether email, phone, etc."
For students who have never used the Writing Center before, Lafferty-Danner provided an overview of what they could expect.
"In Writing Center tutoring sessions, a lot of what we do is talk with students about their writing," she explained. "It's much more of a conversation than a prescriptive editing session and students find it helpful to share their ideas with someone. We do everything from beginning brainstorming sessions, to helping students fine tune grammar issues if they're at the final stages of the writing process.
"Also, we are happy to work with students from all backgrounds and our philosophy is that there is no judgment at all! We are not here to 'grade' you or shame you for 'bad' writing because we believe that no one is inherently a 'bad' writer, but they might need some guidance and techniques to help, and that's what we do."
The online format is very similar to working in person, explained Lafferty-Danner.
"We have worked to make it as easy to access for students as it would be for them to just walk in the Writing Center during their appointment time," she said. "Most students who've visited the Writing Center this semester make an appointment and that system has not changed at all. The only thing that has shifted is that now, we are meeting virtually. We can still share papers, resources, and web pages just as easily."
Lafferty-Danner said she has received good feedback, from students who used the center last week, who said it is easy and simple to access. Those needing help should know that there are plenty of appointments available, she added. If students are facing some resource issues — for example, if they don't have a computer with a microphone or camera — the center will work with them to find another way for them to receive access to the center's services.
Students can also contact the Learning Center for help with study skills and find information on the tutoring policies through https://scranton.psu.edu/learning-center and https://scranton.psu.edu/learning-center-policies.
Additional information on contacts for questions about Student Disability Resources is available through https://scranton.psu.edu/disability-services.
Course tutoring currently available
Below is a list of available courses and services. The Learning Center will add additional courses wherever possible based on tutor availability and training. Courses available for tutoring in the online schedule include:
Accounting 211
Bio 110, 163/164, 230W
Bi-Sci 2
Chem 112/113, 130, 212/213
Econ 102, 104
Fin 301
Math 4, 21, 22, 26, 110, 140, 141
MCAT prep
Micro 106/107
MIS 204
Music 8 Study Partner
Med Calculations for Nursing
Nursing 200W, 225, 230, 306, 320, 350,
SCM 200
Spanish
Stat 200
Writing