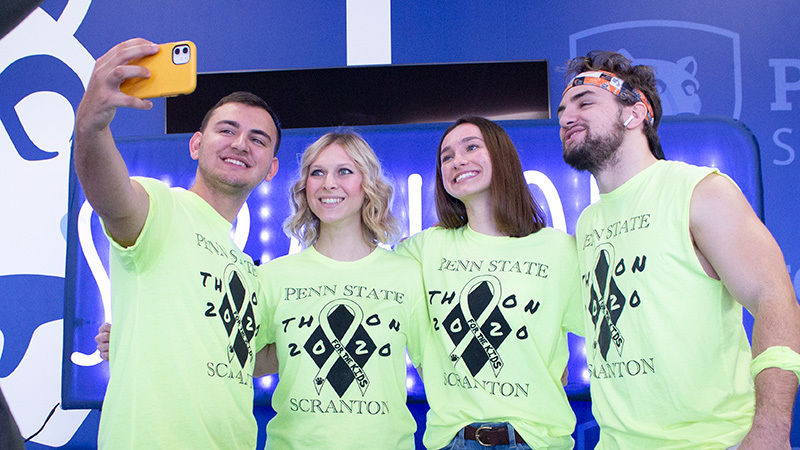 DUNMORE, Pa. — Four Penn State Scranton students spent the entirety of this weekend on their feet, earning their place in the proud community of philanthropic sleep-deprived souls who came before them.
On Thursday, the campus held a farewell sendoff for the record four students dancing in this year's Penn State IFC/Panhellenic Dance Marathon — aka THON. They are senior David Jobs; senior Alicia Santarsiero; sophomore Lauren Rzucidlo; and freshman John Squatrito.
Beginning Friday evening, the students took their spots at University Park's Bryce Jordan Center along with 700 other Penn State students for the 46-hour no-sleeping, no-sitting dance marathon.
Since its inception in 1973, THON has raised more than $168 million for Four Diamonds at Penn State Health Children's Hospital, which assists pediatric cancer patients and their families via superior care, comprehensive support and innovative research.
Click here to watch a Live WebCast of the event.
A proper sendoff
Decked out in their neon yellow shirts, the campus' THON dancers ran one by one into the View Café during Thursday's lunch hour. There, they were greeted with raucous applause from a packed house of campus community well-wishers.
A few minutes later, the group held up poster boards unveiling the campus' current THON fundraising tally of $39,534.85. Donations will be accepted until Saturday, with the goal of matching or exceeding last year's record-breaking total of $43,538.71, which was good enough to earn a Top 5 finish among Commonwealth Campuses.
Squatrito and Jobs arrived at University Park Thursday night, while Santarsiero and Rzucidlo left Friday morning, a couple of hours before a bus carrying members of the dancers' personal cheering section departed the campus.
After months of fundraising, planning and anticipation, the dancers all appeared ready for the daunting task ahead of them.
"It's very exciting. I'm a little nervous, but I think most of the dancers probably have some butterflies in their stomach," said Squatrito, whose sister, Alex, was part of last year's campus THON team.
In addition to their matching shirts, the THON team all invested in canary-yellow Crocs, which along with their sneakers, flip-flops and multiple changes of clothes will provide at least a modicum of comfort during the physically and mentally draining endurance test.
As part of her THON preparation, Rzucidlo made numerous trips to the gym and yoga studio. Santarsiero, meanwhile, fasted on coffee for the past two months, on the advice that the sudden absence of caffeine in her system could result in a dance floor crash.
Santarsiero is confident THON's Dancer Relation Committee Members, or DRCMs, will keep the dancers upbeat and motivated throughout the nearly two full days on the Bryce Jordan floor. The support from the stands will also go a long way, she said.
"After so many hours, we're going to hit a wall. We're going to be sore. We're going to be exhausted," Santarsiero said. "But the one thing that will get us through will be our families, and all the families we're helping, as well as our specific THON family."
That would be the family of the campus' THON child sponsor, Arelis Rodriguez, who will be attendance this weekend.
"Arelis helps drive me and keeps me positive and to remember that I'm doing this for her," Santarsiero said.
"We want to support her, but she's helping us as well," Squatrito said.
"I'm so excited to see Arelis," Rzucidlo added. "That will be very motivating."
Approaching the dancers before the start of the sendoff ceremony, Chancellor Dr. Marwan Wafa offered a few words of encouragement.
"What you are doing is such a noble thing," Wafa said. "You're sacrificing your time, your energy and your health for people you've never met. I commend you, and my heart is with you."
Committed campus support
While Rzucidlo admitted to being worried about whether she'd be able to finish THON, the odds are actually very much in her favor. During his 11 years of accompanying dancers to THON, campus assistant director of student services and engagement Matt Nied has only had one student bail out early.
Along with coordinator of student activities Julie Gilpatrick and coordinator of diversity and inclusion Dharti Ray, Nied spent THON Weekend attending to the various needs of the dancers.
"Our sleep is definitely affected, too," said Nied with a laugh. "Last year, I got a text at 3 a.m. from the dancers. They wanted chicken wings, so it was my job to go out and procure some at 3 in the morning."
Nied, Gilpatrick and Ray will also be overseeing the continually growing cheering section of campus supporters. As usual, they will take up residence in section 207 of the Bryce Jordan stands.
On Friday morning, a large contingent of students joined Ray on a Martz bus headed for University Park. The group included close friends Krina Patel, Nidhi Patel, Mari Saba and Aless Agojo, all of whom were excited to be embarking on their first THON experience.
"It's going to be fun. If the dancers can stand on their feet for 46 hours, I can stand for a few hours at a time," said Krina Patel, a sophomore. "I've always heard that THON is one big family fighting for one big cause."
Gilpatrick compared THON Weekend to a family reunion of sorts.
"We even get former students from here who are involved with other organizations but still want to come and hang out with us," Gilpatrick said. "As exhausting as it is, I always look forward to it. And what I really love about it is seeing how many young adults care so much for the cause."
"It really is beautiful," added Ray, who attended her first THON as a campus student in 2017.
Indeed, to truly appreciate THON, one should see it for themselves, Nied said.
"It's just that feeling you get inside Bryce Jordan Center," he said. "All these students, thousands of students, just rallying around this great cause. It's amazing to see what a student group can do."
To make a donation to Penn State Scranton Benefiting THON, visit https://donate.thon.org/?fuseaction=donordrive.event&eventid=2072