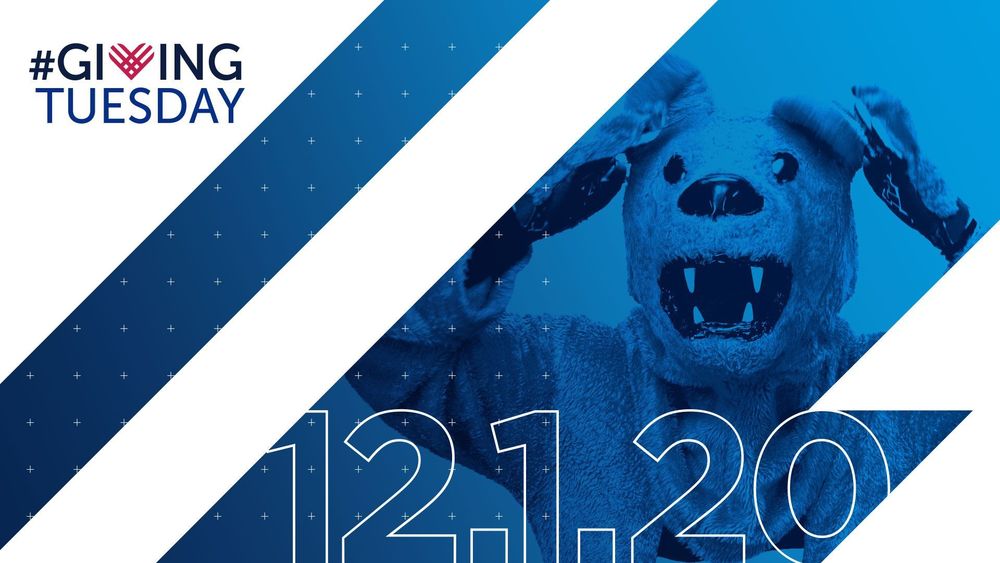 DUNMORE, Pa. – Penn State Scranton will again appeal to the generosity of its vast network of supporters as it participates in the University's sixth #GivingTuesday initiative.
This year's #GivingTuesday will take place from 6:55 p.m. EST — 18:55 in military time, a nod to the year of Penn State's founding — on Nov. 30 until midnight on Dec. 1. As always, the University is reaching out to alumni, parents, friends, fans, faculty, staff and students to contribute to the campaign, which will feature a record 125 University-wide campaigns supporting scholarships, research, programs and other causes. Of those campaigns, 25 are student-led.
For its 2020 #GivingTuesday project, Penn State Scranton is raising funds for its alternative break trips and myriad community service projects, which campus students have remained focused on even as the COVID-19 pandemic continues.
"#GivingTuesday is a great way to engage Penn State Scranton alumni, faculty, staff, students, friends and family to help support our students participate in alternative break projects," said Director of Development Christine Ostroski. "In turn, our students are then able to give back to communities that have suffered significant losses or help local organizations in need. All gifts can make a significant impact not only for our students, but for the many people they help during their projects."
Throughout the year, campus students devote their time during semester breaks and weekends to assist those in need. In the past, Alternative Spring Break service trips have included traveling to hurricane-hit regions across the country to rebuild homes and properties. Meanwhile, students routinely volunteer their time to charitable organizations and projects in the Scranton area.
#GivingTuesday donations will go directly to funding travel, housing, equipment and other expenses required to support student volunteers who have given up a "week at the beach" or time with family to help others near and far. The funds will be allocated for both immediate and future projects.
"Any donations to support Alternative Spring Break projects will help offset the cost associated with travel, food and lodging," said Assistant Director of Student Services and Engagement Matt Nied. "When our students travel to areas that have been ravaged by a natural disaster, they provide sometimes just a glimmer of hope to the victims there that gets them restarted and gives them a restored hope to get their lives back together and on the right track."
In a new wrinkle this year, supporters may choose to make an early gift to the Penn State Scranton #GivingTuesday campaign (or others). Once again, graduates from the last decade (GOLD) who make a gift of $5 or more to any PSU campaign will receive a 1:1 match from the University, up to $100. Contributions can be made at: https://give.communityfunded.com/o/penn-state/i/givingtuesday/s/scranton-alternative-spring-break.
On Nov. 30 and Dec. 1, givingtuesday.psu.edu will give live updates on fundraising progress across the University. People can show their "We Are" spirit by posting to social media with the hashtag #TogetherWeAre, and by following @RaisePennState on Facebook, Instagram and Twitter for event highlights.
Gifts made on #GivingTuesday 2020 will advance "A Greater Penn State for 21st Century Excellence," a focused campaign that seeks to elevate Penn State's position as a leading public university in a world defined by rapid change and global connections. With the support of alumni and friends, "A Greater Penn State" seeks to fulfill the three key imperatives of a 21st-century public university: keeping the doors to higher education open to hard-working students regardless of financial well-being; creating transformative experiences that go beyond the classroom; and impacting the world by serving communities and fueling discovery, innovation and entrepreneurship. To learn more, visit greaterpennstate.psu.edu.
For more information on #GivingTuesday, contact the Office of Annual Giving at 888-800-9163 or [email protected].