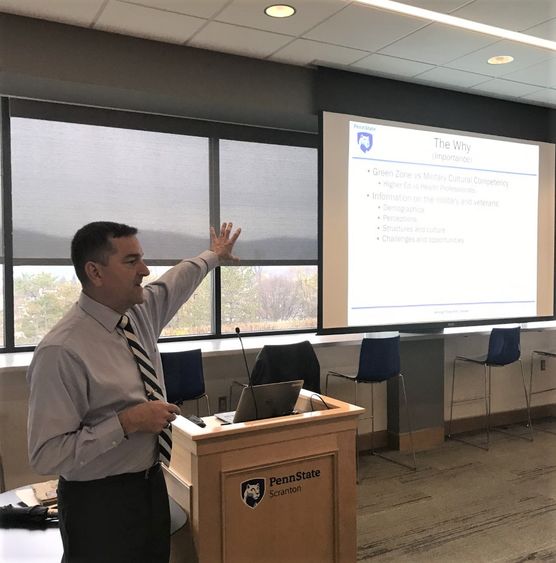 DUNMORE, Pa. — Penn State Scranton significantly ramped-up its outreach to the local military community when it hosted its first Veterans Employment and Education Conference on Thursday, Nov. 7.
The all-day event featured "Green Zone" training for local employers led by Eugene McFeely, Penn State's current and first senior director of veterans affairs and services, as well as career counseling workshops for area veterans and active-duty military personnel.
Funding for the conference came through a $10,000 grant from the Robert H. Spitz Foundation, which allocated the funding specifically to assist area veterans and groups and individuals serving vets.
The day started in the Sherbine Lounge with brief remarks by Assistant Teaching Professor in English Paul Perrone, an Army veteran, and Director of Development Christine Ostroski, who secured the Spitz Foundation grant.
After being introduced by Ostroski, McFeely delivered an informative and compelling keynote address centering on the many attributes that veterans bring to the civilian workplace.
The retired Air Force colonel, who has overseen the University's veterans programming and services since 2017, began his remarks by expounding on the greatness of the GI Bill, and how President Franklin Delano Roosevelt had the foresight to take advantage of the "skill and drive" possessed by soldiers returning from the battlefields of World War II.
It certainly had a profound impact on Penn State alone. In 1938, he noted, the University had 6,800 students. By 1946, that number had increased to 10,200 students, with 55% of them veterans. By 1947, it was 80%. In turn, this newly educated workforce went about making America the dominant world power in the second half of the 20th century.
McFeely brings a lot of empathy to his job, considering he himself was unsure of his place in the civilian world following a 20-plus-year military career.
"Never in my wildest dreams did I think my post-military career would lead me to this place," he said. "My future was not charted. I didn't know what options were out there for a 50-something veteran. I knew I wanted to make a difference in the post-service lives of military veterans, but I didn't know where the opportunities were."
Eventually, though, he came to the realization that he and other veterans like him had in abundance the so-called "soft skills" that employers hold at a premium, like leadership abilities and emotional intelligence.
"It's the ability to work well with others and navigate an environment," McFeely said. "These are skills that are, frankly, treasured by employers."
During the Green Zone training, which included representatives from Bank of America, the Pennsylvania State Police and local Penn State campuses, McFeely focused on ways in which companies and organizations can create a more welcoming and inclusive environment for their veteran employees.
Among other topics, he focused on: the basics of military structure, culture and jargon; the military-to-college transition issues faced by veterans; GI Bill program concepts and procedures; and methods on making services, programs and interactions more veteran-friendly.
According to McFeely, about 44% of post-9/11 veterans leave their first civilian jobs after a year of employment. Among other reasons, it's because "they're not being challenged and their skills aren't being utilized by their employers," he said. 
"At the end of the day, it's about closing the gap. Veterans are passionate, driven and ready to take on the challenges of the world."

— Eugene McFeely, senior director of veterans affairs and services, Penn State
Quite simply, he said, there's a huge disconnect between the military community and the civilian world, and a big cause of that is the precipitous decline in Americans who have military experience.
At the end of World War II, 9% of the population was serving in the Armed Forces. Today, that number has bottomed out at about 0.5%.
"All these things are barriers to employment for veterans," McFeely said. "That's why knowledge and engagement are so important."
For many people, the mere act of conversing with a veteran can be an awkward affair. To illustrate the point, McFeely showed a short video featuring the myriad ways in which well-intentioned people say ill-informed and offensive things to vets.
And, while the sentiment is nice, the oft-used expression, "Thank you for your service," has become a cliché of sorts, a stand-in for a more substantial conversation between civilians and vets.
"At the end of the day, it's about closing the gap," McFeely said. "Veterans are passionate, driven and ready to take on the challenges of the world."
Trooper Casey Lewis, the recruitment coordinator for the Pennsylvania State Police's Troop R Barracks in Dunmore, said McFeely's remarks carried a lot of resonance, considering the steps her employer has taken in recent years to add more veterans to its ranks.
"We're having great success hiring veterans," Lewis said. "For them, it's an easy transition. We find they do well physically, and in a lot of other ways, they're a step ahead."
While McFeely gave his training, campus Career Services Coordinator Jon Tobin was in the Dawson Building holding career education workshops for a group of local veterans. The sessions included resume and cover letter writing, and job interview techniques.
Sitting for a job interview can be extremely nerve-wracking for anybody, but Tobin had some time-tested tips to enhance the experience. They included keeping answers to questions succinct; consciously avoiding nervous habits; keeping your posture straight and your hands on the table; holding eye contact with your interviewers by "modeling" their facial expressions; and making sure to reiterate your interest in the position at the end of the interview.
"You want to show them confidence as a confirmation that, 'I can really do this job,'" Tobin said.
Campus nursing student Nick Giordano, a recent Army veteran, said he picked up some good advice from the workshops.
"It's the right kind of info you need," he said. "This is a little more realistic than some of the advice you get that makes you feel like you're going into an interview like a robot."
Roy Evans, a career Army veteran and current veterans' employment representative with Pennsylvania CareerLink's Scranton office, took part in Tobin's sessions and in the afternoon panel discussion featuring local and campus veterans.
In Evans' view, the event proved to be a worthwhile endeavor for all parties involved.
"For the veterans, it's great because it's getting them to stop thinking so much like a military person and more like a civilian. … When you leave the military culture for the civilian world, everything changes," Evans said. "And, colleges and companies need to adapt better to the issues of veterans. There's a lot of importance to these workshops, and a lot more employers should be coming to events like these."