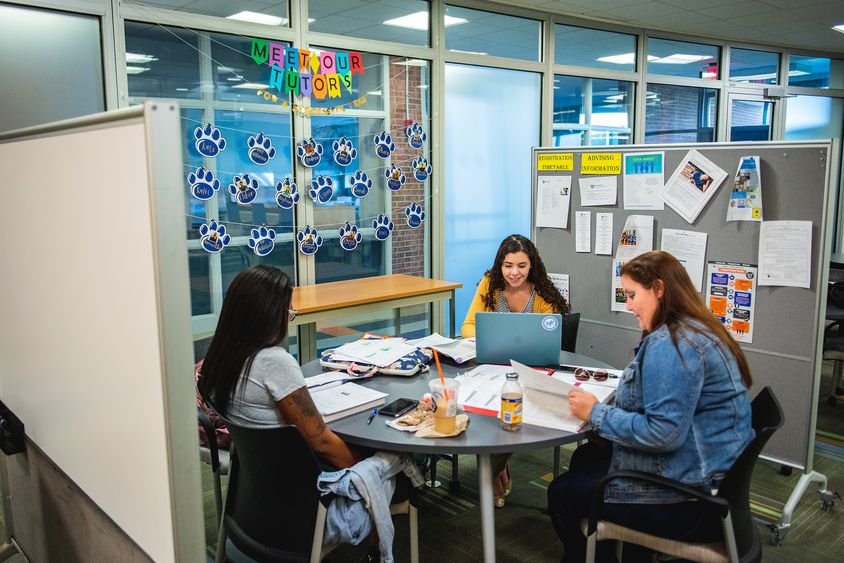 DUNMORE, Pa. — For Penn State Scranton students looking to enhance their academic experience outside of the classroom, there is no better investment than the campus Learning Center, located in the David and Ann Hawk Student Success Center in the lower level of the Study Learning Center.
Coming off a particularly busy 2018-19 academic year, the Learning Center is currently busy implementing its tutoring services, courses and special events for the fall semester.
Campus Associate Director of Learning and Disability Services Eileen Giovagnoli stressed that both new and returning students can benefit greatly from its resources.
"Tutoring and academic coaching can help students achieve academic and professional goals in an individualized, learner-centered environment," she said. "The greatest benefit of participating in Learning Center services is experienced by students who come earlier in the semester and attend regularly. According to research, 10 interactions seems to be the magic number to get the greatest impact."
To promote its services, the Learning Center is hosting a series of informational sessions during the first month of the fall semester.
Following the Math Mania event that was held during the first week of classes, the center will host Meet the Learning Center! on both Wednesday, Sept. 11, and Thursday, Sept. 12, from noon to 1 p.m. in the The View Café. There, staff members will provide students with information on all things Learning Center.
Then, on Wednesday, Sept. 18, the center will hold the Meet the Writing Center! event from noon to 1 p.m. in The View Cafe. At the session, students can meet the writing tutors who can assist them with everything from topic selection and citations to grammar and style.
"Students who seek tutoring often see improvements in their performance on academic assessments such as exams and quizzes, and, maybe even more importantly, gain confidence in their abilities to be successful in challenging subjects."

— Eileen Giovagnoli, associate director of Learning and Disability Services, Penn State Scranton
The sessions, which often include coffee and doughnuts, are a nice, informal way to introduce students to the Learning Center, Giovagnoli said.
"By providing an opportunity for students to meet our staff and tutors, students can make a personal connection, and it makes it easier to follow up and schedule an appointment for a session," she said. "At a recent informational event, a survey conducted by the center revealed that over 90% of students already knew about our services thanks to such events. Returning students who stop at our tables often talk about their prior experience with tutoring and share the benefits of the work, paving the way for new students to take advantage of the valuable resources of the center."
Meanwhile, the Learning Center is now in the process of setting up its fall 2019 tutoring schedule, which will start the week of Sept. 9. Students can stop by the center, located in the SLC's Hawk Student Success Center, to sign up.
According to Giovagnoli, the center had its busiest year ever in 2018-19, with more than 1,400 tutoring contacts taking place in support of over 100 individual classes at the campus. And, it had more than 1,000 interactions with students through its workshops and programs, while also providing time management resources to all students enrolled in First Year Seminar courses.
Among other subjects, the center's professional and student tutors provide services in math, biology, chemistry, business, information sciences and technology, computer science, nursing, economics and accounting. And, it supports all courses with a writing component.
The benefits of working with a tutor are manifold, Giovagnoli said.
"By working with a tutor, students have an opportunity to engage with course material at a deeper level than possible within a class setting," she said. "Students are often less intimidated, especially when working with a peer, and are 100 times more likely to ask questions in a tutoring session than in the classroom. Students who seek tutoring often see improvements in their performance on academic assessments such as exams and quizzes, and, maybe even more importantly, gain confidence in their abilities to be successful in challenging subjects."
In addition, the center supports the campus' one-credit tutoring courses in biology, chemistry, math and English. The courses, Giovagnoli said, provide students with structured and consistent support throughout the entire semester.
The courses are free for full-time students and are considered a part of their semester tuition.
"Students who participate in the tutorial classes often see higher success rates in the classes that are supported," Giovagnoli said. "For example, students who participate in Math 10 are significantly less likely to drop their math class, allowing them to stay on track to graduate within four years."
Besides tutoring, the Learning Center provides numerous other services, including preparation for pre-professional exams like the Praxis for teachers, the GRE (Graduate Record Examination), the GMAT (Graduate Management Admission Test) and the MCAT (Medical College Admission Test).
And, by week three of the semester, students will be able to access the center's Blue and White OWL for online writing assistance. Additional information on the service can be found at scranton.psu.edu/blue-and-white-owl.
By using the Learning Center, students are setting themselves up to not only meet their academic goals, but also putting into practice a habit that will help them find success for many years to come, Giovagnoli said.
"Seeking out 'subject matter experts' such as tutors and academic coaches is a life skill that will benefit our students throughout their academic and professional careers," she said.
For more information on the Learning Center and its services, visit scranton.psu.edu/learning-center.